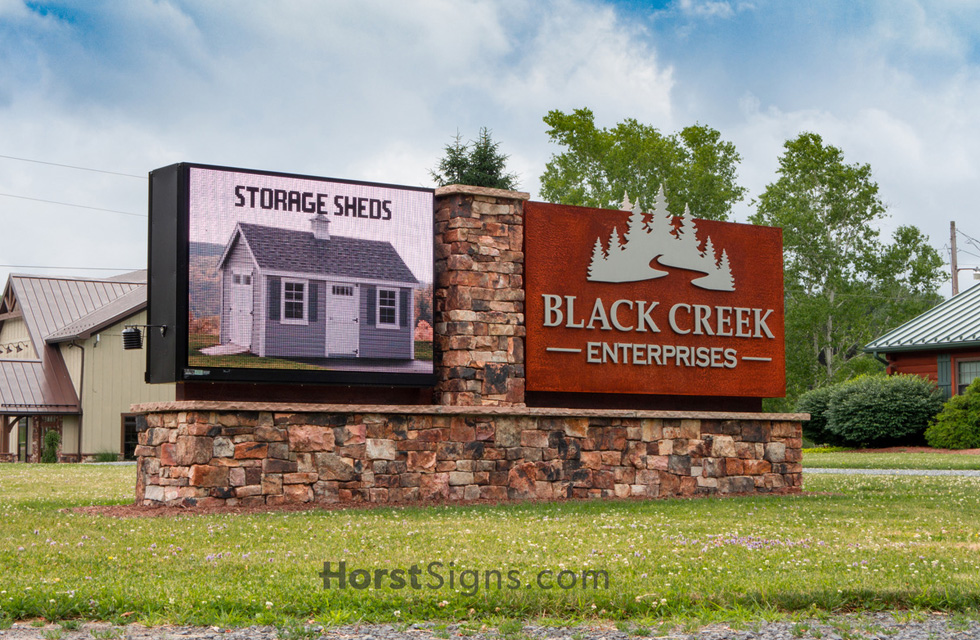 Black Creek Enterprises is a family-owned business that specializes in building quality hardwood furniture and structures, including storage sheds, gazebos, cabins, and homes.
Located in the beautiful mountains of Tioga County, Pennsylvania, Black Creek Enterprises is situated on State Route 414, a major thoroughfare for vacationers visiting the picturesque Pine Creek Gorge, often called the "Grand Canyon of Pennsylvania."
When the company opened in 2006, Owner Kurtis Martin installed an unlit wooden sign with the company name on it. As the business grew and started offering more products, he considered installing a digital message center to showcase the company's products, services, and sales events.
In 2020, the sign was struck by a car and needed to be replaced. Martin reached out to Horst Signs of Myerstown, Pennsylvania, and challenged them to design a new sign that would include an LED display but still maintain the rustic feeling of the business.
Horst designed a sign that features a foundation and central pillar made of authentic hand-laid stone, flanked on one side by the company logo in brushed aluminum letters on a weathered Corten Steel panel, and on the other with a Watchfire 10mm digital message center.
"People driving by Black Creek Enterprises could see sheds and gazebos set out by the road, but they had no way to know about all the company's products, and the name isn't descriptive," said Nathan Martin, sales manager at Horst Signs (no relations to Kurtis). "A digital message center solves this challenge."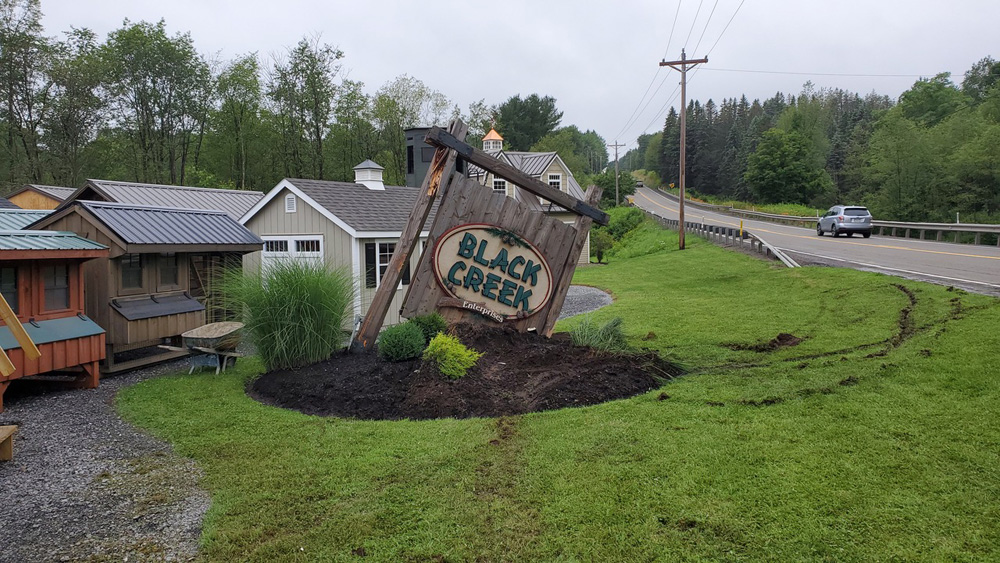 Horst Signs specified Watchfire Signs for this project because of the company's outstanding support. "Watchfire is our go-to partner for digital signs. If a sign needs servicing, Watchfire is there," said Nathan Martin. "We place a lot of value on their support."
Black Creek Enterprises is using their new message center to advertise products, showcase recently finished projects, and promote sales.
The sign was installed shortly before the company's annual Spring Open House Sale event, and the event turned out to be their best ever.
"Since the Watchfire sign was installed, we often hear people remark that they didn't realize that we offered a certain item or service until they saw it advertised on the sign," said Kurtis Martin. "We've also seen an increase in foot traffic when we advertise cash-and-carry merchandise. Now no one can pass by our business without knowing about upcoming sales events."
—Press Release