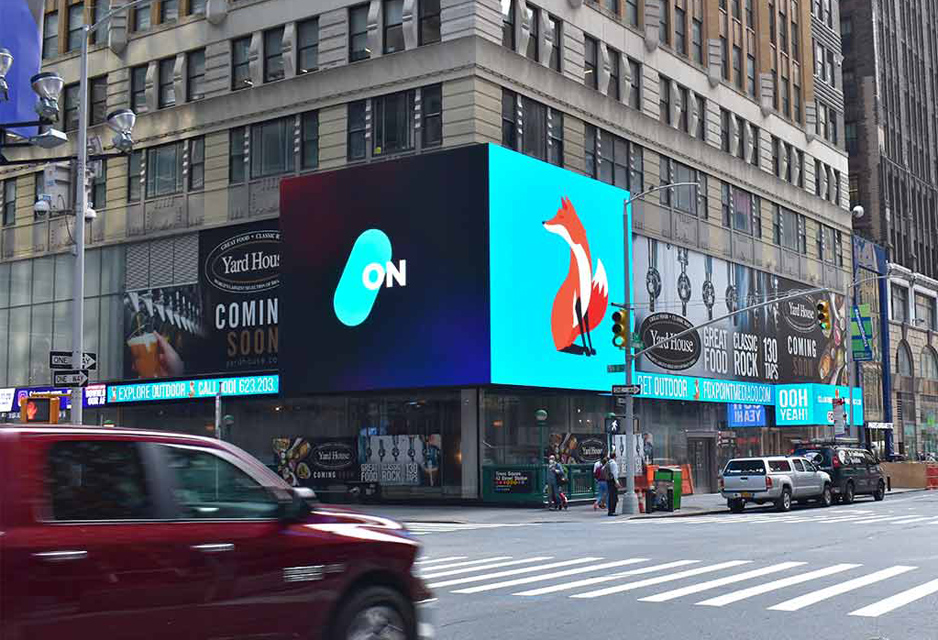 SNA Displays manufactured another LED spectacular for 10 Times Square, located at 1441 Broadway in New York. The four-screen EMPIRE™ exterior LED system was recently installed outside the new Yard House restaurant at the corner of 41st Street and 7th Avenue.
The 34-story building, with almost 575,000 square feet of commercial office space, is on the northern edge of Manhattan's Garment District and a block away from Bryant Park.
Originally called the Bricken Textile Building, 10 Times Square is owned and managed by L.H. Charney Associates, a privately held real estate development company headquartered in New York City.
The new display system consists of four separate LED screens: a ticker along 41st Street, a large-format corner display, a ticker down 7th Avenue, and an all-LED sign that projects over the restaurant's entrance. Between the four digital displays, there is content coverage in all directions of the busy intersection.
All displays employ a pixel pitch of 10 mm with varying resolutions. The main corner display is 24 feet high-by-67 feet wide. In total, the four LED screens consist of 1.9 million pixels and cover more than 2,000 square feet of digital signage canvas.
"The new Yard House display technology is a great addition to 10 Times Square," said Nicole Rotyliano, project manager for SNA Displays. "The screens are oriented so that people coming from all directions can view them from blocks away."
The biggest challenge with the multi-screen installation, according to Rotyliano, was sequencing the displays in a way that would achieve the design intent, which was to align the existing ticker with the new ticker along 41st Street and wrap the building with LED displays down 7th Avenue, all while maintaining a strict 1/4-inch tolerance to allow for sufficient movement.
"With an ambitious design that incorporated nine individual sign faces all connected at 90-degree angles, the Yard House display presented our team of structural engineers and installers with a unique and exciting challenge," said Rotyliano.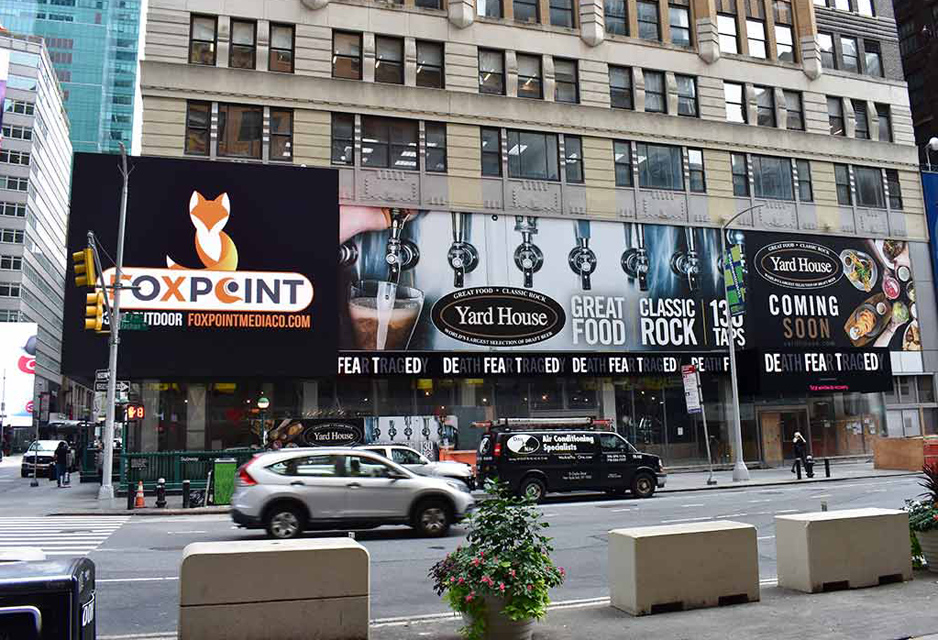 SNA Displays completed a similar installation at the same site one block away in 2017. That LED display system, installed just outside the Champs retail store, consisted of a large corner display and LED tickers extended in both directions along the building.
For both the new installation and the earlier Champs displays, Sensory Interactive provided design, technology selection, bidding, and project management services.
For the most recent project, Sensory Interactive also worked with L.H. Charney to create a strategy for sharing the display's costs and time between the owner and Yard House.
The Sensory Interactive team then represented L.H. Charney in securing a long-term media sales agreement with Foxpoint Media for their share of the display time.
AMA Sign & Electric and Landmark Signs & Electrical Maintenance installed the displays.
Yard House Times Square, which was announced in December of 2019, is an American-style restaurant that offers a globally inspired menu, more than 100 taps of craft and imported beers, and custom cocktails. It currently occupies several stories (about 19,000 square feet) of prime retail location.
For more information and photos of the LED display system outside Yard House Times Square, visit snadisplays.com/projects/yard-house-times-square.
—Press Release