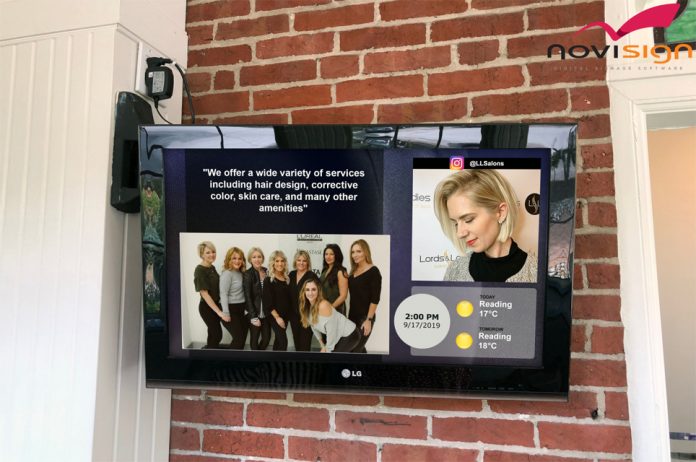 In 1984, Lords & Ladies (L&L) opened its premier salon location at 64 King Street, Pottstown, Pennsylvania. In 1999, using there proven recipe for success, L&L expanded to their second location in Douglassville, and again in 2003 with a third in Gilbertsville. As of today, L&L is southwest Pennsylvania's leading salon, with seven locations serving over 60,000 clients annually.
A key factor of success for L&L is creating second-to-none salon experiences. After looking at the average salon experience of customers, L&L determined that digital signage was required for optimizing their in-store communications and marketing strategy.
The Challenge
When first implementing digital signage for their waiting areas, L&L quickly learned that the initial provider they choose was hard to use and limited capabilities. The content management and design interface was clunky and took the average user several hours to figure out.
L&L needed to replace the system with a new digital signage software platform that was feature-rich, scalable, and easy to deploy. The content design needed to visually engaging that was eye-catching and pleasing to customers waiting.
The Solution
Because the first company that L&L choose was not what they claimed to be, L&L did extensive testing of each vendor. When judging the options, L&L made sure to analyze how easy it was to create and update content, what it took to preschedule specific messages to play, and how easy it would be to update the content of the screen for all seven different locations.
After reviewing three options, L&L choose NoviSign to replace their existing digital signage software vendor. From being able to update all seven screens with one click to being able to make on the fly changes to content, L&L had full control over the content of their screen, from their corporate office.
The Results
Using NoviSign and the Cloud-based design studio, L&L can now create and send their marketing communications to one of their salon's screens at any time. Their marketing department can remotely together their content, easily create playlists, and within seconds update their screens information:
Salon sales and notifications
Display new product informational videos
Upsell services and gift cards
Stream real-time company Instagram & Twitter feeds
Menu listing of services, prices, and product
Customer testimonials with before and after images
The end-result is that Lords & Ladies salons have improved its ability to reach and communicate with customers while reducing the overall perceived wait times for customers. They were able to download the NoviSign app, and within minutes, design content to play on the screen.
For more information about NoviSign, visit www.novisign.com.