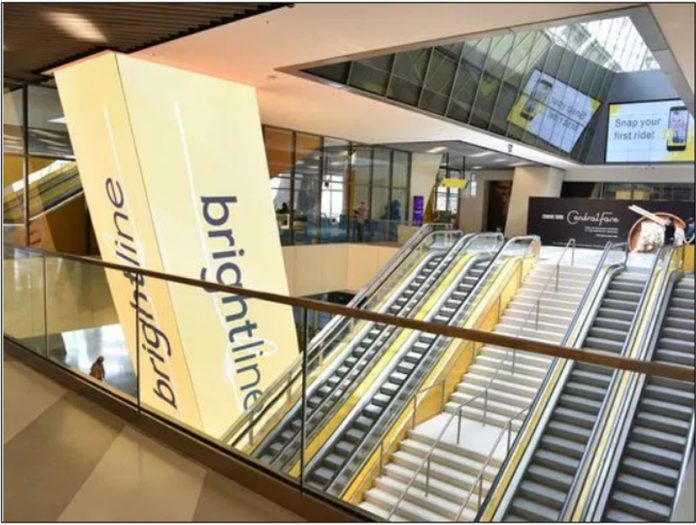 Florida's inter-state rail system, All Aboard Florida, began operation earlier this year on their $3-billion Brightline service project connecting Miami, Fort Lauderdale, and West Palm Beach with a final stop at the Orlando International Airport.
As the finishing touches were being made to the Downtown Miami station, Brightline wanted to add a large, four-sided display that would be placed around a thirty-four-foot-high concrete column located in a very tricky spot in the station. Add to this the fact that the column was angled at fifteen degrees, thus making this install even more challenging.
This installation would need to be precisely engineered, and Brightline quickly turned to NanoLumens®, award-winning creators of uniquely compelling LED visualization solutions in any size, shape, or curvature, for a custom designed solution that would conform nicely to the space.
"We wanted something iconic like the clock at Grand Central Station—'meet you at the clock'. We wanted to find the balance between a technology that could wrap the column completely with high enough resolution to show great content but still be affordable," said Scott Sanders, EVP of Development and Construction for Brightline.
The concrete column the displays were to be attached to was located in a high visibility area in the Miami station, alongside a bank of busy escalators. NanoLumens created a custom solution specifically for Brightline with their Performance Series™ LED displays to captivate rail passengers with high-definition digital content twenty-four hours a day. Four 6.3mm pixel pitch displays were engineered to fit into this difficult, high traffic space.
"This install was a challenge as NanoLumens had to first engineer the entire structure that our Performance Series display solutions would then attach to," said Arch Nelson, Southeast Regional Sales Director for NanoLumens. "The fact that the column was angled at 15-degrees made it a major challenge. NanoLumens has done displays on columns before but never one that was at a fifteen-degree angle. And at thirty-four-feet high, this was a very big column to work with. Also, on two of the displays the Nixels had to be laid out stair-stepped on the top and bottom of the eleven-foot sides to accommodate the angle."
While the angled sides were eleven feet wide the other two sides of the column were nine feet wide. The four displays totaled 40 linear feet at the base with the four displays measuring 35-by-9 feet; 34.5-by-9 feet; 35-by-11feet; and 14.5-by-11 feet.
The content Brightline displays includes schedule details, station concession information as well as various station alerts. The busy bank of escalators the displays stand alongside take passengers up to the train platforms for departures and arriving passengers take these same set of escalators down once their trains arrive at the Miami station.
As the only privately owned, operated, and maintained passenger rail system in the United States, Brightline connects people with the places and new experiences that South Florida has to offer. Speed is a huge part of the Brightline sell as travel times include Miami to Fort Lauderdale in about twenty-eight minutes; from Miami to West Palm Beach in less than an hour; and Miami to Orlando in less than three hours.
"We received tremendous feedback from guests who love the installation. Many take pictures in front of it—it's become a social media focal point as well," Sanders said.
When this opportunity presented itself to NanoLumens, All Aboard Florida was already very enamored with the company. Due to the nature of this project and the very specific engineering work that was required, All Aboard Florida quickly discovered that very few companies were willing to work with them or felt they could even handle this install.
Regarding the tough engineering challenge NanoLumens faced, Nelson added, "Our guys really pulled off what is an absolute engineering marvel with this install. It is truly an iconic display that now sits in the largest privatized train system in the country."