Visitors to Northern Quest Resort & Casino, a newly expanded, Vegas-style casino and entertainment destination near Spokane, Washington, are being greeted by more than 2,500 square feet of LED displays that were recently manufactured by Daktronics (NASDAQ-DAKT) of Brookings, South Dakota, in conjunction with YESCO, headquartered in Salt Lake City, Utah.
This display project was part of a $20 million expansion completed this past summer that welcomes patrons to the growing resort property. The resulting nine-display installation is comparable in size to many spectacular LED video displays found in New York's Times Square and on the Las Vegas Strip.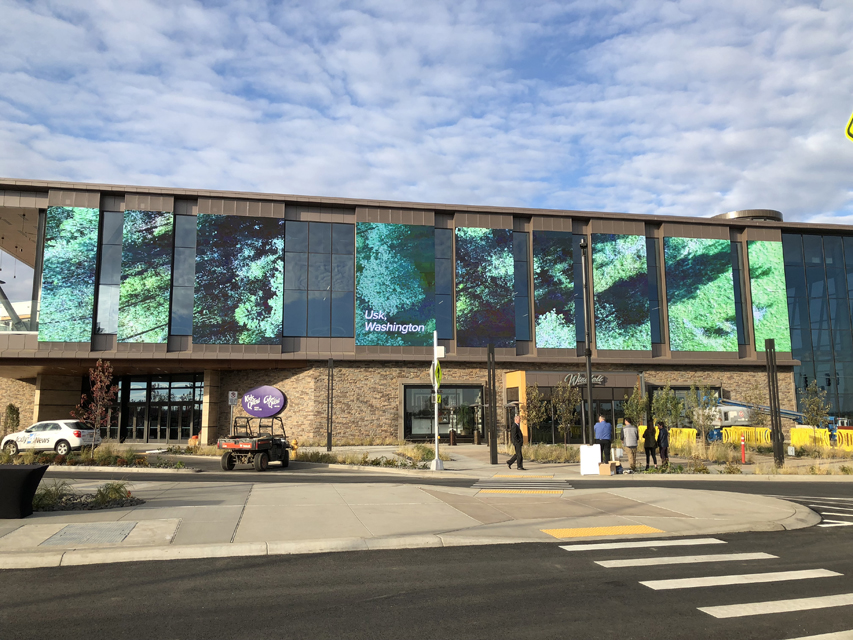 "We considered a variety of LED display options before settling on a nine-display configuration that brings an impressive 'wow' factor to the exterior of our world-class resort," said Northern Quest Resort & Casino Chief Marketing Officer Jen Mitchell. "In looking for an impressive, attention-grabbing design that complimented the new building's architecture, while taking the exterior windows into account, we selected this fantastic video solution.
"And we partnered with a great team, YESCO and Daktronics, who handle some of the largest LED video installations in the world."
Creating a digital media façade, nine LED video displays are installed above the resort's main entrance, and they are spaced in an eye-catching manner along the building's exterior.
All nine displays measure 24 feet high and feature 10-millimeter line spacing with SMD LED technology. Four displays measure 8.5 feet wide, three displays measure 15.5 feet wide, and the final two displays measure 12 feet wide.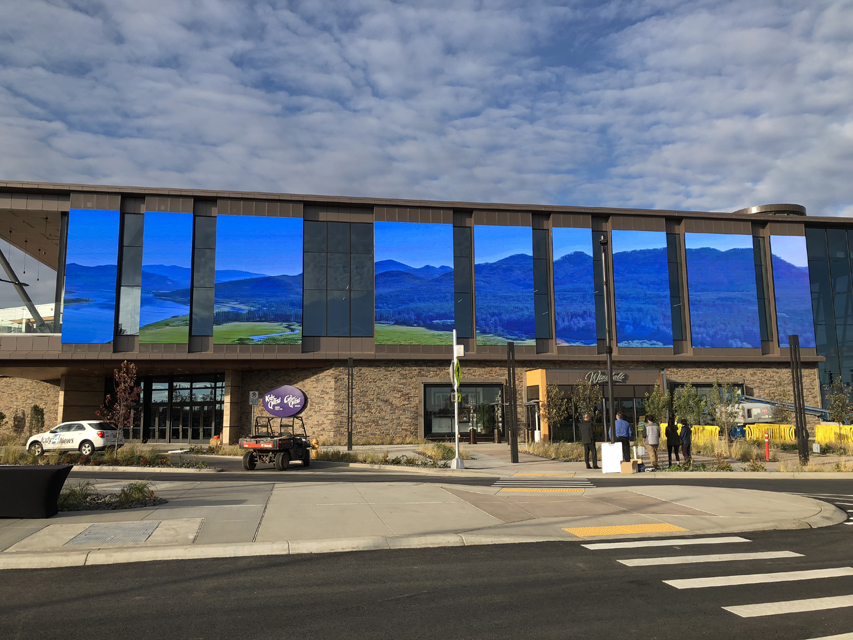 "We worked closely with the casino, ALSC Architects [also of Spokane], and Daktronics to bring the casino's vision and design to fruition for a unique LED display application that entertains and advertises to customers," said Brent Smith, YESCO account executive and branch manager. "It was a very fulfilling process that began in late December of 2017 and ultimately resulted in a successful installation for the casino."
These Daktronics LED video displays at the casino, which offer a long lifetime and low power consumption, can be controlled to show individual content on each screen or can be used in a single-display manner with one piece of content spread across all nine displays for a unified look and presentation. They can promote current and upcoming shows being held at the facility, or they can advertise venue specials, room rates, dining options, shopping attractions, experiential tribal and holiday entertainment, and much more.
"Northern Quest's venue and LED signage rivals the largest, most well-known casinos in Las Vegas and throughout the United States," said Tye Dato, Daktronics sales representative. "These video displays combine to form the largest 10-millimeter installation in the Pacific Northwest and offer a very unique aspect for advertisers and to entice visitors to the venue."
Dato adds, "It was a pleasure to work with YESCO and Northern Quest [in order] to bring their vision to life for this LED project." "It was a pleasure to work with YESCO and Northern Quest to bring their vision to life for this LED display project," said Dato.
About Northern Quest Resort & Casino
Northern Quest Resort & Casino, owned and operated by the Kalispel Tribe of Indians, a federally recognized Indian tribe, is a premier destination for Vegas-style casino gaming with world-class hotel rooms and suites, a luxury spa, more than a dozen restaurants and lounges, and big-name entertainment just minutes from Spokane International Airport in Spokane, Washington.
About Daktronics
Daktronics helps its customers to impact their audiences throughout the world with large-format LED video displays, message displays, scoreboards, digital billboards, audio systems, and control systems in sport, business, and transportation applications. Founded in 1968 as a USA-based manufacturing company, Daktronics has grown into the world leader in audiovisual systems and implementation with offices around the globe. Discover more at www.daktronics.com.