PPDS, the exclusive global provider of Philips professional TV and digital signage solutions, is excited to announce it will be hosting a free industry webinar this week (November 18), to explore, discuss and educate the market on how its Artificial Intelligence-driven Digital Signage solutions can help breathe new life into the physical retail showebinarpping experience while increasing long-term foot traffic and sales opportunities.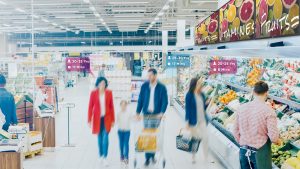 Open to all – including AV distributors, integrators, resellers, consultants, retailers/end users, AV/IT managers and the media – the one-hour session (12:00PM EST) will be hosted by Jack Boyczuk, Business Manager at PPDS, and Jeffrey Weitzman, Managing Director, North America of PPDS computer vision software partner, Navori Labs.
The webinar will focus on the challenges faced by high street retailers in a pre and post-pandemic era, and how its recently announced 'PPDS Intelligent Signage Solution for Retail' (designed in partnership with Navori, Intel, and Advantech), enables retailers to make smarter and more informed business decisions, using advanced data analytics, and context-aware software and camera technologies. Combined with PPDS' latest Philips digital signage solutions, retailers are presented with extensive new opportunities to generate more targeted customer experiences (including live targeted ads), a greater return on investment and higher footfall. Other examples include:
Know your customers: Measure footfall counts excluding staff and classify each guest based on their attributes (gender and age range).
Time in store and waiting time: Determine the time spent in line and time spent before receiving service. This data is used for queue optimization.
Attention span: Calculate each shopper's field of vision in relation to any monitored area or digital signage screen for audience assessment and proof-of-performance analytics.
Proactive: Anticipate foot traffic and demand based on comparable data over time.
Staff where and when you need them: Optimize staffing levels to meet peak hour demand.
Store design: Manage shelf layout to ensure an easy flow to the right marketplace and product.
Commenting ahead of the webinar, Jack said: "The challenges faced in retail are not entirely new but have been further exacerbated by the pandemic, with more customers than ever choosing – and in many instances, being forced – to shop online, many for the first time. The customer experience is vital, and it's now imperative that retailers embrace technology to create new experiences and journeys that simply cannot be achieved online and will inspire customers to return again and again. AV technologies like ours, hold the key to this change."
The time to act is now
Figures in the US market make for both positive and negative reading, depending on which side of the retail fence you sit.
A record-breaking 12,2000 stores closed in the U.S last year, while some forecast a further 10,000 are likely to disappear by the close of 2021, and up to 100,000 by 2025. Some retail experts have predicted 33 percent of America's malls will go 'go dark' by 2030.
During the pandemic, in a single month, nine percent of consumers brought a product online for the first time, with a report from Forbes, showing online shopping grew 44 percent during the pandemic.
According to some forecasts, online sales increased more than 32 percent year over year in 2020 and 39 per cent in Q1 of this year. In total, eCommerce saw an additional spend of $105 billion during 2020, taking figures above $791 billion, up from $598 billion the year before.
The challenge is undeniable – but far from lost, insists Boyczuk. However, it's never been more important for retailers to adapt and to address the current (and future) needs, trends, demands, and expectations of the market, that have evolved over time and, fundamentally changed, since the first lockdowns arrived.
Jack concluded: "A recent report from AVIXA estimates that $5.9 billion will be spent on displays by retailers this year, making digital signage and displays one of the flagship opportunities for AV professionals in retail. Despite the declines in retail spending in 2020, the market remains the single largest purchaser of displays. By working with some of the world's most innovative software providers to create our 'PPDS Intelligent Signage Solution for Retail', we're able to provide once unimaginable insights through our Philips displays for more data- driven, educated business decision-making. The world of retail is changing and the time to evolve is now."