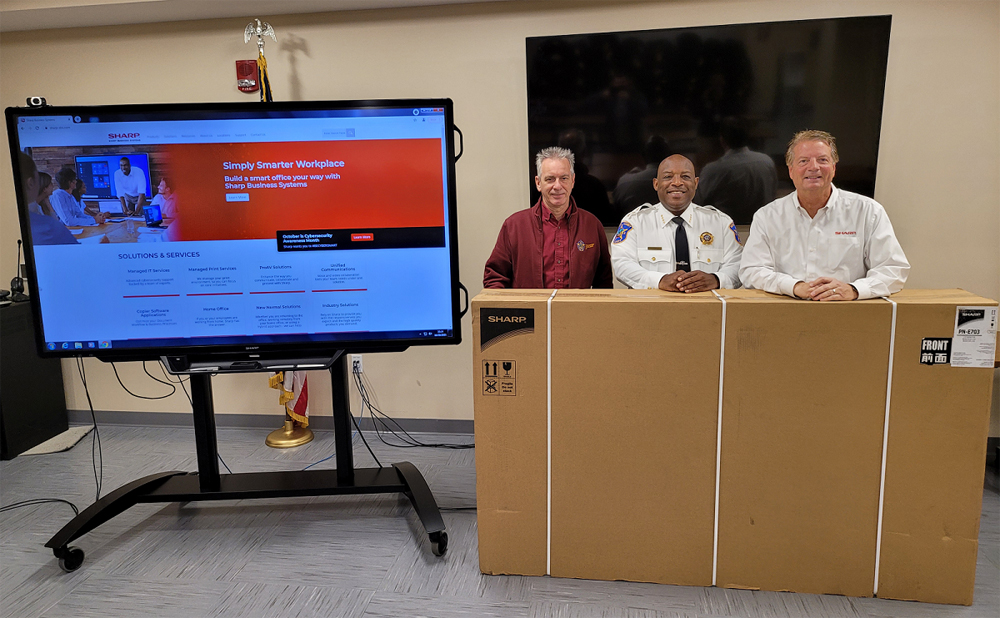 First responders on the front lines have displayed incredible courage, bravery, and selflessness over the course of this pandemic.
During this season of giving, Sharp is saying thank you to our nation's heroes this year through the donation of a seventy-inch digital signage display to utilize in their office spaces.
This small gesture of Sharp's appreciation honors the sacrifices and commitment of frontline workers across the country.
From the Will County Sheriff's Office in Will County, Illinois, to the Glendale Fire Department in Southern California, Sharp Business Systems branches all around the United States have so far facilitated the donation of seventeen displays and counting.
Sharp has completed donations to the following locations, with more to come over the next few weeks and months:
City of Doraville Police Department in Alpharetta, Georgia;
FT Inn First Responder Fire and Rescue in Greenville, South Carolina;
Greensboro Police Department in Greensboro, North Carolina;
Humble Fire Rescue in Humble, Texas;
Fort Worth Police Department in Fort Worth, Texas;
Grapevine Police Department in Farmers Branch, Texas;
Glendale Schertz Fire Department in San Antonio, Texas;
Hutto Fire Rescue in Austin, Texas;
City of Hollywood Police in Miami Lakes, Florida;
City of Alexandria Police Department in Alexandria, Virginia;
Bergen County Sheriff's Office in Hackensack, New Jersey;
Indianapolis Metropolitan Police Department (East District) in Indianapolis, Indiana;
Will County Sheriff's Department in Will County, Illinois;
Santa Fe County Sheriff's Office in Santa Fe, New Mexico;
Whibdey Health Medical Center in Coupeville, Washington;
Daly City Police Department in Daly City, California; and
Fire Department in Glendale, California.
—Press Release