Strengthening its commitment to be the one-stop-shop for professional integrators, SnapAV announced the addition of BrightSign digital signage media players to its commercial portfolio available at SnapAV.com.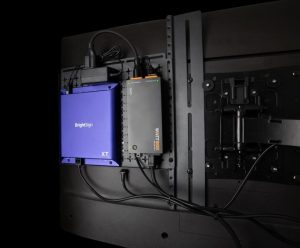 BrightSign is a leader in digital media players and cloud-based digital signage networking, with nearly two million players shipped to date, and Partners can now simplify their supply chain even further with SnapAV.
"BrightSign is a market leader because its products and services are reliable, scalable, versatile and powerful enough for large commercial applications," said Andras Balassy, Business Development Manager. He added, "Making premium brands available to our Partners where and when they need them fulfills our pledge to deliver industry-best products and services that enable exceptional experiences for end users."
BrightSign players offer PC-class performance and purpose-built reliability to manage content for every project from one-off installs to cloud-based management of global signage networks. From its top-of-the-line, enterprise-grade BrightSign XT to the first-ever HD-OPS compatible player and the entry-level BrightSign LS, each SKU is designed specifically and exclusively for commercial digital signage.
BrightSign OS 8 uses modern web-based technology to cloud-connect all BrightSign players, delivering real-time access and control at no additional charge. BrightSign continually offers updates for products and services with new leading-edge features so Partners are never stuck with a product that doesn't keep pace with current market demands.
BrightSign OS 8 enables the innovative, new BSN.cloud platform on all BrightSign players for a cloud-connected experience that puts Partners and end-users in control of their players, anytime and anywhere. The BSN.cloud platform offers multiple levels of secure and scalable player, network, and content management services, starting with the free Control Cloud level of service for all BrightSign players that provides access to real-time player health, diagnostics, and controls with the Partner's choice of CMS. The Content Cloud service is also offered as an affordable annual subscription to provide a complete set of network and content management tools.
"This new product line expands the capabilities of our Partners, simplifies supply chain management and demonstrates our value as a distributor of products suited for every need," Balassy said.
Partners who wish to purchase BrightSign products through SnapAV.com will receive a pop-up form to fill out, which is forwarded to BrightSign and enables access to BrightSign's free, mandatory training for BrightAuthor SW and BrightSign HW basics.
This ensures every Partner has the knowledge required for effective deployments, with additional paid training available from BrightSign. Partners can choose to show clients how to use BrightAuthor SW or refer them to BrightSign's official training materials. Existing BrightSign-authorized Partners can begin purchasing through SnapAV.com after providing their BrightSign-associated email address to SnapAV.