When you think of digital signage, the first thing that comes to mind is most likely an outdoor digital out-of-home (DOOH) installation: digital billboards or EMCs, gas station pricing signage, a digital identity monument sign, etc.
According to Statista, the number of digital billboards in the U.S. reached 9,600 in the first half of 2020—up 42 percent from 2016 when there were just 6700 digital billboards. The outdoor DOOH market is booming.
While there are still plenty of opportunities to be had in outdoor DOOH, perhaps you're looking for a market that's a little less crowded. If so, you should head inside, as the market for interior digital signage is just heating up.
Trey Watts, vice president of sales for Springfield Sign in Missouri, says interior digital signage is a newer venture for the company, which just completed a large interior digital sign project last year. "It was maybe a tough one to cut our teeth on because it was so large, but we learned a lot from it," he says.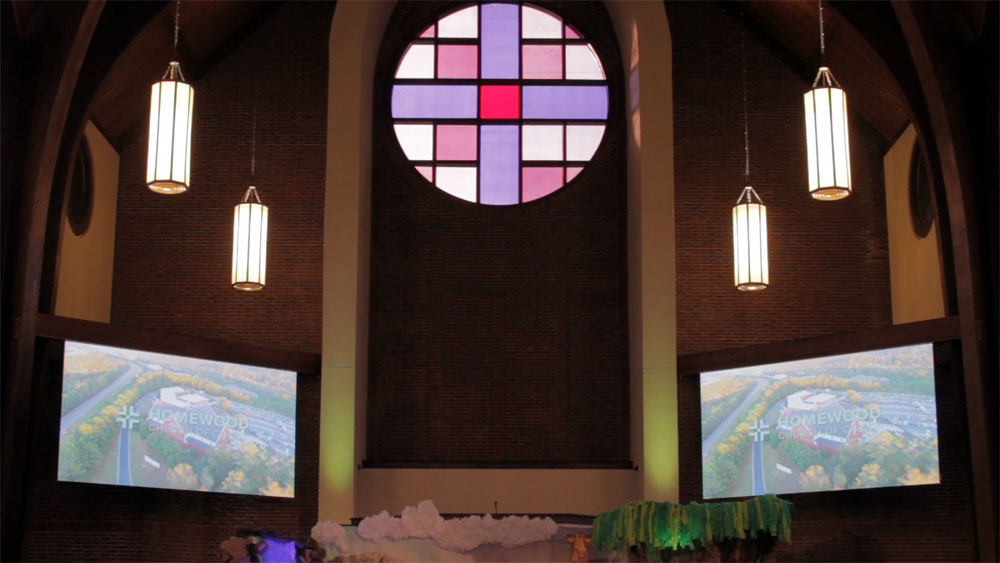 Watts predicts interior digital signage will increase over the coming years, similar to the boom that has happened with exterior digital signage. He predicts markets like churches and movie theaters will adopt the technology early on to replace things like static projectors and static movie posters with dynamic displays. In fact, many already have.
Mitch Leathers, senior director of Communications at LED display manufacturer SNA Displays, sees interior digital signage first making inroads into larger companies like big corporations and banks. A major reason for this is cost.
"No question there's going to be a trickle-down and digital signage, be it LCD or LED or other technologies, is going to find its way into particularly retail but also other local businesses," says Leathers. "It's a huge growth area. It was very expensive early on, like any new technology, but the costs have really come down."
Watts agrees. "As manufacturers release the next greatest product, the previous generations' prices drop," he says. "We've seen that in the exterior world, and that'll happen in the interior world too. Then pricing becomes more in line to where more than just big corporations can afford it."
Aside from decreasing costs, Leathers sees the increasingly digital and online world as a big catalyst for indoor digital signage. He cites the term "phygital," which is the concept of using technology to bridge the digital and physical worlds with the purpose of providing a unique interactive experience.
"It's very tough to grab people's attention and get people to your store in the physical world. What digital signage does is merges the two a little bit," says Leathers. "There's an aspect to digital signage that is very online-like, whether it's the ability to dynamically change messaging so that it looks like what the client may have seen online. That sort of brings the online world to the store or the shop.
"A brick-and-mortar store without digital signage, or at least some modern, changeable messaging, is probably becoming pretty obsolete here in the near future because it just won't look like the rest of the world."
AAA Sign Company, with locations in Georgia and South Carolina, has also started to see an increased demand for interior digital signage as well as the marriage of outdoor with indoor. The sign company just started venturing into indoor digital signage and is considering adding a sales rep and a department to support that side of the market. But Ray Peters, managing owner of AAA Sign, says already a recent install AAA Sign worked on included elements that tied the indoor and outdoor digital signage together. He says it wasn't a complete synergy between the interior and exterior signage, but there was some content packaged together to run in both places. "So yeah, we're starting to see some of that," he says.
One of the largest hurdles to entering the interior digital signage market is knowledge. As outdoor digital signs have become plug-and-play or close to it, the world of interior digital signage is still complicated.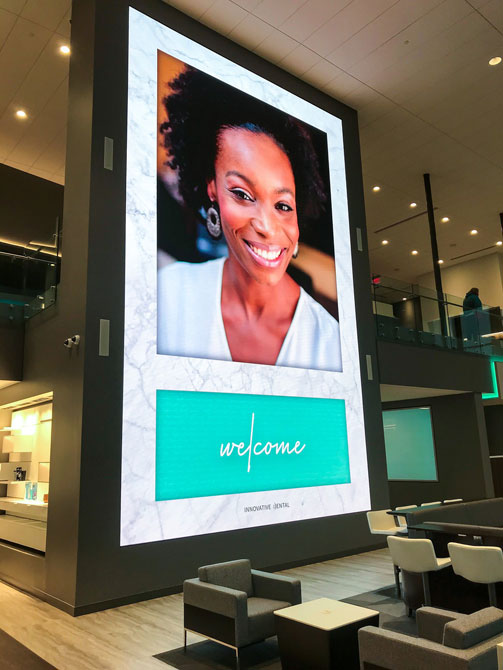 Plus, installers like A/V integrators have a good handle on interior digital signage in many markets. "They're getting a lot of that work because it doesn't require bucket trucks and concrete crews. Really it is a little bit more of a white glove type of sale and installation that we are starting to do more," says John Danio, vice president of Sales and Marketing for Indigo Signs, with locations in Minnesota, the Dakotas, eastern Montana, Western Wisconsin, and northern Iowa. "We are definitely competing against A/V integrators in that area because if somebody has a menu board or they've got a digital display, a big giant TV somewhere, they're going to call their tech guy before they'll call their sign guy. We want to change that perspective."
To change it, sign companies have to condition customers to think of them when it comes time for interior digital signs, and marketing plays a large role in this. If your customers don't know you offer a particular service, they won't know to come to you for it. "We all need to do a better job presenting ourselves for the interior sign installations," says Danio.
– Ashley Bray
Looking for even more content on digital signage? Be sure you're subscribed to our SBI Dynamic Digital newsletter!