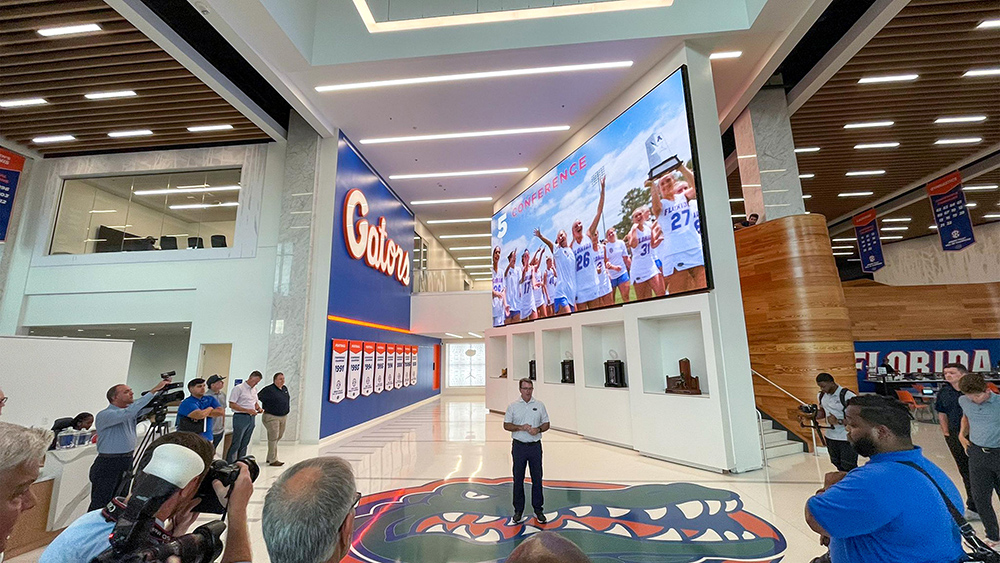 A new state-of-the-art training facility for the University of Florida Gator's football program features a large direct-view LED video wall that greets visitors in the center's main entrance. The wall-mounted, 6.9-million-pixel video screen was manufactured by SNA Displays and installed by sound and video integrator Baker Audio Visual.
The James W. "Bill" Heavener Football Training Center is a two-floor, 142,000-square-foot complex designed by global design and architecture firm HOK offering sleek, modern amenities for current and prospective Florida athletes. Owned by the University of Florida Athletic Association, the facility was built on the site of the old McKethan Stadium and opened in 2022.
The wide format LED display is 14-feet-9-inches tall and 31-feet-6-inches wide and elevated approximately 10 feet from the floor in the Jeremy Foley Hall of Champions.
Mounted just above the program's three NCAA football championship trophies, the dvLED overlooks the large entrance area and features content from the university's storied athletic successes.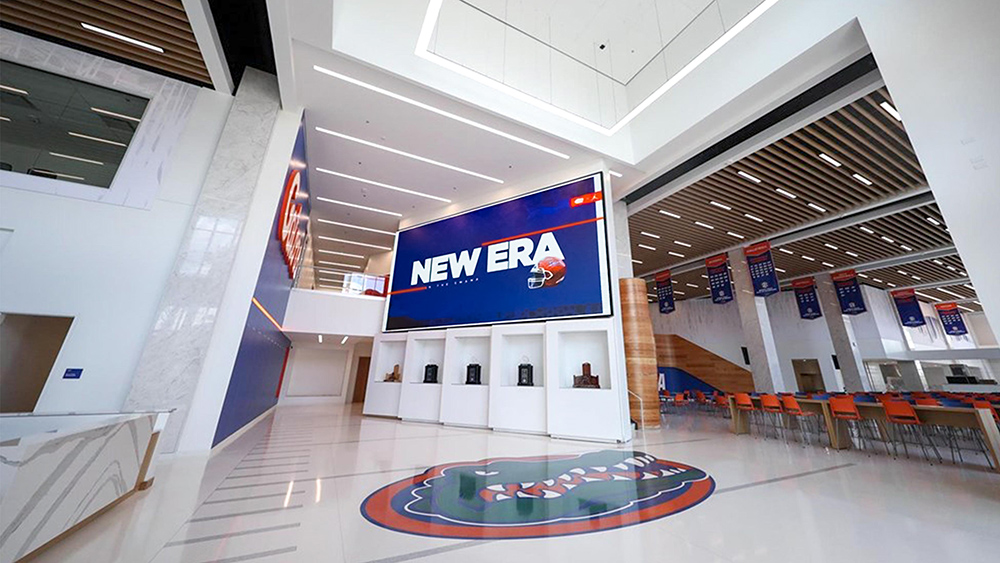 "What the Florida Gators have done with this training facility is pretty special," said AJ Faxel, director of SNA Displays' sports and live-events group. "The incorporation of what is essentially a high-definition, large-format movie screen really impacts you as you enter the complex. One of the first things you see as you enter is this big, inspirational content, and everything in the facility seems to follow suit."
The screen was built from SNA Displays' BOLD™ Interior line of LED video display technology and employs a 2.5 mm pixel pitch and a resolution of 1,800-by-3,840 pixels.
"The SNA Displays LED video wall Baker AV installed for the Heavener Football Training Center is stunning in its brightness, contrast, and resolution," said Kevin Ivey with Baker AV's sports and entertainment project development. "The cooperation Baker AV enjoyed with SNA in pre-fabricating and delivering the precise mounting armature for the LED panels greatly simplified installation. The team at SNA was with us every step of the way."
—Press Release