Broad Institute of MIT and Harvard is a nonprofit biomedical and genomic research center located in Cambridge, Mass. The institute partners with MIT, Harvard University, and Harvard teaching hospitals to advance the understanding of the biology and treatment of human disease.
Because most scientific labs are not open to the general public, the organization wanted a way to visually demonstrate its values of collaboration and open sharing by showing visitors and pedestrians examples of the exciting projects underway inside, as well as the remarkable people behind them.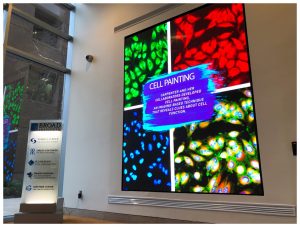 Watchfire Signs responded to a Broad Institute RFP for a large digital display in the vestibule of its lobby that was previously a blank wall, occasionally used for signage or artwork.
"The scientists at Broad are doing cutting-edge work that's exciting but can be difficult to explain. We felt that a digital display would allow us to share our message and mission with the community in a very artistic way," said Scott Sassone, manager of video production at Broad Institute.
Watchfire specified a frameless, 4mm high-resolution 10-by-11-foot display that's capable of showcasing 4k video and high resolution graphics that can be viewed even in bright sunlight.
Sassone and a team of videographers and graphic designers create vignettes using video, high resolution photography, text and graphics that offer viewers a glimpse of some of the research that's taking place and what it means for the viewer.
"We have about forty-five seconds to tell a complex story as a pedestrian approaches and enters the building," said Sassone. "A display allows us to use digital assets we already have and to create new, dynamic graphics to really capture people's attention."
Sassone programs the display himself using the same Watchfire content management system that is used for existing employee-focused displays. He notes that his team creates content to be modular so clips can be easily dropped into the display rotation, or taken out. Editing a clip can be done within minutes.
While the display has been operating for just a few weeks, Sassone said he knows it's gaining traction because he now gets emails from people within the organization offering him interesting projects and images to be used on the display.