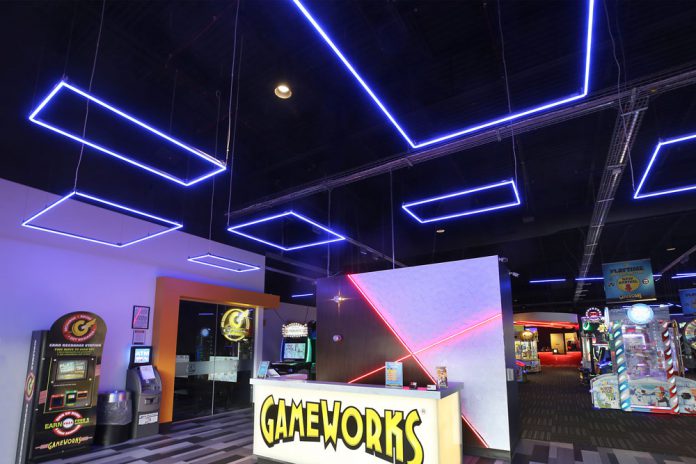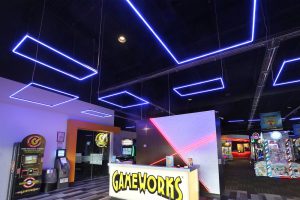 For its first location in Colorado, GameWorks, Inc. — a national amusement center and sports bar/restaurant chain — wanted fun to emanate throughout the entire 40,000-square-foot venue, where guests enjoy arcade games, Laser Tag, eSports, private party rooms, and more.
The company hired Davis Wince, Ltd. Architecture to oversee design of the Denver location, with the goal to reflect GameWorks' upbeat, family-friendly brand. The resulting design included use of iLight LED fixtures to add splashes of aesthetic punch — making the setting as exciting as the action that guests enjoy.
The Design Challenge
"As architects for the whole space, we worked with our local lighting representative to find the products with the right look and feel for this project," says Eric Eschenbrenner, Senior Architect at Davis Wince, Ltd. Architecture.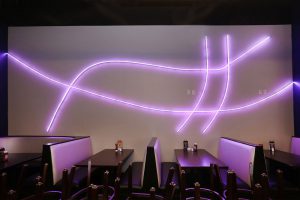 To ensure a stunning first impression, the design team chose iLight Hypnotica iS Color Changing Series fixtures to create a dynamic X-shaped element behind the hostess stand, where guests first check in. "We wanted a neon-like product that could be changed for the holidays and sporting events to draw the eye to the front," Eschenbrenner says.
Elsewhere, iLight Plexineon fixtures are prominent. Plexineon can be bent into custom shapes — a must-have capability to create the abstract designs envisioned for this project. Plexineon Red fixtures introduce abstract swirls of light above the main bar; Plexineon in Rose makes a statement on a large feature wall; and Plexineon Blue is found throughout in the shape of starbursts, rectangles and circles that seem to float from the ceiling.
The iLight Advantage
Between Hypnotica's color-changing capability and Plexineon's ability to bend, iLight was the perfect partner for the job. And because both products replicate the look of neon, they provide a nostalgic nod to game rooms of the past.
In the end, Eschenbrenner says iLight helped his firm successfully achieve the design intent. "The client was pleased with the result — they really like it. This was just the right kind of application for these products."