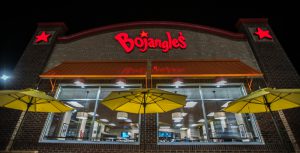 Channel letters are becoming smaller, thinner, and brighter thanks to new building materials, fabrication methods, and lighting products. We take a look at some of the new products as well as the best practices for working with channel letters.
Get Bendy
Bending machines are a great efficiency in the channel letter market. Computerized Cutters, Inc., pioneered automated channel letter bending machines over twenty years ago. The company still has original Accu-Bends in the field, and all of their machines are made in the U.S.
Sign shops benefit from these machines in both time and cost savings. "If they're buying from a wholesaler now, they can end up saving three quarters of the cost by doing it themselves," says Carl Ondracek, president of Computerized Cutters, Inc. "If they're building them by hand, it normally would take them forty-five minutes to an hour to bend and shape a channel letter. The machine's going to do it in about five minutes."
The company recently introduced its newest machine, the Accu-Bend FREEDOM, which is priced just under $20,000. "If a shop is doing one set of channel letters a month, the machine pays for itself within a year," says Ondracek. "A lot of these guys are doing two or three, and the machine pays for itself in half a year."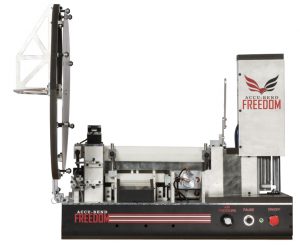 The Accu-Bend FREEDOM features a space-saving design without sacrificing the capabilities of a full-sized machine. It also runs off of standard 110-volt power (as do all of Computerized Cutters' machines) so it can be plugged in anywhere. "They can put this in a corner, and when they're ready to build a set of letters, they bring it out, run their set of letters, and put it away," says Ondracek.
For the shops with space, placing the bender in a strategic spot by a router and a clinching machine can help to increase efficiency even more. "One person could be running the router and the bending machine at the same time," says Ondracek. "Or they could be clinching the backs to the letters or putting LEDs in the letters while the machine is running. They don't have to be there the whole time just watching the letter bend."
To ensure efficiency on individual jobs, Ondracek says starting with a clean file helps. From there, processing the letters in a particular order is also beneficial. "If they're going to do two sets of letters, they're better off doing the first full set before they do the second set," he says. "That way, they can complete the letters in a timely fashion when they have to put LEDs in it and do trim cap and all that."
Facing Fabrication
If your shop still struggles to choose between acrylic and polycarbonate for channel letter faces, Dennis Spahr, director of Sign & Graphics for Plaskolite, says color is a good place to start. If the letters need to be a custom color, acrylic is often the better choice as it's available in more colors.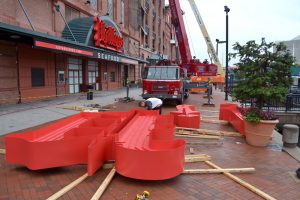 Size is another indicator. If the faces are more than thirty-six inches tall, polycarbonate is usually used, as acrylic letters larger than three feet are difficult to manipulate, difficult to transport, and run a higher risk of breaking. For letters three feet tall or smaller, acrylic or polycarbonate can be used, but acrylic has become a popular choice due to its light diffusion and transmission properties.
Speaking of lighting, be sure to consider it before starting fabrication. "If you are using fluorescent or neon, the channel letters will need to be backed out five inches or more," says Spahr. "If it's LED, as most channel letter signs are now, the depth of the lighting can be as close to the face as 2.5 inches. Anything shallower than that and lines or shadowing can be an issue as well as heat concerns.
"Maintaining a suitable depth allows for better light diffusion and transmission without the pin-lighting effect behind the letters."
Plaskolite recently released a new product designed to make lighting channel letters even easier. The OPTIX-L Black/White is a continuous cast acrylic that appears black in daylight and white when backlit illuminated. It is best used in signs that are viewed at a distance.
"In the past, sign shops would have to apply perforated vinyl," says Spahr. "It's expensive and time consuming. This product eliminates the need for a second layer to achieve the desired effect under daylight or nighttime conditions, reducing material costs and streamlining sign construction."
Stretching the Limits of Lighting
Channel letter lighting is all about brighter and faster installs. SloanLED recently harnessed the benefits of multi-die chip technology. "LED efficacy has increased to a point where we can squeeze more chips into a product design and have the added benefit of using less area, making our designs more compact, giving us greater design flexibility, and at an increased efficacy," says Michael Bluhm, director, Product Solutions – Sign, SloanLED.
Bluhm says the company's Prism Lens technology has also helped sign shops to quickly illuminate channel letters with fewer rows of product, "What used to take two rows can now be done with one," he says.
Principal LED makes installations faster and easier with its smart packaging where one bag of material equals one power supply. "We also utilize a Qwik Release Tab on all of our products so that customers save considerable labor time (and frustration) trying to remove the liner from the back of the VHB tape on modules," says J. Bryan Vincent, partner, Principal LED.
Principal LED also offers layout and estimating services. The company acquired Aries Graphics and plans to release Sign Wizard 8 by the end of July with a plethora of new features. "The online estimator [driven by Sign Wizard] automatically eliminates modules that will not work for your input sign parameters," says Vincent.
Finally 24-volt drivers have also been hitting the market. The drivers allow for more wattage and are useful on long runs to minimize voltage drop.
"Due to class 2 requirements, 12-volt power supplies are limited to 60 watts of power. With 24-volt, you are allowed 100 watts of power per driver to be class 2 compliant. This extra 40 watts allows the sign manufacturer to use fewer power supplies per sign," says Bluhm. "Fewer power supplies means less labor and parts cost, which results in lower cost to the customer."
"The real advantage is in reduction of power supplies in larger signs," says Vincent. "However, 24-volt is not more 'efficient' than 12-volt. For example, our new Tapout Pinnacle™ Stik uses an extremely efficient LED and smart system design that is 12-volt, and you can run the same number of Stiks as the most efficient 24-volt systems and at the same output. Net result: Lower cost power source, and a 12-volt system that is 35 percent more efficient than the 24-volt system."
By Ashley Bray
Photos (top to bottom): SloanLED, Computerized Cutters, SloanLED, Principal LED.