Allanson ColorMix color changing and animating lighting solutions is your solution for creating dynamic brand impact and transforming environments. The ColorMix Solution creates new opportunities, opens new markets, increases revenues and margins, and offers new and exciting options to your existing customer base.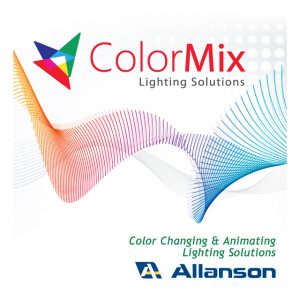 From Sales Training to Technical and Installation Support, Allanson's complete solution package will allow for a smooth transition from concept to successful completion.
Watch ColorMix live here.
For your solution to a competitive market, and to ask about the company's special pricing incentives on bundles and kits, please contact Allanson at (800) 661-7251.