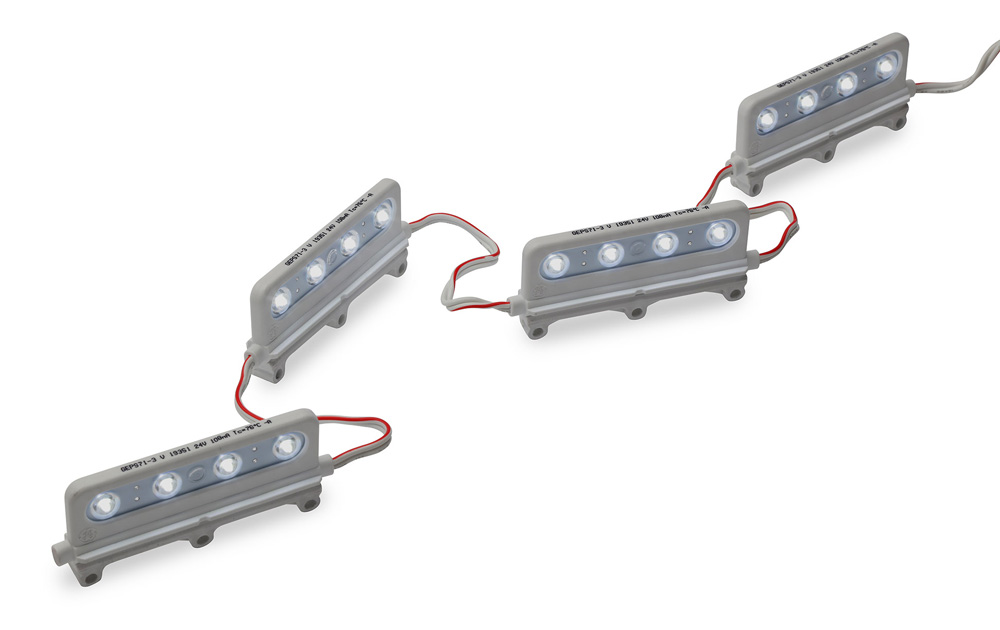 GE Current, a Daintree company, has unveiled two all-new extensions to its Tetra family, as well as a third generation update to the Select TX™ that improves loading by 25 percent. The Tetra® Snap features a first-of-its-kind snap design that allows sign makers to snap LED modules into an aluminum extrusion. This innovative, unique design eliminates the need for screws and allows users the flexibility to customize the product on-the-fly by choosing between three different light levels, hitting a maximum 1,000 lumens per foot. Combined with Current's patented OptiLens X optical design, this means even lighting on all sign faces, with modules placed as close or far apart as customers choose.
Tetra Snap is a one-size-fits-all product for cabinet signs up to thirty-seven inches in depth. Mike Doss, Specialty GM at Current, said, "Tetra Snap is the solution for those who 'don't have time to screw around.' This product is designed to make it as easy and as time-efficient as possible for sign makers to experiment and develop truly unique, remarkable signs."
Like the entire Tetra lineup, Snap is a 24V product, cutting the amount of power supplies needed for any given sign when compared to 12V products, which greatly reduces material and labor costs while operating much more efficiently.

Current is also announcing two recent updates to its signage lighting family:
Tetra Atom is the company's smallest module ever, for channel letters as shallow as one-inch. Features include:
Bringing Tetra to a variety of new applications including halo-lit, shallow channel letters, and routed acrylic letters.
The smallest 24V module on the market, allowing sign makers to benefit from the proven benefits of the platform in an ever-increasing range of applications.
Features the best power supply loading on the market for a module of this size—load up to twice as much as competitors' solutions, cutting your power supplies in half.
Select TX GEN 3 is the third generation of the Select TX LED lighting line. Features include:
Power supply loading improved by 25 percent compared to the previous generation—now load up to 50 Medium modules per 60W power supply.
Available in four different sizes (very small, small, medium, and large) and three different colors (medium red, medium blue, and medium green) to meet all channel letter needs.
The new products are available now through authorized Current signage distributors. Contact your regional Current signage sales manager or visit www.gecurrent.com/signage for more details.
About GE Current, a Daintree Company
Current advances the world with people-focused lighting and intelligent controls, making commercial buildings, retail stores, industrial facilities and roadway lighting more energy efficient and productive. Backed by an ecosystem of technology partners, Current is helping businesses and cities unlock hidden value and realize the potential of their environments. For more information, visit www.gecurrent.com.