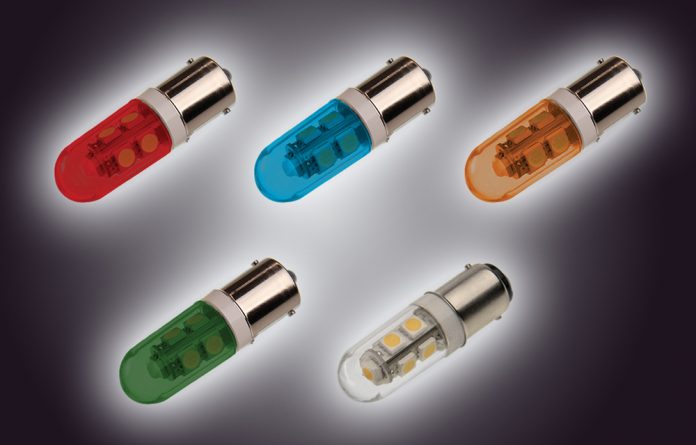 LEDtronics® is proud to announce new color additions to their industry-leading offerings of intermediate-based LED bulbs. The new high-lumen LED T5 Tube Bulbs are now available in any combination of multiple base selections and emitted light colors and are the ideal replacements for old technology incandescents.
In addition to the 6000K clear model with pure white illumination, the T5 compact bulb series now includes various LED and polycarbonate lens color choices—Aqua Green (519nm), Super Red (632nm), Pure Blue (455nm), and Amber Yellow (612nm).
They are featured in a nickel-plated brass Ba15D 15mm double-contact bipolar bayonet base. However, they are available in any combination of any color with any of our other base options as well—Ba15S 15mm single-contact bayonet, E12 12mm candelabra screw, E14 14mm European screw, and E17 17mm intermediate screw.
The design of the LED16T5 series allows for quick installations, and is ideal for enclosed fixtures and tight spaces. They are a perfect fit in applications such as machine status indicator bulbs, accent and decorative lighting, industrial panels, automotive bulbs, appliance bulbs as well as chandeliers.
The compact T5 tube bulbs are rated for input voltage of 10~30 VDC, and provide an omnidirectional 360-degree, no-shadow beam pattern. As compared to incandescents, these LED bulbs provide sharper, higher-intensity illumination, better visibility and uniform lighting. At 30 VDC, they put out luminous flux ranging from 150 lumens (6000K cool white) to 13 lumens (455nm pure blue), with a high efficacy of 115 lm/W to 8.7 lm/W, respectively.
With a power usage of only 1.1 Watt (super red) to 1.6W (cool white) at 30 VDC, they also provide up to 90 percent energy reduction over old-technology bulbs, in addition to the much longer lifespan of up to 100,000 hours for colored LEDs and up to 50,000 hours for white LEDs.
The LED bulbs also have a wide operating temperature range of -30°C to +50°C. The solid-state design renders them resistant to shock, vibration and environmental extremes. Unlike incandescents, they generate minimal heat, and produce virtually no UV or IR radiation. The white-color tubes are also RoHS compliant—no toxic metals.
Other voltages, colors and white color temperatures are available for qualified volume orders.
The new LEDtronics series of LED T5 Tube Bulbs come with an unconditional U.S. factory warranty, and they are available through LEDtronics distributors; quantity discounts are available for qualified volume orders.
For more details and technical data, visit the product Web page at https://www.ledtronics.com/Products/product_select.aspx?id=LED16T5-1WDCB-0ER-1030V.
—Press Release