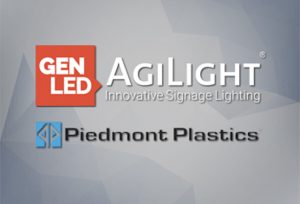 Piedmont Plastics, Inc., is excited to announce that they have partnered with GENLED Brands® to become a new distributor for GENLED AgiLight® products. As a global leader of LED signage lighting, GENLED AgiLight offers premium LED technology coupled with innovative, cost-effective signage lighting solutions.
Piedmont will offer the full catalog of GENLED AgiLight products, including premium signage modules such as the SignRayz® 600 Series, the new BoxRayz® 3.0 and RetroRayz® light bars. They can also provide the value line LyteRayz® products and full selection of power supplies.
"Piedmont Plastics is pleased to announce the addition of GENLED AgiLight to our Sign Product Portfolio," said Brett Thompson, Sign and Graphic Market Manager at Piedmont Plastics. "Being able to offer our customers high-quality products from the world's leading manufacturers is central to everything we do. We believe this partnership will not only strengthen existing relationships but open many new doors as well. Please join me in welcoming AgiLight to the Piedmont family."
"This partnership is a great opportunity for both companies to grow," said Scott Vontobel, Director of Global Sales for GENLED Brands®. "We are excited to be working with a time-tested quality company like Piedmont Plastics."
For more information, please contact Glenn King, Director of Marketing, at [email protected].