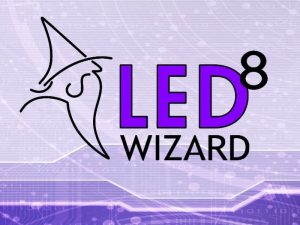 Principal Lighting Group, LLC (PLG) is pleased to announce the North American launch of LED Wizard 8 on October 10th, 2019. LED Wizard is the global industry standard software platform for the creation of LED layouts for both estimating and production of channel letters and cabinets. LED Wizard 8 is a significant upgrade to the platform that provides dramatic improvements in productivity for sign shops across a wide range of applications.
On October 4th, 2019, PLG and GE Current, a Daintree Company entered into a licensing agreement for the launch of the highly anticipated LED layout software. PLG and Current will be the exclusive vendors in the United States and Canada, and as such, Current will be granted the right to list their products alongside PLG's on the software platform. PLG's co-founder J. Bryan Vincent, Ph.D. says "Our contract with Current strengthens the platform by broadening the scope of available products to the two leading brands in North America."
On April 22nd, 2019, PLG concluded an asset purchase agreement with Aries Graphics International, Inc. (Aries/LED Wizard 8). Aries had been a leading software provider to the global sign industry for over 30 years and has been working with PLG in recent months to finalize this ground-breaking release. "We are pleased to announce that there will be a free license to LED Wizard 8 for sign manufacturers, as part of our move to a cloud-based, subscription licensing model," explains Jeff Fassett, former President of Aries and Vice President of Business Development for PLG. "We look forward to helping our customers, dealers, and partners realize the numerous benefits of this new version."
LED Wizard 8 is about automation and simplification, with a variety of new and improved tools aimed at helping sign makers create LED layouts faster. "We know that our users are under constant pressure to create accurate layouts quickly," continues Fassett. "Therefore, we've really focused this release on streamlining the workflow." Specifically, the Auto Population process now combines several steps into one, including loading power supplies, creating dimensions, generating a wide range of job statistics, and merging with customizable title block templates. There is also a focus on high quality channel letter layouts, with more than fifty sign quality fonts shipping with the software, the ability to easily scale existing layouts to new sizes, and a Population Library to save your channel letter layouts for future use. For sign cabinets and cloud signs, there is advanced support for fluorescent replacement products such as Principal LED's Tap Out Pinnacle Stiks™.
LED Wizard 8 will initially be available on October 8th, 2019 through the LED Wizard 8 Store for select customers. To simplify the lives of our customers, we are making the LED Wizard 8 Estimator license free, with an optional Production Edition at $19.95 per month. A Basic Support contract is $19.95 per month and a Premium Support contract is $39.95 per month. PLG and Current are the leading companies that provide LED lighting solutions for the commercial sign industry, and LED Wizard 8 gives customers free access to the complete breadth of LED lighting products from both companies from which to create layouts and generate bids. The public is invited to attend a webinar on Thursday, October 10th, 2019. Register here.