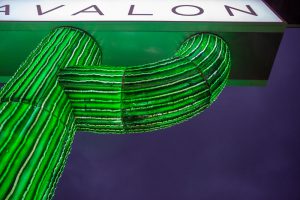 Frank Giuffrida's Hilltop Steak House was once one of the top eating attractions in Saugus, Massachusetts. The establishment added to its recognition thanks to its landmark, sixty-seven-foot-tall, on-premise sign shaped like an illuminated cactus.
The two top sign cabinets of this legendary sign resembled bowties (a 36-by-10-foot featuring "Hilltop" letters and a 56-by-14-foot with "Steak House" letters) while the 28-by-5-foot bottom panel featured the name "Frank Giuffrida's." The base resembled a cactus and its branches sprung upwards to hold the cabinets and panels in place.
Sporting over 2,500 feet of green neon tubing and 210 fluorescent lamps of various sizes, this attention-grabbing spectacular stood out along the landscape of Route 1 and wowed everyone in the area for many years.
But, as the saying goes, all good things must come to an end.
The Frank Giuffrida's Hilltop Steak House restaurant shut down in 2013, yet the reality was that its once-iconic sign had already been a victim of disrepair for years. The oversized cactus found itself on the endangered list of extinct historic signage and threatened to take a spot on Memory Lane.
Thanks to the recent AvalonBay residential and Crosspoint retail developments, which are taking the dilapidated property and turning it into a mixture of apartments, restaurants, and shops, the giant illuminated cactus has risen again like a prickly phoenix from the past—only now entirely with LEDs.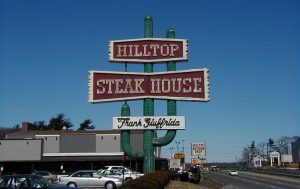 The restored sign is back in action in the same spot, now standing next to the new 110 Grill steakhouse. The cactus still says "Hilltop," but it also advertises the new Avalon/Crosspoint development.
In the end, it took a fifty-year-old sign company to bring this fifty-year-old landmark back to illuminated glory.
The Seeds for This Project
Back in October of 2017, AvalonBay and Crosspoint Associates reached out to Barlo Signs, a full-service sign company in Hudson, New Hampshire that has been in business since 1968, asking about the opportunity to restore this sign. (Note: Barlo Signs was recently purchased by Raymond Brayton, Patrick Assioun, and Philippe Dame in July 2018, and Brayton is currently their new president.)
Long-time Barlo Signs Sales Representative Terry Wilkins had cultivated a long-standing relationship with Avalon and Crosspoint Associates, which opened the door for this opportunity. They were already on their radar because three years earlier, the company built a large display for one of their residential properties.
Wilkins, Brayton, and Director of Project Management Colby Wolff met up with AvalonBay to discuss this project, and they were instantly smitten with the possibilities. "We were very excited to be given the opportunity to bring life back to the iconic New England landmark, as many of us have great memories of the old restaurant," says Brayton.
The entire cactus display measures sixty-seven feet in height and forty-eight feet at its widest width (the second bowtie).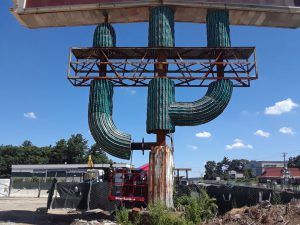 The company has done a lot of remodels on typical signs in the U.S., but this was the first time they'd ever gotten involved with a grand-scale sign that's basically illumination.
Brayton says his company approached this project as a straight-up restoration. Their goal was not to have to replace anything if they could get away with it.
Barlo Signs worked closely with Ed Kenny III, senior sales specialist at New England Sign Supply, owned by Grimco, to procure materials throughout the entire project.
Fortunately the city of Saugus was supportive to everyone during the entire project. They were very eager to see this landmark sign restored and remain on the property. "They told us to just stay in the box, and we would be fine," says Brayton.
A Little History About a Big Sign
The former Hilltop Steak House cactus sign was erected back in 1967. The sign was the creation of Mack Sign, Inc., in Everett, Massachusetts.
According to published reports, Mack Sign formed 115 sections of the sign in a variety of shapes and sizes to arrive at the cactus shape, ranging from elbow pieces to the straight piece on top. In order to make the molds, they had to "carefully match the grooves on each of these pieces to keep the diameter accurate to within an usually close tolerance."
Brayton was amazed at the engineering feats the shop performed back in the day. "There were so many brilliant things that we'd be scratching our heads today trying to come up with," he says.
For example, he points toward the small amount of sizes fabricated for the panels. "They didn't have to have a hundred different molds," he says. "They just created a dozen or so and laid them out. Basically they would just hand-trim the lengths of some of the panels and massage them to come up against the vertical part of the cactus."
Barlo Signs ended up using many modern-day manufacturing techniques to restore this sign, with a little bit of history thrown in.
Restoring a Prickly Bloom
The body of the cactus is unique. "We had to ask ourselves how would we be able to recreate one or several of these panels, if need be? How would we ever be able to match the same green color?" says Brayton.
Barlo Signs located the original plaster molds, which were housed in nearby Lynn, Massachusetts. "Amazingly we were able to clean and touch up the existing nineteen cactus panels with no need to recreate any pieces!" says Brayton.
The original cactus was painted light green, then shaded to a dark green and highlighted with yellows and tans. "Because of the fading of the backspray painting over all these years, there was inconsistency in the film," says Brayton, noting they didn't want to repaint anything but just restore it.
While a lot of rust was visible on many of the internal parts of the cactus, as well as on the backers of the two sign cabinets, Barlo Signs determined this was not structural. Fortunately this meant these repairs would be mostly cosmetic.
The backers on the top two sign cabinets are solid steel coated in porcelain. "Though porcelain was a popular material used in signage back in the 1960s, it's not a material that's often utilized in the industry now," says Brayton. "We decided to first try cleaning the surface using five or six different agents unsuccessfully."
The sign company realized they had to find a way to recolor a large, unfamiliar surface. Some initial ideas included electrostatic painting (typically seen in restoration of porcelain bathtubs), wrapping the sign with vinyl, or fabricating an aluminum overlay.
"In the end, our in-house painter was able to find an acrylic-based primer specifically designed to bond to porcelain," says Brayton. "This allowed us to paint the surface using acrylic latex-based paint."
An Illuminating Experience
Thanks to the number of components used, the glow of the original cactus sign generated a massive amount of power, so all parties agreed from the outset to use energy-efficient LEDs instead.
The first thing Barlo Signs did was strip down the entire display (which had, by that point, deteriorated pretty badly anyways), leaving only the acrylic panels in place. They removed all the neon and fluorescent tubes from it for recycling.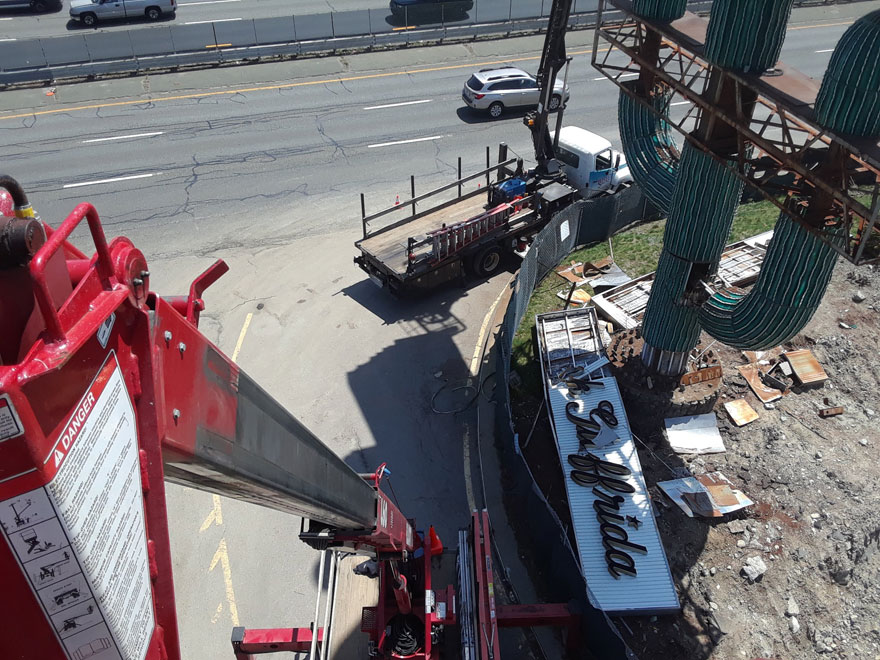 Barlo Signs then used a bucket truck to take down all seventeen, five-foot-tall "Hilltop" and "Steak House" letters and used their cans as a template to create a pattern for a new set of "Hilltop" letters. "We were able to reproduce the original tube look using reverse-cut vinyl on the new letter faces and backlit LED," says Brayton.
They opted to leave the open pan bowties and red porcelain alone. "We just cleaned them up and painted them," says Brayton.
Barlo Signs used 4,100 total feet of LED modules. This change in lighting technology takes the sign from 280 amps, drawing 30,800 watts of power, to only 112.5 amps, drawing 12,375 watts, a reduction of nearly two-thirds.
To give the cactus its subtle greenish-white hue, Barlo Signs ended up combining white and green LEDs, which they adhered to acrylic, cylinder sleeves in order to bring the illumination just behind the surface of the cactus panels. This color combination was actually a happy little experimental case of trial-and-error.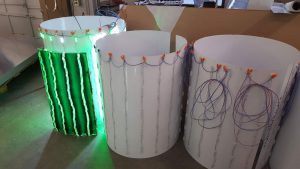 There really wasn't much science involved in the LED layout and design. Barlo Signs just took what they had and worked from there. "I took one panel section and created a backdrop that I could string the LEDs to and just do an array of six inches on center," says Brayton.
Brayton started out with just white LEDs then just green LEDs. Underwhelmed with what he was seeing, he tested green and white LEDs together and immediately discovered this combo brought life to the panels.
"There's a beautiful, wonderful look with the white and the green intermixing with each other. So one pixel is white, the next pixel would dance off to the right about four inches and be green," says Brayton. "That gave us a jeweled look. In some of the cases where the forming had a little bit of a clear, you can see a white light in a spot and then your eye would see a green over there."
Brayton left everything alone. When the client showed up an hour later, he asked them what they thought. "They were instantly impressed!" says Brayton. "It was exactly what they wanted!"
Barlo Signs built interior pans and covered them. "We basically had to make them so that they could not only have all the LEDs strung around them, but they would have to be able to fit and slide up inside these radius sections without completely disassembling the cactus," says Brayton. "We were concerned that we didn't want to pull apart too much of the steel."
The company worked on and installed all of the pieces for this sign starting from the top and moving downwards.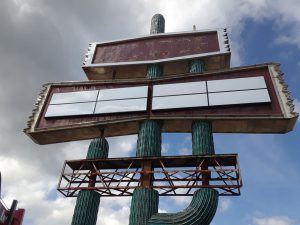 Barlo Signs used Lexan for the two sets of four acrylic-face tenant cabinets on the previous "Steak House" bowtie cabinet, and they built two new SignComp single-face extruded cabinets with tinted 3M flex faces for the Avalon cabinet on the bottom.
The sign was originally built with corrugated metal wrapped around the main steel pipe. "They put their fluorescent sockets in the valleys of the corrugation and ran the lamps," explains Brayton. "When I saw that, I thought it was a brilliant idea. I had never thought about that."
Barlo Signs wrapped stainless steel on all the cabinet returns to create a single double-face appeal to the signs.
"In some areas, where it was just a lot of missing pieces over the years with all the service work that was done to the sign, we worked with some anodized aluminum to gave it a similar appeal of stainless," says Brayton. "There was an area around the ends of those bowties that was very jagged cut, and every bit of that was hand-done stainless steel trim capping."
All the power supplies are nested in the lowest "Avalon" display. "We had the ten circuits that dropped down to the base of the cactus from there," says Brayton.
Making Its Point
The illuminated cactus returned to life at a public press-attended ribbon-cutting ceremony on December 21.
"It truly is one of the biggest and brightest signs on all of Route 1," says New England Sign Supply's Ed Kenny III.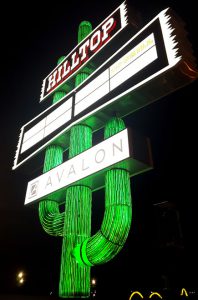 Brayton feels the most pride that everyone at his company rallied together to complete this unique and fun project. "There was a lot of off-the-clock time and T-L-C put into this thing by many of us because we just wanted to be over the top," he says. "To save all that porcelain and rework all the acrylics, you couldn't have asked for a better outcome."
By Jeff Wooten
All Photos: Barlo Signs