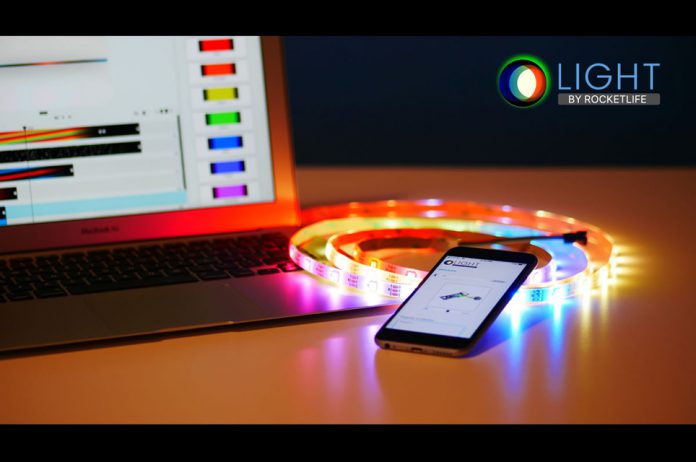 RocketLife, the award-winning developer of breakthrough visual technologies, announces Light by RocketLife, the world's most creative lighting system. Light by RocketLife is an easy-to-use hardware and software system that adds dynamic lighting to almost anything. Unlike conventional systems that are limited to one color at a time or preset patterns, Light allows anyone to create multi-layered effects that blend and move with rich color transitions, sparkles, and natural motion effects that tell a story.
Light provides creative home and business lighting that's perfect for animated signs, retail displays, holiday lighting, club and DJ lighting, sparkling DIY crafts, mobile bling for bikes and cars, flashing wearables for nightclubs and parties, creative costumes, PC mods, and dramatic works of art. Light's integrated Bluetooth LE lets you control it all from your iOS or Android device with the included LightMobile app.
Light by RocketLife is plug-and-play easy for everyone to use. Beginning users can simply connect the compact LightBox Bluetooth device to the included LED strip and choose a lighting effect on their phone for instant atmosphere. Or anyone can load a photo into the included Light Effects Designer Software, draw virtual lights on top, and quickly light up a home or other project. For more advanced users, designers, audio/video enthusiasts, lighting pros, makers, and other creative people, the Light hardware and software also include numerous options to add Light to interactive art, games, and other electronic projects.
Light by RocketLife includes:
LightBox: a compact Bluetooth device featuring RocketLife's advanced LED animation hardware. LightBox is about the size of a small stack of business cards, with measurements of 3.75 inches (length) x 1-5/8 inches (width) x 1 inch (height).
Two-meter (6.5-foot) strip of addressable LED lights: LightBox supports a wide variety of popular LED strips, discs, holiday strings, and grids. RocketLife will post a compatibility list on its site.
Light Effects Designer Software for Mac and Windows: a powerful, timeline-based animation editor with drag-and-drop simplicity.
LightMobile App for iOS and Android: features Bluetooth LE for instant remote control of LightBox to adjust lighting.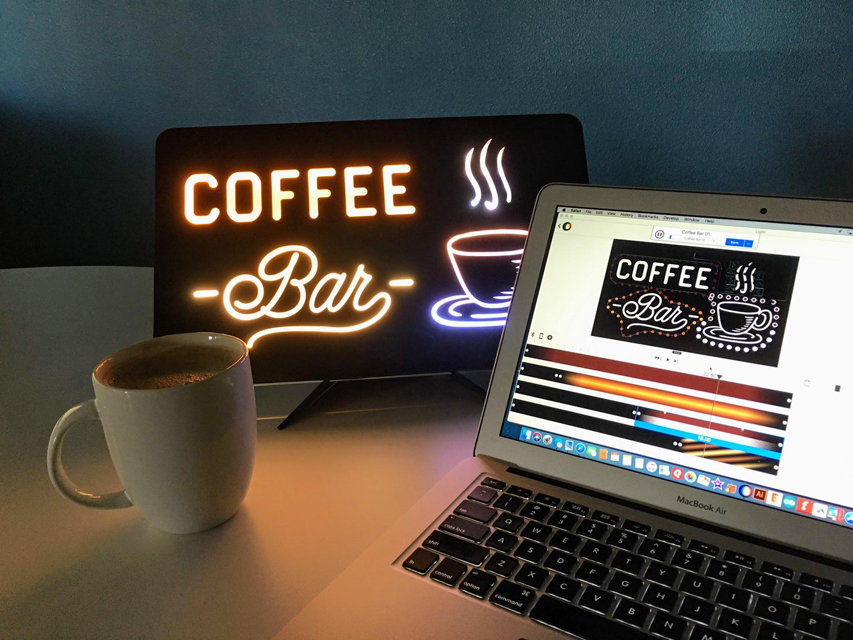 Light by RocketLife is different from anything else because it lets you tell stories, from beautiful sunrise and sunset sequences on your wall to sophisticated holiday lighting and attractive displays. "Ever since we were kids, we've loved lights," said RocketLife CEO Daniel Kaye. "We wanted to invent something that would let anyone add fantastic lighting to all parts of their lives, yet was powerful enough for professionals to create amazing new experiences. With Light, the technology is finally here to put the lighting we dreamed about within the reach of everyone."
Light by RocketLife Features:
Easy to Use: choose from a huge list of dynamic programs and effects, or make your own.
Flexible Power: use Light anywhere with its internal rechargeable battery, or add an optional power adapter for continuous use. (Battery life depends on the type of effects.)
Works with a variety of LEDs: from light strips to grids, circles, discs, and holiday strings.
Expandable: Includes additional features for connecting different types of LEDs, sensors, and even audio peripherals for advanced makers.
Wireless: the easy Bluetooth app lets you change programs instantly from your phone or computer.
Advanced Effects: layer animations for smooth crossfades, sparkles, and highlights.
Powerful Layouts: load a photo into the software, draw lights on it, add some patterns, and create amazing custom lighting. You can even create groups of differently animated lights.
Universal: easily produces effects for home and business lighting, holiday lighting, arts, crafts, retail displays, signs, wearables, cars and bikes, PC mods, costumes, DJ lighting, parties, and much more.
Made in the USA: LightBox is designed and manufactured in the USA.
Light by RocketLife will launch via Kickstarter on Tuesday, November 13, shipping Q2 2019 for $149.95 Suggested Retail Price. Early backers on Kickstarter can choose substantial early-bird discounts.
To sign up for advance notice of the Kickstarter launch specials, visit www.rocketlife.com/light. Light by RocketLife comes with the LightBox Bluetooth LED animation device, a 2-meter (6.5-foot) strip of addressable LEDs, Light Effects Designer software for Mac and Windows, and the LightMobile App for iOS and Android.