SloanLED, leaders in light technology for over sixty years, announces the availability of SloanLED Prism Mini for channel letters. Prism Mini is designed for two- to three-inch can depths and offers prism optics in the smallest package yet.
SloanLED Prism Mini includes constant current technology to maintain consistent current levels, eliminating the line loss and voltage drop issues common in many LED lighting systems. SloanLED's module circuit design provides uniform light output throughout the entire installation, while also preventing damage from overdriving of the LEDs. SloanLED uses the highest caliber components to deliver a superior product with the longest lifespan.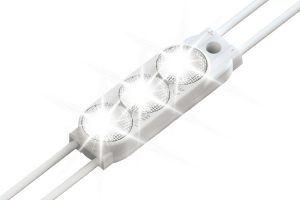 SloanLED Prism Mini is available in White (7100 K, 6500 K, 5000 K, 4000 K, and 3000 K), Red, Green, and Blue. Prism Mini also comes with SloanLED's 10-Year Limited Product and Labor Warranty, so buyers can rest assured that their investment is well protected.
"The Prism family of products is SloanLED's best-selling product line. The Prism Mini provides consistent Prism illumination across a broader array of applications requiring a smaller form factor," said Pete Todd, SloanLED vice president of Sales. "SloanLED is a trusted name in the sign industry, known for delivering innovative, reliable, and high-performance solutions that bring value to our customers via material and labor cost savings."
For more information about SloanLED's channel letter products, please visit https://sloanled.com/collection/signage/channel-letter-signage/.