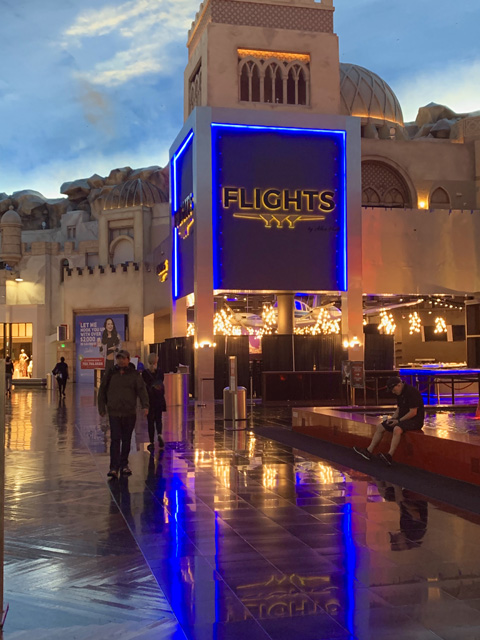 FLIGHTS is a comfort food, tapas-style restaurant that incorporates an aviation theme with a blend of "top-flight" food and cocktails. Last year, the restaurant expanded from several locations in California to make a new landing at the cutting-edge Miracle Mile Shops complex located on the Las Vegas Strip.
The interior of the Miracle Mile Shops features a mix of shopping and food destinations all housed within exotic architecture and underneath ceilings that provide a faux-outdoor nighttime appearance. Since the founder of FLIGHTS originated his establishments around the idea of finding the "perfect flight of cocktails," he knew he was going to need appropriate scenery and signage at his new Vegas hub that would act as the perfect landing spot in the facility.
The end-result involved a stunning combination of graphics and lighting—all of which was designed, built, and installed by Image360 Las Vegas South in time for the take-off grand opening. Image360 Las Vegas South is owned and operated by Ruth and Terry Whalen and has been in business for twenty-two years now. The shop started out mainly offering with print and vinyl before the Whalens decided to also move into the electrical side of things with channel letters, box signs, and pylon signs.
Today Image360 Las Vegas South has a staff of thirteen highly skilled employees, and their production area features a Multicam router, an Accu-Bend channel letter bender, a Mimaki flatbed and roll-to-roll printer, and a Vision engraver (for ADA signs).
Over the years, the company has successfully transitioned into being able to provide complete sign packages for schools and hospitals, an angle that greatly benefited them in being able to work on this FLIGHTS job.
And their shop's work on this FLIGHTS project also earned them top honors as the Alliance Franchise Brands Project of the Year Winner for 2019 (which is impressively the second year in a row that they have taken home this prize).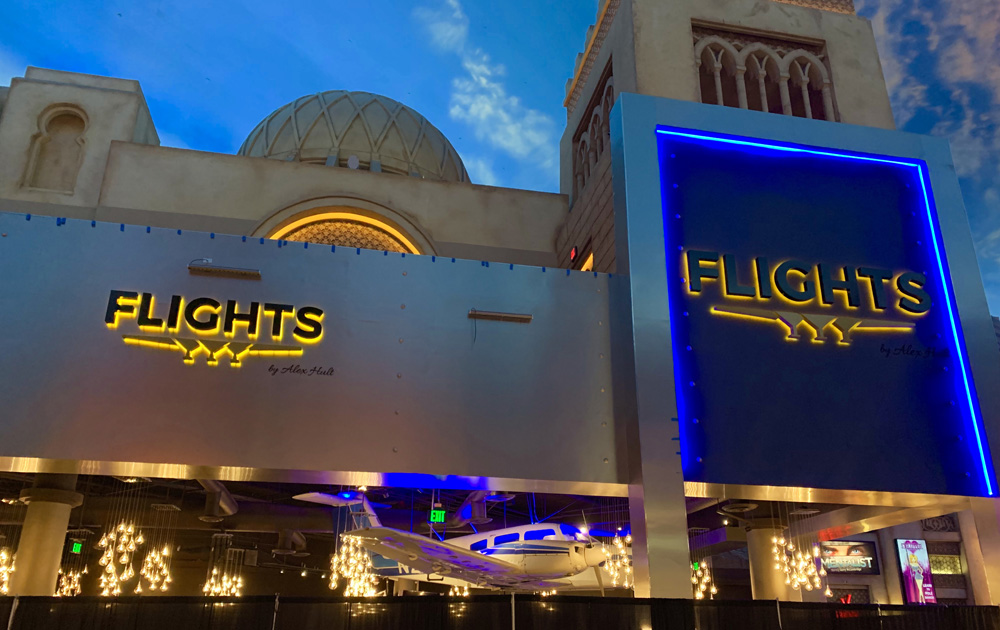 Alliance Franchise Brands LLC and its subsidiary, KK Printing Canada ULC, are the franchisors of more than 600 locations in North America operating the company's brands. Those related to the sign industry include Image360, Signs Now, Signs By Tomorrow, Insty-Prints, and American Speedy Printing Centers.
Alliance Franchise Brands annually asks its members to submit their most challenging, impressive, or creative project that they have completed for the year, and nominees are then whittled down to a final voting ballot. This year, due to the pandemic, entries were voted on by the members of the Alliance Franchise Brands network in a blind online vote.
Image360 Las Vegas South Sales Manager Tina Ayala (whom Terry Whalen describes as "one of their best salespeople") oversaw the "flight plan" for this project. "We've been doing large and creative signage for many years, so we have the talent and experience to get the job done to our client's satisfaction," she says. "When a client presents us with an idea in an artist's rendering, we always want to exceed their expectations when they see their vision realized."
When Ayala met the FLIGHTS owner, his original plan was to have the signage made elsewhere and then shipped to Image360 Las Vegas South for installation; however Ayala, seeing they were a "good fit," convinced him to allow her shop to do the fabrication as well.
You can't spell "FLIGHTS" without "lights," and blue- and yellow-themed LED border and accent lighting can be found throughout the FLIGHTS Las Vegas restaurant. This color lighting scheme was the client's idea, as it followed the aviation theme of the establishment. The blue lighting represents an actual flight in the sky, while the blue and yellow entails the colors of a pilot's uniform.
For the channel letters, Image360 Las Vegas South had to make backlit channel letters that would appear a brighter shade of yellow. "However we couldn't find the yellow that our client liked, so we painted the inside of the cans a particular yellow and then applied yellow translucent vinyl to the clear Lexan backers," says Ayala. "We then applied white LEDs to the returns to achieve the vibrant yellow that our client desired."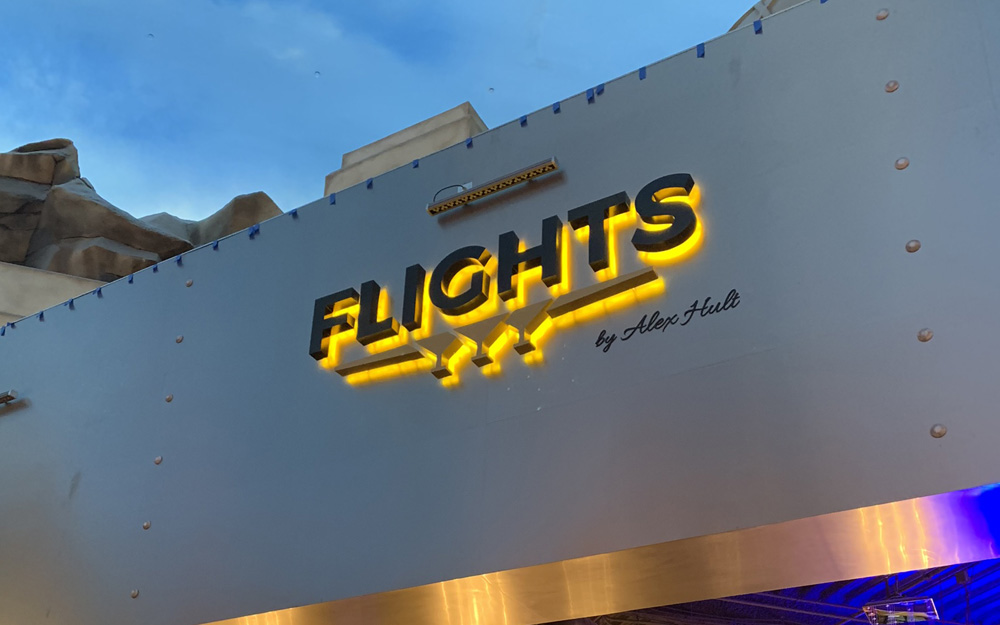 The FLIGHTS owner also wanted lighting that would attract customers to his restaurant, so the Image360 Las Vegas South crew solved this by designing a front-lit can with a metal face in the shape of an arrow with yellow stripes mimicking the bars on a captain's uniform.
Vinyl graphics also played a role in the branding of this project—even before it opened.
Image360 Las Vegas South printed a 20-by-141-1/2-foot barricade wall wrap that would hide the construction/remodeling going on behind it. This required them to print thirty-two panels, trimming them, labeling and organizing them, and then storing them for later installation. "It took a week to print everything out," says Ayala.
The design intent for the barricade wall was to look different than a normal barricade wall one would find in a mall. "It was impressively tall, and we wanted a minimalistic look," says Ayala. "We designed it as something 'almost mysterious' [for passers-by] as to what was going on behind that black wall. We included pictures of food and a chef to indicate it was going to be a restaurant."
Since the client was heavily involved with social media platforms promoting the grand opening of this restaurant, Ayala came up with idea of adding a "selfie station" section on the black barricade wall. "The design intent was a photograph that meant something personal to the client," says Ayala. "So we made digital prints of life-sized retro FLIGHTS attendants with an empty space for the person to stand in front of while taking the selfie. We included the hashtag #flightsfood above it. [The owner] loved it!"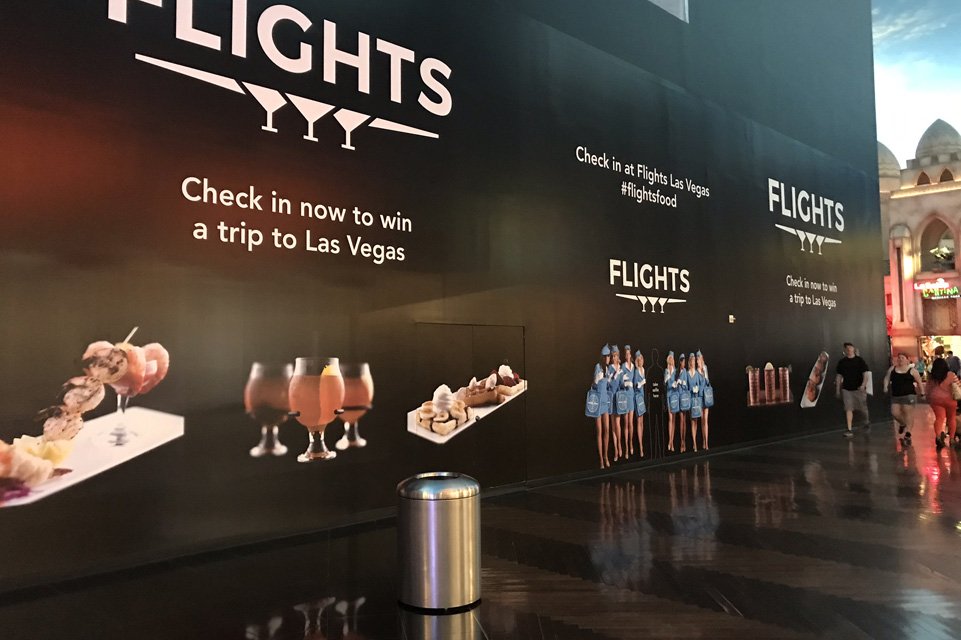 This project had a very successful take-off, and Ayala credits a comprehensive site survey beforehand for making sure all the sign lighting and graphics elements would come together and work.
Ayala met the client onsite and went over a detailed checklist of where all the signage would be located. She took measurements by hand wherever she could. To obtain the correct measurements for the larger signage (twenty-five feet and up), she used ikeGPS' Spike digital measuring device.
Installation took place over three nights during Miracle Mile Shops' after-hours. "Planning was tricky because the site was inside a mall," says Ayala. "We had to coordinate with the mall staff when we could bring in the twenty-five-foot lift for the large sign install—which we did first. We recognized early on that the smaller bar signs could be done last."
Judging by the on-time, award-winning results, Image360 Las Vegas South definitely stuck the landing with flying colors. "The owner told us that he couldn't imagine it looking as great as it did," says Ayala, "and his reaction made all the hard work so worth it."
—Jeff Wooten