A leading global professional services firm with offices across the United States wanted each of its sites to reflect its unique locale, while also supporting the company's overall culture. The New York City office of design firm Vocon recently used 143 linear feet of iLight Plexineon LED fixtures to unify four floors for the Chicago office of this firm, including playful nods to Windy City icons and bringing a "cool factor" into the spaces.
Inspired by the look of iconic neon signs in the Windy City, the design team from Vocon's New York office proposed creating neon-like custom interior signs that would include playful nods to various Chicago icons. With its ability to bend and form curves, Plexineon proved to be the perfect product to replicate the intricate designs the team had in mind.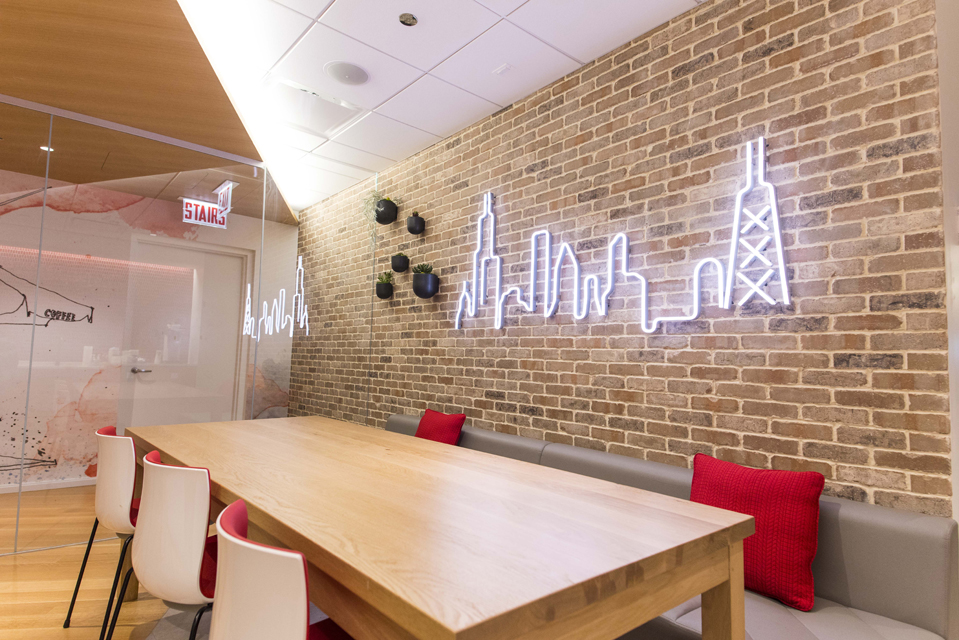 In one instance, the design team wanted to recreate part of the Chicago skyline and mount the sign on a brick-veneer wall. Short strips of Plexineon were used to recreate beams on the depiction of an iconic Chicago skyscraper. "It was a fun way to bring in some Chicago flair on a three-dimensional texture that, itself, looks like so many buildings you see in Chicago," says Sara Crus Lass, senior project designer at Vocon.
Another Plexineon sign installed onto a lacquer panel recreated the client's logo.
Plexineon fixtures were also used to create a very high level of detail on an illuminated world map mounted onto wood. Plexineon was curved to outline all seven continents in a high level of detail.
Frequently included in "Best Places to Work" lists, the firm appreciated the unique role that an intentionally designed space can play in helping to attract and retain talent. "We were worried about how it would come in, but there were no mistakes .The signs were so easy to install and seamless. They looked beautiful," says Cruz Lass.
Cruz Lass goes on to say that the final result was "extremely successful." She adds that the client was very pleased, and she hopes to use Plexineon again for future applications.