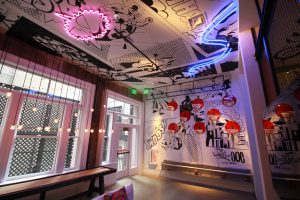 Hotel Zeppelin is a Union Square San Francisco hotel that harnesses the city's progressive mindset and transforms it into a living story with a revolutionary attitude. A mind-altering experience with a stylish delivery, Hotel Zeppelin inspires guests to break the mold.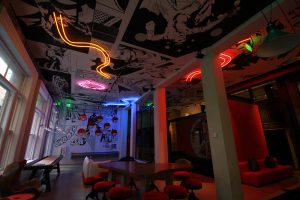 The hotel includes colorful iLight Plexineon® Color Luminaires fixtures on the ceilings of its meeting rooms, game rooms, and other spaces. Amber, blue, green, magenta, red, and teal lighting was used throughout to add vibrancy, reflect the hotel's celebration of the avante-garde, and embody a living story of revolutionary attitude within the space.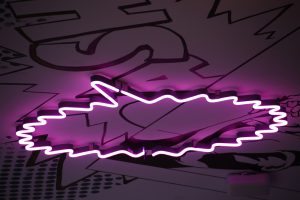 The lighting was designed by Lighting Designs, Inc. while the interior was designed by Dawson Design Associates.