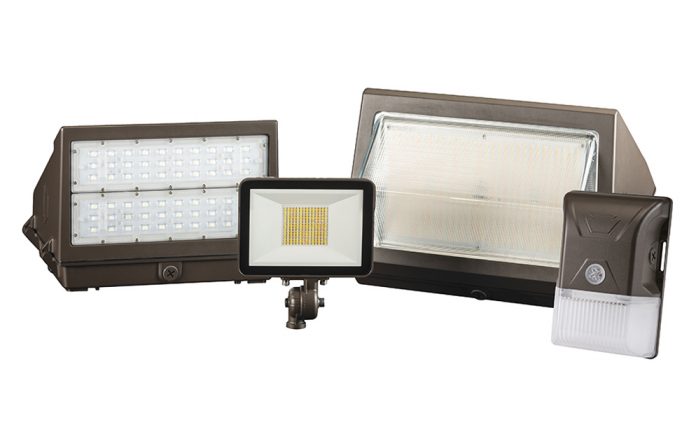 Keystone Technologies, a leading manufacturer of quality lighting solutions for seventy-five years, has added outdoor fixtures to their XFIT fixture product line. The initial Outdoor Fixture line offerings include energy-efficient floodlights, traditional wall packs,
full cutoff wall packs, and small low-profile wall packs. All are designed with features that both dramatically reduce SKUs and make installation easy.
"We are very excited about expanding into outdoor lighting," said Josh Brown, vice president of Sales and Marketing. "Our distributor and contractor partners were top of mind as we developed these floodlights and wall packs. Most units include Color Select technology, allowing users to quickly and easily select from three different color temperatures, even in the field. With Color Select switches and built-in photocells, distributors have far fewer SKUs to stock, while still meeting market demands.
"Contractors will appreciate that the flood fixtures include mounting accessories, eliminating a lot of frustration at job sites."
The compact, rugged design of the floodlights makes them ideal for a wide variety of applications. Lower wattage floods include yoke and knuckle mounts, while higher wattage fixtures include slipfitter and trunnion mounts.
The traditional wall packs provide an easy one-for-one upgrade to LED, fitting neatly atop the footprint of the legacy product. The full cutoff wall packs also seamlessly cover the existing fixture footprint with an updated design, while hiding any unsightly marks and fading. The newly designed full cutoffs eliminate undesirable sky glow and glare with dark sky friendly performance.
The small low-profile wall packs have a contemporary, compact design and can be mounted virtually anywhere for general safety and security illumination needs.
The floodlights and each of the wall packs are DLC Premium, making them eligible for utility rebates where available.
They are all built with a Keystone 120-277V LED driver that provides 0-10V dimming and ample surge protection for increased versatility and reliability. They are protected from the elements with an IP65 rating.
"We know these products will provide a substantial upgrade in both style and performance. At the same time, customers can reduce SKUs," said Keystone Technologies CEO Ira Greenberg. "It's one more way we deliver on our promise of Light Made Easy."
About Keystone Technologies
Since 1945, Keystone has manufactured quality-driven lighting solutions for the industry's leading lighting fixture manufacturers and wholesale distributors. Keystone offers a full catalog of lighting products including a comprehensive line of LED tubes, lamps and bulbs; LED fixtures; LED retrofit kits; emergency LED systems; connected lighting; ballasts, transformers, and sensors. Keystone stocks inventory in sixteen fulfillment center locations across the nation. For more information, visit www.KeystoneTech.com.
—Press Release