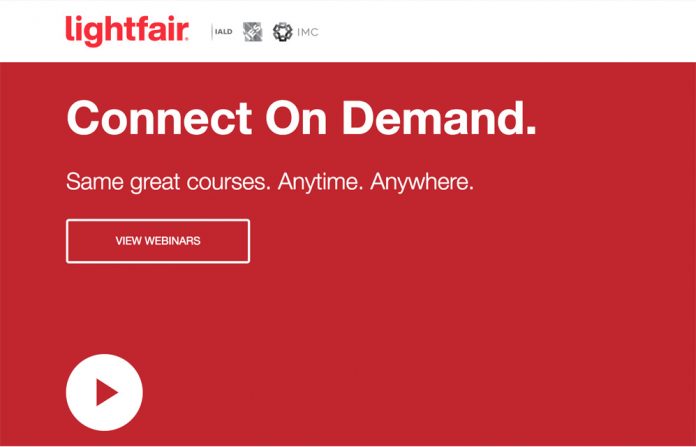 LightFair has announced a limited-time sale on recordings of its LightFair Connect virtual conference starting on Tuesday, October 20. Fifty courses including 60-minute and 90-minute Webinars offering a total of 60 CEUs are $20 each from October 20-31, 2020.
"October is a critical time for professionals to earn CEUs before the end of the year, so we are making our accredited LightFair Connect content easily available" noted Dan Darby, LightFair show director. "The digital nature of LightFair Connect lets us share this content beyond the conference."
Available in the sale are popular sessions including "Color and Light: Nature's Guide to Designing Better Interiors," "The Digital Age of Lighting Controls," "Integrating LED into Landscape Lighting Design," "The Science of Healthy Lighting: Blue-Rich Days and Blue-Depleted Nights?" and "Squeezing the Code Turnip: Costs, Comparisons, Compliance and Changes." The full list of sessions and registration information are available online at www.Lightfair.com/conference.
All LightFair Connect courses offer CEU / Learning Units / Certification Maintenance Points for the American Institute of Architects (AIA), American Society of Interior Designers (ASID), American Society of Landscape Architects (ASLA), Building Owners and Managers Association International (BOMA), Independent Institute for Property and Facility Management Education (BOMI), International Association of Lighting Designers (IALD), Interior Designers of Canada (IDC), Interior Design Continuing Education Council (IDCEC), International Interior Design Association (IIDA), Institute of Electrical and Electronics Engineers (IEEE) or Illuminating Engineering Society (IES).
Attendees should use the promo code FLASHSALE to receive the discount. In addition to the price cut, attendees also get 10 percent off five to nine and 20 percent off ten or more courses. Courses are available online through December 31, 2020.
The next LightFair Conference is scheduled to take place May 16-20, 2021 at the Jacob K. Javits Center during the citywide NYCxDesign Week. 2021 Conference information will be announced later this year. The 2021 LightFair tradeshow is May 18-20, 2021.