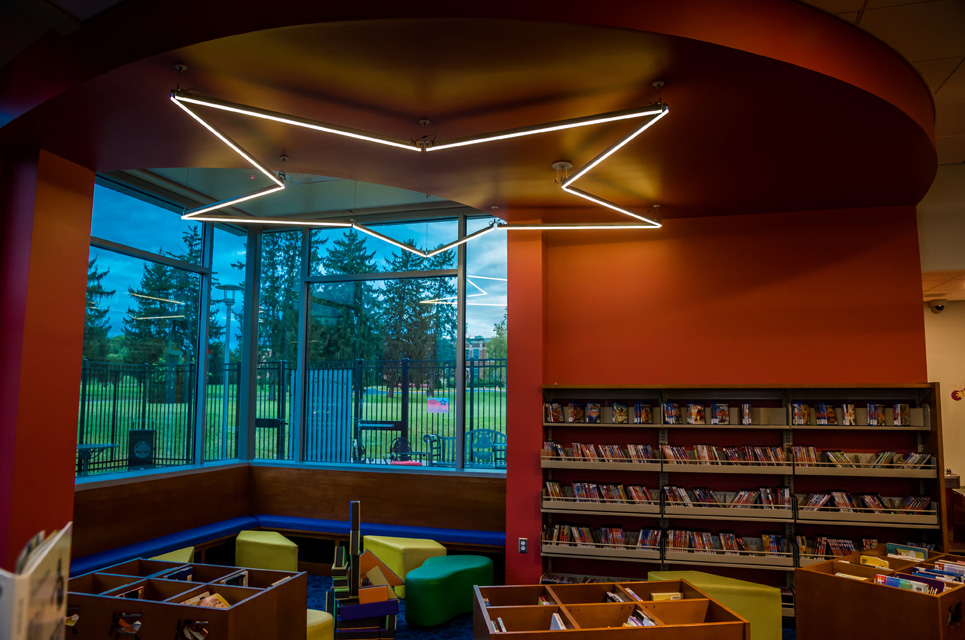 Inside the Williamson Road Library in Roanoke, Virginia, suspended from the ceiling in an area where young children sit together for story time, an oversized star created using iLight Plexineon LED fixtures serves as a symbol of how the city is looking out for its children.
Roanoke has been honored with a record seven All-America City awards for an ongoing, community-wide effort to help all of its young children master the ability to read. The program, called "Star City Reads," aims to ensure that every child is able to read proficiently by the end of third grade—a benchmark time in a child's life that has proven critical for paving the path to future academic success.
There's a reason Roanoke is known as the "Star City." Overlooking the city is a nearly ninety-foot star-shaped structure that was Installed in 1949. Outlined in neon tubing, the "Roanoke Star" is visible for miles around—a symbol of Virginia's Blue Ridge.
Recently the city sought to renovate its branch libraries to accommodate growing demand. Tasked with designing the $3.8 million expansion of the Williamson Road branch, Enteros Design, PC sought to integrate a star-shaped lighting feature into the new children's area.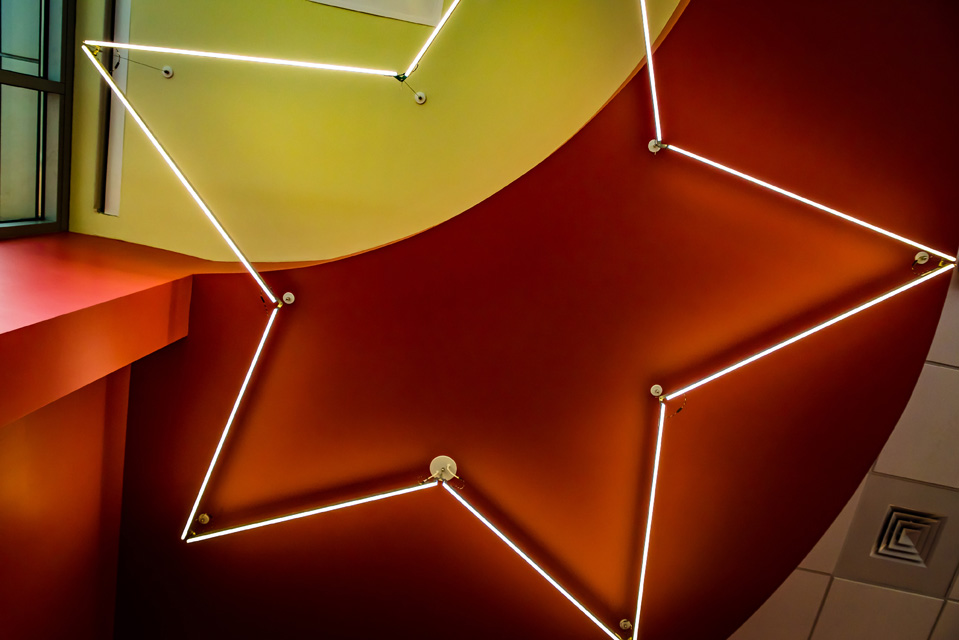 The design team was unsure which product would be ideal to create a star measuring twelve feet in diameter—with bright, straight lines of light. Then they learned about Plexineon.
"It was painless to make our design reality, because Plexineon could be configured so easily," says Thomas R. Freeman Jr., RA, at the Richmond-based firm. "Other products come in set lengths, but with Plexineon, we could create the shape and size we wanted."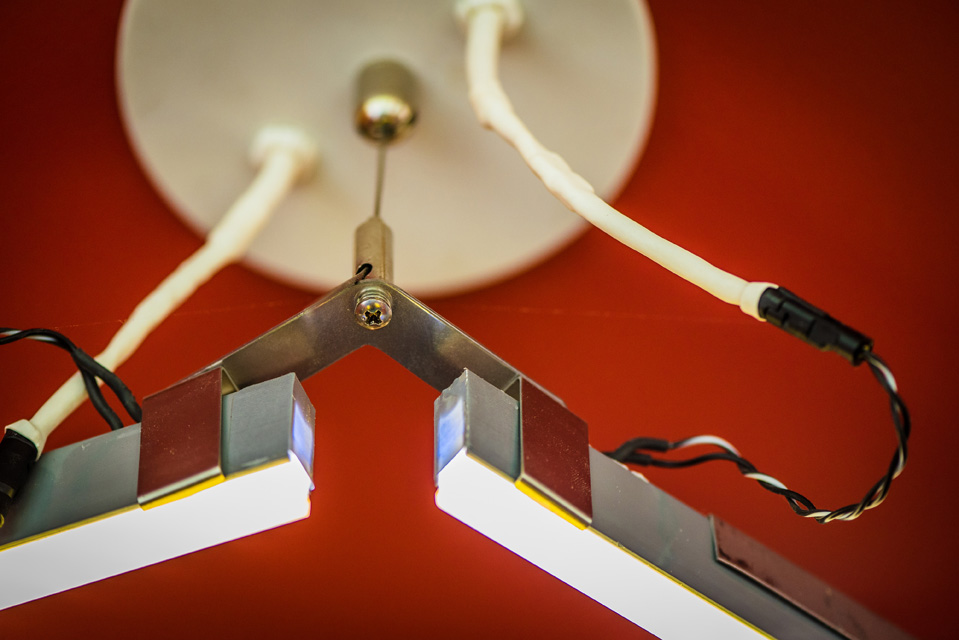 Ascent Engineering was brought onboard the project, and they utilized forty linear feet of Plexineon White 1X 3500 to illuminate the twelve-foot star.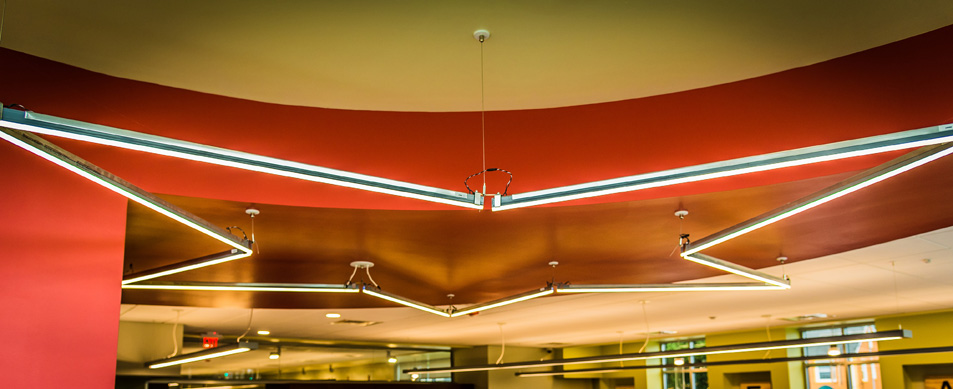 iLight was also able to help devise a custom suspension mount for the fixture, to overcome a challenge that the ceiling presented. "The ceiling has varying elevations, so the star had to engage the ceiling at varying heights," Freeman says. "The solution was to use aircraft cable in different lengths, so that the fixture would hang evenly, despite the ceiling variations."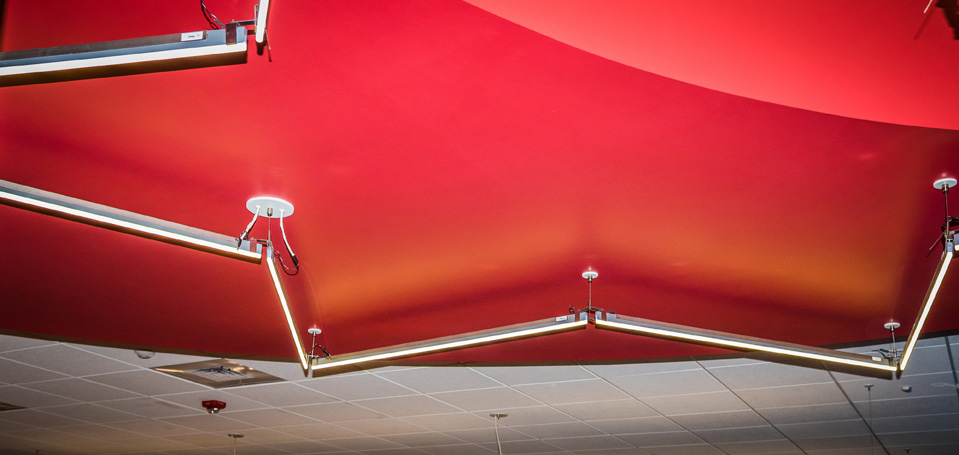 After the year-long renovation, the library reopened with nearly twice as much square footage as it had before. The children's space—which opens to a new enclosed children's garden—is one of the most popular areas in the building.
Freeman, who had never worked with Plexineon, said the star exceeded his expectations, and the bright, neon-like light provides just the right illumination. "It's a nice accent light. It does stand out," he says. "Everyone's pleased with it."