Sickies Garage is a North Dakota-grown series of restaurants that specializes in gourmet burgers and cold beer. The establishments are modeled after pure mid-twentieth century Americana—a themed mix of "classic American diner" with "classic American car garage" with just a "shake" of "greasy spoon."
But don't let the "greasy spoon" connotation turn you off. Ever since opening their first location eight years ago (in Fargo), Sickies Garage has won numerous awards with their freshly made extreme burger creations and craft beer pairings.
Today Sickies Garage restaurants can be found in seven locations across North Dakota, South Dakota, Nebraska, Nevada, and Minnesota. The Sickies Garage owners were looking for new, illuminated, exterior, identity signage to mount at their locations that would reflect their branding and help them stand out even more. The Fargo-based Starmark Hospitality sign company was in charge of putting this sign project together and installing it, so they contacted ESCO Manufacturing, a wholesale nationwide company based in Watertown, South Dakota that specializes in illumination and customized signage.
ESCO Manufacturing has been in business for over five decades now (starting up in 1965). They are a family-owned company, and Stuart Stein recently took over as a third-generation owner earlier this year (following in the footsteps of his grandfather Clint and his father Mark.)
They pride themselves on "helping their clients every step of the way—from conception of artwork and fabrication all the way to shipping." (Note: To learn more about the company, be sure to check out "Navigating Through the Channels" appearing in our November 2018 issue.)
ESCO Manufacturing had supplied lighting for Starmark on several prior sign projects. "They liked the way those turned out so they asked us to help with their signage here," says Alex Artibee, sales manager at ESCO Manufacturing.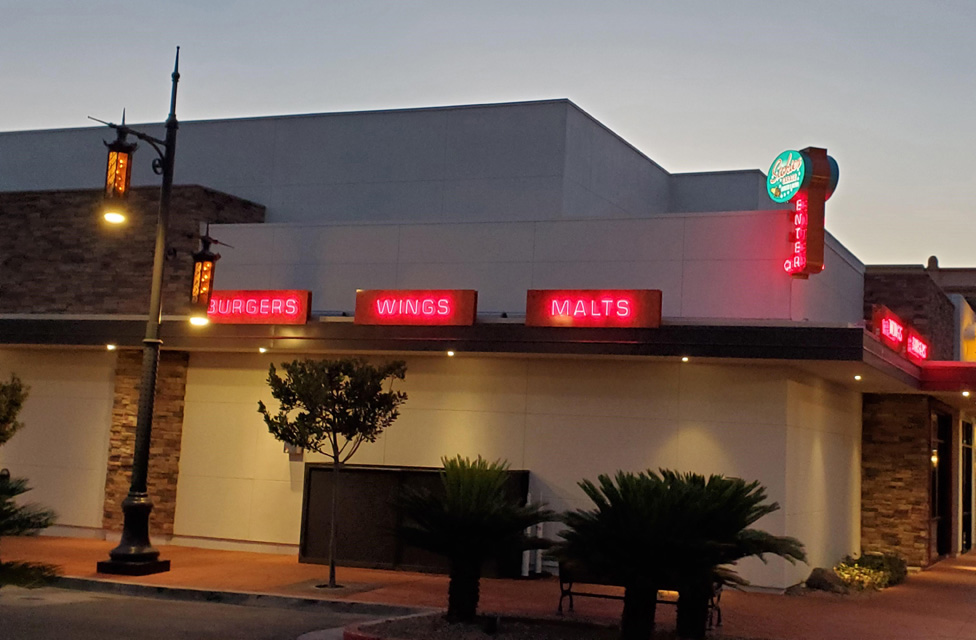 The end-results are various signs that feature a combination of LED- and neon-illuminated lettering, dimensional elements, and vinyl graphics. One features a set of neon letters spelling out "burgers" and fries," another is shaped as a downward directional arrow with a vinyl-covered aluminum cabinet atop it, and another features a mix of exposed illuminated lettering combined with a vinyl graphic of the Sickies Garage sparkplug. "The looks and designs of the signage changed due to the various sign codes involved," says Artibee.
The finished signs feature a combination of lighting technologies—12mm Ruby Red coated neon from Tecnolux and QuickMod2 LED modules from Principal LED. "During the initial design of this sign, we wanted to really highlight and draw attention to it via exposed neon and the color of it," says Artibee.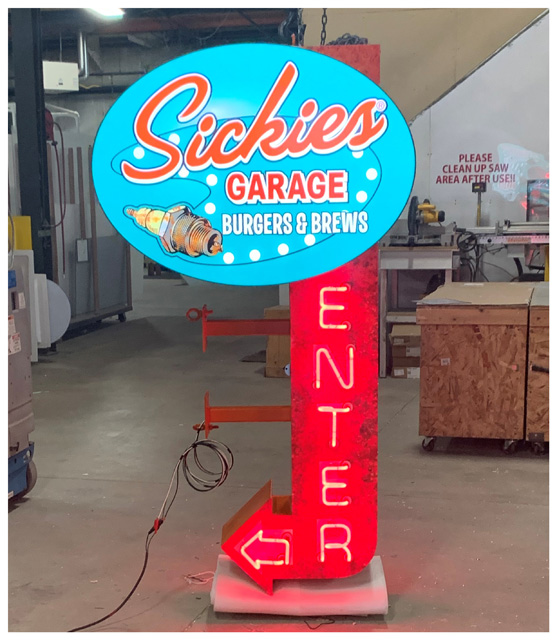 At the project's outset, ESCO Manufacturing collaborated with the Starmark Hospitality sign company on the lighting design for these new identity signs. Since Sickies Garage requested a very stylized script for its signage font, neon proved the obvious choice to realize this.
"Neon has a specific style onto itself that, when used in the right way, can really accentuate the style of the sign that it's attached to," says Artibee. "Neon really just gives it that stylized look."
Early on, they knew they were going to need to change the core spec of the signage in order to maximize their vision for the quality and visibility of the lighting. "We wanted to pick a neon color for the signage that would really stand out and still go with the overall feel of the restaurant," says Artibee. "Ruby Red seemed to fit perfectly.
The finished identity signs feature a mix of substrates and materials. One sign style features a Sickies Garage logo printed onto 3M IJ3650 clear vinyl and mounted second-surface to the back side of the acrylic face with a downward-facing arrow featuring the word "Enter" in ruby red neon. It is attached to a twelve-inch-deep cabinet. According to Artibee, the structure itself is two-by-two aluminum tubing with square tube aluminum stub outs connected to 1/4-inch aluminum mounting plates. They also used an aluminum skin with a digital vinyl print for the faces.
The 12mm Tecnolux Ruby Red coated neon was added to the sign pieces with 1.5-inch risers while the Principal LED QuickMod2 modules were attached inside to aluminum tubing using double-sided tape, screwed to the framing, and attached with silicone. "This was all done to UL specs for outdoor usage," confirms Artibee.
The company also provided scripted "wings" and "burgers" lettering using the exposed Ruby Red neon.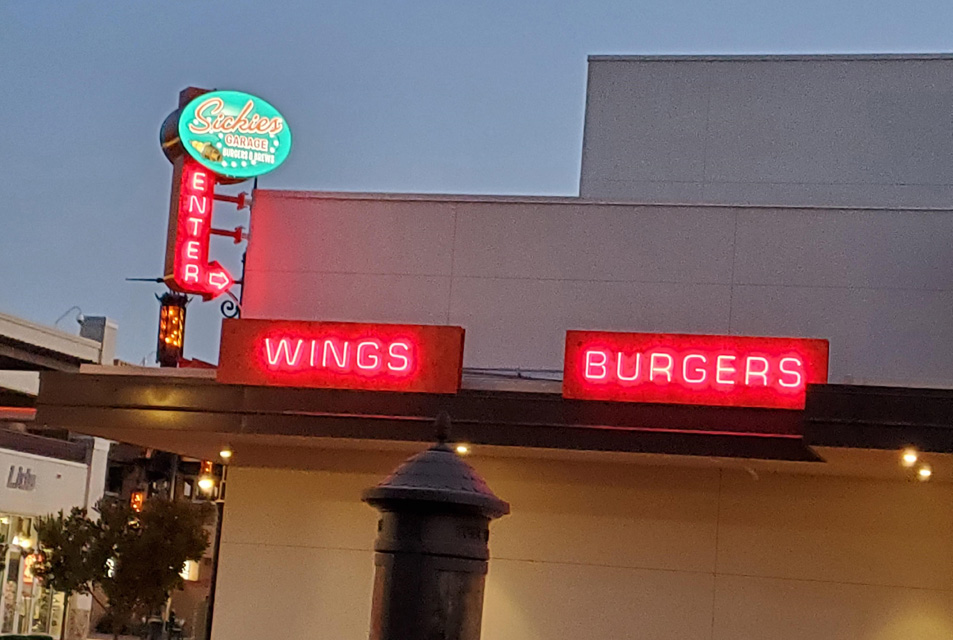 ESCO Manufacturing assembled the entire sign at their facility (including attaching the lighting components). Once everything was done fabrication-wise and assembly-wise, they placed the pieces in standard wood crating and shipped it to the site via a dedicated truck to minimize handling.
They made sure all the transformers and power suppliers were all self-contained in the signage. "The signs were installed by a local installer who bolted them through the mounting plates to the building itself," says Artibee.
Artibee says that there are some rules and design ideas to keep in mind when it comes using neon and LED illumination. "For proper internal illumination, it's ideal to keep the signage five to seven inches in depth," he advises. "For the exposed neon tubing, we like the one-and-a-half-inch tube supports, which provide a nice glow effect."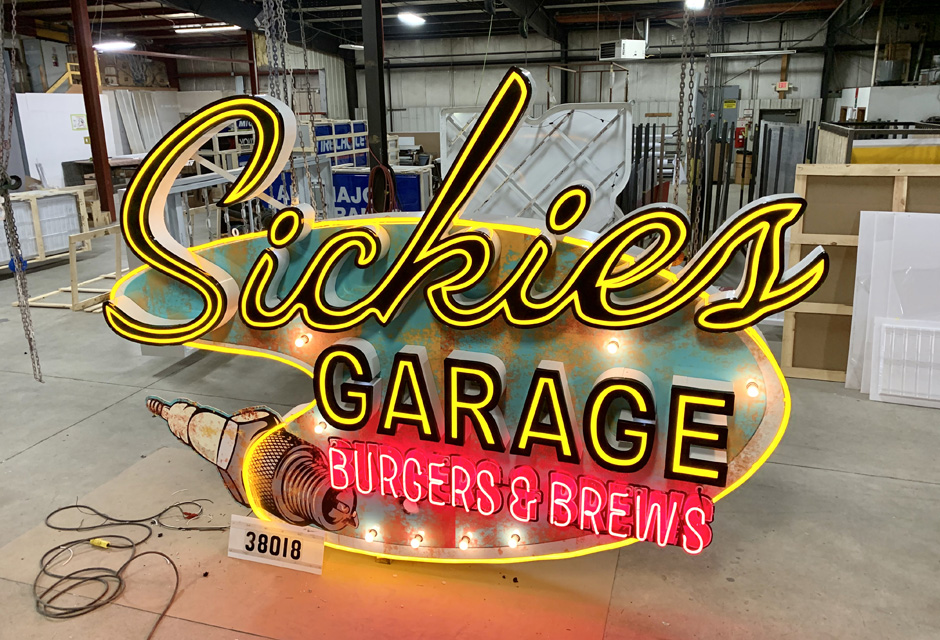 The even better news is that, when it comes to a sign like this, Artibee says that there isn't much upkeep that needs to be done on the customer's end. "We do recommend a photocell or timer for daytime/nighttime to maximize lifespan and minimize utility usage," he says.
ESCO Manufacturing ended up working closely with four different teams to make this illuminated sign project a reality—the architect, the designer, the sign company installers, and the restaurant owner. "With this many 'cooks in the kitchen,' it was helpful to utilize video conferencing so we could have effective communication to get this done," says Artibee.
Sickies Garage is already famous for their burgers and their beer, and there's no doubt that they're about to add more accolades to their portfolio thanks to the installation of these attention-grabbing mixed media illuminated signs. Order up!
—Jeff Wooten