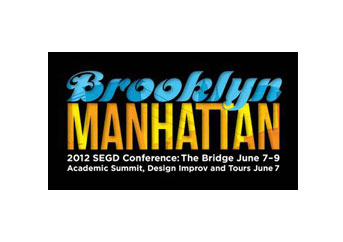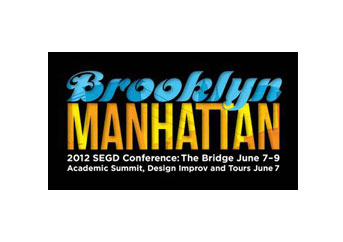 The 2012 SEGD Conference: The Bridge will be convening in Brooklyn and Manhattan June 7-9. The 32nd annual Conference will celebrate design, culture, and connections.
The featured presenters will include:
High Line Co-founder Robert Hammond
Pentagram Partner Michael Bierut
Culturematic Author Grant McCracken
Project Runway winner Anya Ayoung Chee
IDEO Partner Fred Durst
Kickstarted Co-founder Charles Adler
Etsy Creative Director Randy Hunt
Environmental graphic designer pioneer Lance Wyman
"The SEGD Conference is known for its multidisciplinary ethos and unique mix of compelling speakers, signature project tours, and fun networking events," says Jill Ayers, creative director at Design360 (New York). "This year we've put together a thought-provoking program with an amazing roster of speakers and events packed into three days."
The Conference includes the following:
Day 1 (June 7) includes the SEGD Academic Summit as well as the popular Design Improv workshop and project tours in Manhattan and Brooklyn.
Day 2 (June 8) will take place in Brooklyn at the New York Marriott at the Brooklyn Bridge. Day 2 sessions will explore topics ranging from the pop-up destination phenomenon (featuring the creative minds behind the Sephora Sensorium and Brooklyn's Dekalb Market) to the space where culture, media, and design collide (with cultural anthropologist and writer Grant McCracken, author of Culture and Consumption, Plenitude, Big Hair, and Culturematic).
Day 3 (June 9) will be held at the New York Marriott Marquis Times Square. Day 3 sessions will focus on how social media and technology are being used to start and grow design businesses (with Kickstarter co-founder Charles Adler, Etsy Creative Director Randy Hunt, and Dwell magazine Editor Amanda Dameron). Susan Szenasy, Editor of Metropolis magazine, will lead a discussion exploring the "Bridge to the Future" of design, featuring forward design thinkers James Biber (who reimagined the concept of a portfolio show with his "100 Ideas" series and book) and Geoff Cook, managing director and partner at Base Design, the multidisciplinary firm that "specializes in not specializing."
Days 2 and 3 will also feature the instigators behind some of Brooklyn and Manhattan's most storied landmarks, including the High Line (with co-founder Robert Hammond), the LowLine (with co-founder James Ramsey), Brooklyn Bridge Park (with Matthew Urbanski of Michael Van Valkenburgh Associates), and Governor's Island (with Leslie Koch, president of the Trust for Governor's Island). On Day 3, keynote speaker and IDEO Partner Fred Dust will focus on "Taking the Leap," sharing his perspective as design change agent for such organizations as Nike, the Mayo Clinic, the Red Cross, and the Transportation Security Administration.
"Our goal is to inspire the multidisciplinary design community to explore the 'bridges' between local and global cultures, generations, languages, philosophies, visual styles, and design approaches," says Jessica W. London, SEGD CEO.
Evolving from the past one-day Expo format, the 2012 Conference presents the next-generation Expo—NEXPO, a series of events that will be integrated throughout the main conference proceedings June 8 and 9. "This year, rather than just limiting exhibitors to a separate room, we'll integrate fun and innovative networking and collaboration events into the conference proceedings," says London.
The grand finale of the conference will be Saturday night, June 9, at Skylight West in Manhattan, where the SEGD's annual Auction for Education (this year, directed by auction house Bonham's) and its own version of the Academy Awards—the SEGD Global Design Awards Presentation—will take place. Since 1987, the SEGD Global Design Awards have recognized the best in environmental graphic design from around the world.