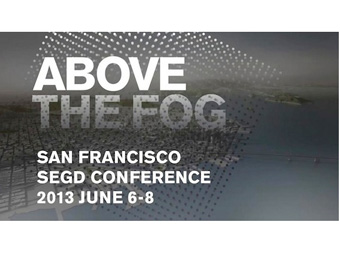 Public art has the power to enliven even the most mundane of urban spaces. And it can be especially powerful when it's sensitive to, and interacts with, the architecture around it. Artists like Christian Moeller, Nik Hafermaas, and Ben Davis have harnessed it to energize spaces ranging from airport terminals to libraries and historic bridges, using media as wide-ranging as water bottles, LEDs, and real-time traffic data.
These three internationally renowned artists will be featured speakers at the 2013 SEGD Conference June 6-8 in San Francisco. They'll share their perspectives on how public art can shape the urban landscape and encourage dialogue between the art and users of public spaces.
Christian Moeller is a German artist and professor at UCLA's Design Media Arts Program. His work resonates at an architectural scale and is driven conceptually by site and context. Often blending high-tech production modes with analog materials, he creates opportunities for interaction between public spaces and their users. His work is commissioned internationally and includes recent installations in Sacramento, Seattle, Miami, and San Jose.
Ben Davis thinks Big, whether he's skywriting the first 1,000 numbers in Pi's infinite sequence as public artist ISHKY or running his San Francisco-based creative services agency, Words Pictures Ideas. Davis is the creative mind behind The Bay Lights project, the $8 million light sculpture on San Francisco's Bay Bridge created by artist Leo Villareal.
When he's not directing an experimental studio program for his students at the Art Center College of Design, Nik Hafermaas is busy with UEBERSEE, an artist platform converging digital media with narrative spatial experiences. His recent projects include a dynamic sculpture synced to real-time traffic data at Hartsfield-Jackson Atlanta International Airport, as well as an installation at the BMW flagship store in Paris.
"We know that public art is a critical component of vibrant cities and an important aspect of environmental graphic design," says Lonny Israel, Associate Director with Skidmore Owings & Merrill and Co-Chair of the 2013 SEGD Conference with Julie Vogel, Principal of Kate Keating Associates. "These artists exemplify how art can truly transform urban spaces, combine materials and technology in unique ways, and also provoke us to think about important issues."
While digital applications in the built environment are still primarily restricted to screens displaying advertising, public art installations like Hafermaas' airfFIELD demonstrate how new technologies can be used to energize spaces and engage people, says Clive Roux, CEO of SEGD. "The real breakthrough will come when companies see digital screens for the new media channel they should be and blend artful content with advertising," he notes. "We may be a few years away from that, but public art projects are a really great demonstration of how digital media can be so much more than just advertising billboards."
The annual SEGD Conference is the only international design event focused on visual communications in the built environment. The 2013 SEGD Conference will be headquartered at the historic Fairmont San Francisco Hotel atop Nob Hill.
Inspired by the famous fog that descends on the San Francisco Bay, Above the Fog will invite participants to look for blue sky and inspiration above the fog and to connect with designers, artists, planners, makers, and global thinkers from around the world.
For full program information, and to get registered, visit the Above the Fog Web site at http://abovethefog.segd.org.