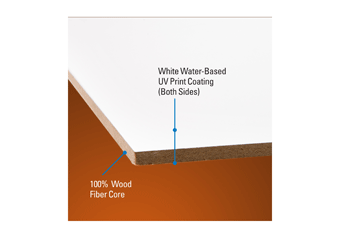 FiberMate™—a recyclable rigid print media—has been introduced by 3A Composites USA. FiberMate www.FiberMateUSA.com is a wood-fiber panel comprised of 100 percent recycled fiber that is manufactured into a high-density fiberboard available in the 3.2mm thickness. FiberMate graphic display boards are finished with Eco-Finish™—a white water-based UV print coating on both sides. FiberMate's Eco-Finish is designed to provide excellent ink and paint adhesion on both sides of this graphic display board, enabling double-sided printing and other double-sided finishing applications.
FiberMate is made from 100 percent recycled fiber and can be recycled in either "wood" or "paper" waste streams depending on local community resources and providing that printing inks and/or mounting or other finishing materials applied to the media also are recyclable. FiberMate with Eco-Finish is CARB (California Air Resource Board) compliant.
"FiberMate is a recyclable rigid print media with proven results in the graphic display industry," said Brandon Wyatt, marketing manager, 3A Composites USA. "We're pleased to add this completely recyclable rigid media to 3A Composites' well-known lines of graphic display boards that are backed by the company's trusted customer and technical services. FiberMate fits well in our Care & Conserve sustainability initiative in which each product sold by 3A Composites is focused on sustainability throughout its lifecycle from raw materials acquisition through disposal."
FiberMate is stocked in 49-by-97-inch sheets in the 3.2mm thickness. FiberMate is designed for creating medium-term point-of-purchase displays, interior signage and exhibits/kiosks, and for long-term framing applications. It can be finished with mounted graphics, digital printing, screen printing, and painted designs. FiberMate can be cut with a saw and routs extremely well.
3A Composites USA will exhibit FiberMate at Booth No. 1714 at the 2012 ISA International Sign Expo March 22-24 at the Orange County Convention Center in Orlando, Florida.
For more information about 3A Composites USA, visit www.GraphicDisplayUSA.com or www.FiberMateUSA.com.