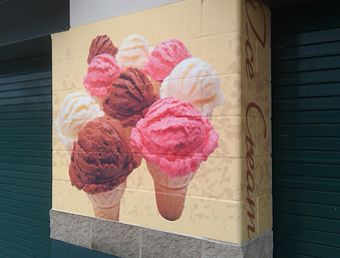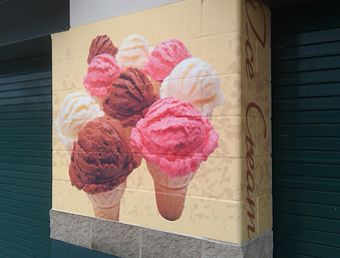 Today's wallcoverings have expanded beyond the safe, boring floral patterns of grandma's days. Now you can incorporate high-definition art, imagery, or photography—such as jungle terrain in elementary school classrooms, custom artwork reflecting the seasons in hotel rooms and bedrooms, or fine art paintings in corporate lobbies—into truly creative design patterns that bring rooms and hallways more to life.
"So often in the past, wallcoverings had been used and referenced as simple background," remarks Peter Spotto, manager of International Sales at DreamScape, a wallscape company in Rockaway, New Jersey, "but designers are createing fantastic expressions and use walls as their canvas."
Wide format digital imaging allows designers to become intrigued with the idea of designing walls, rather than simply covering them. And a variety of materials are available for smooth and rough, textured surfaces (brick, concrete, stucco, etc.).
For example, HP's Wall Art wallcoverings are unique in that they're printed on PVC-free wallpaper that contains 10 percent recycled content from post-consumer waste with HP Latex Inks and are GREENGUARD Children & Schools Certified. Because of their easy installation and Greenguard certification, HP's wall coverings can easily and safely be installed in indoor locations such as schools, hotels and hospitals.
DreamScape supplies a range of fourteen different texture options, including glossy smooth luster surfaces as well as medium and deep textures.
Meanwhile MACtac's lineup for wallcover applications includes IMAGin® DecoSatin™ (a top-coated fabric with a repositionable adhesive), IMAGin wallNOODLE™ (for wall cut-outs like sports stars or celebrities), IMAGin ROODLE™ (a vinyl similar to wallNOODLE but with a standard removable adhesive instead of a microsphere adhesive), IMAGin RoughRap (for textured walls), IMAGin B-free® Gruv™ GV429R (which features an air-egress removable adhesive), and IMAGin digiTrans™ (which features a black, semi-permanent adhesive for absolute blocks with removability).
Customizing Graphics
Customization is a key appeal for wallcoverings, since the imagery that can be used appears limitless these days.
Take New Era Portfolio of Austin, Texas. This fine art publishing/printing company works with top interior design firms and sells artwork to a broad range of hospitality, corporate, and retail clients—Bloomingdale Homes, Crate 'N Barrel, Z Gallery, Ethan Allen, and more.
Not only are they one of the largest fine art print providers in the world, but they're also quite possibly one of the largest latex printers in the world. Equipped with three HP Scitex LX850 and two LX600 latex printers, they saw the "big picture" and became one of the first companies to add the aforementioned HP Wall Art technology and services to their portfolio. The "New Era Walls by HP" solution allows designers to select and create customized wallcoverings for their clients.
Designers can select from a seemingly unlimited supply of exclusive images in New Era's database (7,000 original art works from the company's exclusive collection, a stock image bank with over 12,000,000 images, an abstract art collection, vintage art, photography, or even browsers' uploaded imagery) to create a customized wallcovering to fit the unique dimensions of their clients' rooms. "The convergence over the last couple of years of cloud computing and the availability of more powerful cameras has allowed us to morph into a digital provider role," says Joe Garcia, CEO/president of New Era.
Garcia's company produces full or partial (wall accents or appliqués) wallcoverings based on customers' selections. "The HP Online Design tool on our site allows users to replicate their room onscreen," he explains. "You put in your wall size and have the ability to very precisely place doorways, windows, or other obstacles into the room setting. You customize the image to your room, and within forty-eight hours, we ship it out."
New Era can even effectively reproduce wall artwork taken by the average pocket camera and digital SLRs. "Even if you took a photo with your iPhone™, there's a maximum size at which we could still produce that," says Garcia. "Although the files we produce from our image databases are massive—whether it's artwork or photographs—we'll still spend a significant amount of time optimizing artwork provided by our clients to get a big, clean file that's perfect for wallcoverings. It can be done!"
Designing Layouts
Meanwhile two recent DreamScape projects illustrate the range of design effects that can be achieved with wallcoverings. A bank office in Bermuda requested a long-lasting, eco-friendly wallcovering that would look great and meet its desire to have a clean and safe working environment. They contacted local printer Bermuda Blue Print, who chose Dreamscape's lighter weight Terralon for two reasons: (1.) It would save on shipping fuel because of its lighter weight, and (2.) it passed the CA-1350 indoor air quality test.
"This large job involved multiple walls on several different floors in the bank headquarters," says Spotto. "Throughout the long hallways, they installed full wall murals with colorful underwater and landscape scenes that featured corporate responsibility messages."
Elsewhere, at the new Hard Rock Casino in Panama City, Panama, DreamScape's Bling wallcovering showcased classic rock stars using images taken from the 1960s to the present. "They wanted one common look that would appeal to a modern eye yet wouldn't detract from the nuance of the black-and-white photography," says Spotto. "The designers printed the images in sepia tone, in order to yield some dazzling, gold metallic effects that would appeal to their hip clientele."
Sometimes it helps to think of these projects on a higher scale. For example, Garcia never views nor markets his output as a "wallcovering," instead referring to them as "floor-to-ceiling artwork" (a "new genre" of art). "'Wallcovering' makes it sound too much like 'wallpaper,'" he says, "but this is really so much simpler to install. It's also easier than lining up four to six framed paintings on a wall or painting the walls."
Spotto believes the process of creating a wallcovering can be relatively simple, if the client chooses a print provider with a design staff already onboard. "The client can then either provide their own file or share an idea that the design staff can create or source for them," he says. "Design approvals can happen quickly through email. Then the printer can demonstrate what the art will look like printed on the chosen wallcovering material." (Note: Since texture is an integral part of many wallcovering designs, some printers will provide small proofs or sample swatches so the client can feel the texture of the wallcovering.)
Spotto points out that it's essential to know the dimensions of the walls and any possible challenges in the space (such as the location of windows, doors, and fixtures).
Most importantly, the designer must envision the final look of the design before beginning the project. "For example, large text on a graphic that is adhered on a door may read differently when the door is opened versus when the door is closed," he says.
Working first-hand with a client during the early stages can also be beneficial for financial reasons. Mary Ann Kucera, product marketing manager for MACtac® Graphic Products, adds, "During this design stage, the print provider can also suggest to the customer about adding floor graphics, window graphics, etc."
Installation
Concerning installation, the first step is making sure the wall is clean and free of dust. "Wipe it down with a damp isopropyl alcohol rag," advises Jason Yard, marketing specialist for MACtac. "For textured surfaces, use compressed air or a fine bristle brush to remove any loose dirt or mortar from the channels."
Actual installation is straightforward using the hinge method. "However the wall must be above 60°F," states Yard.
The primary tools you'll need are squeegees, measuring tape, and a sharp knife. "An exact measurement is required for tiling. A minimum of one-inch overlap is recommended for seams and borders," explains Yard. "You should use a sharp knife for trimming.
"If you get the first panel straight, then you'll be good to go."
For application to textured surfaces, you're going to also need a heat gun and a foam or rubber surface roller. "Enough heat has to be employed to allow the material to conform but not to melt," says Yard. "It takes some practice, but graphics will look like they were painted on the surface!"
Spotto points out that the positioning of seams is critical in respect to architectural properties. "Keep seams a minimum of four inches from wall corners, door frames, and window frames," he urges. "And avoid placing seams in critical areas of the art; you don't want a line through the middle of a model's face."
Garcia says that New Era Walls by HP isn't like traditional wallpaper. It's output by latex printers and is easy to install and remove. He first pencils in guidelines for the first panel, then installs each panel (wet, fold, unfold, and smooth), and trims any excess. For easy removal, he just wets the material and takes it down.
Laminating Wallcoverings
Although laminating is always recommended for outdoor wall graphics to protect them from UV, dirt, and moisture, not all materials require lamination (particularly partial, repositionable cut-outs and those made from fabric).
"But lamination does increase ease of application and the durability of the graphic and inks," says Jeff Stadelman, technical marketing manager for MACtac.
Kucera adds, "Solvent-based printers need twenty-four hours of open drying time before lamination, regardless of the media used."
However Garcia points out that lamination of latex prints is unnecessary though. "We have to get them soaking wet to apply," he explains.
Maintaining Wall Graphics
If wallcoverings ever do need cleaning, Stadelman advises to be careful, since digitally printed media can be scratched. "We recommend a soap, a dishwashing detergent, or a mild cleaning solution," he explains. "Spray a soft cloth, instead of the graphic on the wall. Wash the graphic with this wet cloth and then come behind it with a dry cloth and take off any solution or dirt.
"Don't saturate your graphics with a cleaning solution and leave it to dry!"
The Writing on the Wall
The trend of customizing dynamic wallcoverings is still in the infancy stage, so there's a need to create more awareness amongst clients about these offerings.
Before offering wall graphics, the PSP needs to educate himself on the available products and installation techniques. "They should be involved with the client in the design stage to help them understand the potential of the available media," advises Stadelman. "The PSP may want to consider offering floor and window graphics to further enhance the environment (and make another sale)."
In addition to its permanence (rated twenty years) and ease of installation and removal, New Era looks for clients that are very image-conscious and style-forward with their interior HP Wall Art design. "We're also selling the green attributes, as this is a GREENGUARD® certified product that's safe for children and hospitals and can help earn LEED points," says Garcia.