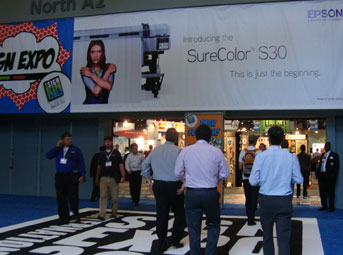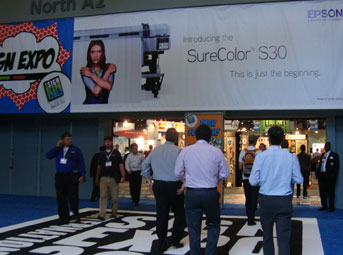 The 2013 International Sign Expo is back in Las Vegas at the Mandalay Bay Convention Center from April 3-6. Sign Builder Illustrated recently spoke with Brandon Hensley, ISA's vice president of Trade Show & Marketing, to find out what's new, who's attending, and what's still a safe bet at the show.
To give you an overall idea of what to expect, ISA is focusing on two slogans for 2013:
1. "Signs Mean Business." Those in the industry know the value of signage and its ability to make or break a business.
2. "Beyond Signs." "So many of our suppliers and so many of our attendees need to look beyond signs," says Hensley. "There's other things that they can be doing with the equipment, and the capital they've spent on the equipment, to move beyond signs."
Your Numbers and Odds
Lace up your walking shoes because this year's show is trending to be the biggest ever with 595 companies exhibiting on a sold-out floor of over 202,000 net square feet.
Attendees are trending 15 percent ahead of the previous record, as well. If things stay on pace, 20,000 attendees from all over the industry could be roaming the show floor.
The Vegas Experience
It's said what happens in Vegas, stays in Vegas, but you may not want to keep your experience at the ISA show to yourself. This year, ISA is striving to go beyond the typical "pipe and drape" show. "Two years ago ISA made a conscious effort to move away from being a traditional tradeshow and decided to focus on creating and designing an experience for our guest/attendees," says Hensley. "Everything we are working to do with our event is to emphasis people experiencing people."
One of the ways attendees can connect with people is through new Peer Networking Roundtables. "We are working to create small communities that meet the needs of all attendees. When you attend an event with over 20,000 attendees, you need to be able to quickly connect and feel that you belong," says Hensley. "The roundtables are designed to allow likeminded individuals to form a community."
The discussions will be held on Saturday, April 6 from 10:00am-11:00am and will center on the following key topics: shop operations, project management, generational issues, and CEO issues.
Those interested in participating must register to attend: http://www.signexpo.org/2013-education-and-networking/2013-networking-events-
Look for ISA to continue expanding its offerings, and to offer even more customized networking experiences as it studies its attendees and what they need over the next few years.
Looking Their Best
ISA is also amping up the tradeshow experience with a whole new look and feel. "When our guests arrive to the show, they will immediately discover the core creative we have used for the past year has come to life. This year will be the most visually stimulating event we have ever created," says Hensley.
The ISA booth will also be in on the redesign and is themed around the slogan "Signs Mean Business." It will include an entire wall on the back of the registration booth with a chalkboard material so that attendees can write messages and draw pictures.
The Kaleidoscope Lounge sponsored by WYNIT carries on the theme with an afterhours Vegas feel. Attendees can stop in for a cocktail or to rest their feet while enjoying a DJ and light effects.
First-Timers
ISA has also paid special attention to the experience of its first-time attendees. The show staff will be offering daily first-timer tours throughout the show in an effort to help new attendees meet suppliers and understand the show floor layout.
Aside from taking advantage of these daily tours, Hensley also recommends that attendees take the time to map out a course of action before the show. And he reiterates the importance of making personal connections on the expo floor. "Look at the ribbons other guest/attendees have on to see if you have a connection, attend one of the many receptions being held, and/or attend the education session that meets your needs," he says.
First-timers and all attendees can also expect to receive a flier in their education sessions that will help lead them to exhibitors on the show floor who can tell them even more about the topics they're interested in.
New Vertical Markets
Some of the new offerings at the show include an introduction—or a deeper look for some—into the markets of digital signage and architecture.
Digital Signage. Over 6,000 square feet of the show floor will be dedicated to the burgeoning digital signage market this year. "Our members and attendees are asking for ISA to help them connect the dots when it comes to dynamic digital, and we are happy to meet their needs," says Hensley.
Attendees can start with the Dynamic Digital Signage Day on Wednesday, April 3, which is a full day dedicated to digital signage education and how it's revolutionizing the signage marketplace. The sessions will provide insights on how to add this new technology to your current business model and how to sell these new solutions to your current customer base. Separate registration is required.
On the show floor, attendees can also visit the Dynamic Digital Park, which is designed to be an actual park with live trees, park benches, and grass in the middle of the expo floor. Visitors to the Park can network, speak with vendors, and watch live demonstrations and free education sessions.
Finally, for an even more in-depth look at the market, attendees can register for eight different education sessions in the new Dynamic Digital Signage education track.
Architecture. "Our Supplier community wanted to see more designers and architects, and we are bringing together the top A&D companies in the country and creating a very exclusive program to meet their needs," says Hensley.
Attendees who want to know more about this market will get the chance to meet with over thirty of the country's top design professionals.
Attendees will also have the opportunity to register for a number of educational sessions focused on architectural sign design, specifically for the environmental graphic design audience. These sessions will provide insights on the latest issues facing the sign industry and graphic design community and will bring together professionals from every aspect of the business. As an added benefit, all sessions have been approved for AIA credit.
No matter how you spend your time at the show, be sure to take advantage of the opportunity to reach beyond the Internet and phone and make those in-person contacts. "Out of all the ways we communicate in this digital age, personal contact remains the most emotionally powerful means of interaction," says Hensley. "Don't be afraid to reach out and make that connection in Las Vegas. The hand you are shaking may be your next best idea, piece of business, or solution."
For a full schedule of events and to register, visit www.signexpo.com. Be sure to stop by and say hi to Sign Builder Illustrated in Booth #3421 while you're at the show!
To get a preview of what products will be shown the show, click here to view our ISA Product Preview.