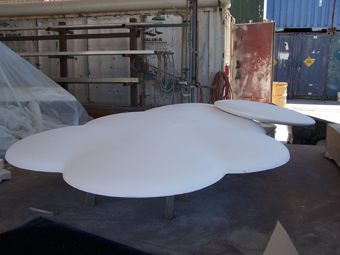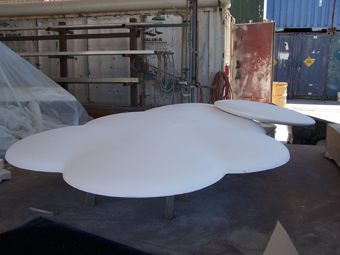 Headquartered in San Francisco, California (and with offices all over the world), Salesforce.com is a company entirely devoted to "cloud" concept apps and solutions engineered to help other businesses and corporations connect with their customers. (
Note:
"Cloud" refers to managing content and information via the Web instead of software.) The company generates well over a billion dollars in revenue annually, which means image is extremely important—particularly with their branding and logos.
Salesforce.com made the decision to add new building-mounted signs that would be placed at the Main Street and Mission Street front entrances of its headquarters. The signs would be shaped as the company's logo—a cloud with the SalesForce name accompanied by a "bug" in the lower right-hand corner featuring the word "software" covered by the familiar circle/back-slash universal symbol meaning "no."
The opportunity to build and install these identification signs for this cloud-based company recently put one sign entrepreneur on Cloud Nine with the solutions devised and implemented.
Dean Toll owns Toll Architectural Graphics, a firm based in Emeryville, California that's been specializing in interior and exterior custom architectural signage since 1979. Currently there are seven employees. (Note: It's also a bit of a family affair as Toll's older daughter handles payrolls and collections, while his younger daughter serves as art director.)
Toll Architectural is well versed in the art of custom signage. Their recent work includes sign systems for the UC-Berkeley campus and intricate, stainless steel waterjet-cut and stencil-cut signage for nearby Pixar Animation Studios.
Toll was contacted by officials from Salesforce.com about this new signage opportunity. "They told us what they wanted, and we told them how we could build it," he says. "The fabrication techniques were all available, but we'd never used them all in such a way as to create something like this."
This particular design was already familiar to Toll Architectural, as they'd already been fabricating smaller inter-office versions of this sign for about five years now. "We've made about thirty-five forty-four-inch-wide signs made from fiberglass and HDU that we ship to their offices worldwide," says Toll.
One big difference: These exterior building-mounted signs needed to be a much larger twelve feet wide!
First up would be the need to create a bigger mold from the forty-four-inch-wide design being employed. "The original mold of these signs had been cut out of fifteen-pound Sign•Foam HDU using a CNC router," says Toll.
Toll states his company does seek out help from a variety of sub-contractors and vendors to aid with any in-house fabrication. "If I can find someone who can do it well, I'd rather them try it than attempt to do it myself," he says.
To create the molds and cast the fiberglass for these two signs, Toll called in Bill Kreysler, owner of custom fabrication shop Kreysler and Associates in American Canyon, California. "I've been in the sign business in this area for forty-three years and know a whole bunch of people," says Toll. "We've all grown and found our own niches, and I immediately knew Bill could handle this for me."
Toll Architectural first scanned the original HDU mold using a three-dimensional scanner and then sent the files to Kreysler, so he could use them to CNC-carve these larger molds out of foam. "They have a huge milling machine that handles anything up to 17 feet wide-by-165 feet long," says Toll. (Note: Although all the components of the SalesForce logo for these larger signs are all fiberglass, the bugs on the original smaller ones were all router-cut out of Sign•Foam HDU.)
Once Kreysler finished, Toll Architectural brought the two design components back to its shop where employees applied black vinyl sub-surface to portions of it. "The text is black vinyl, but we painted some of the vinyl red to match Salesforce's red. We then applied several coats of Akzo Nobel clear urethanes over the vinyl," says Toll. (Note: The blue portions of the sign were airbrush-painted.)
The fabrication process took about sixteen weeks to complete. Toll Architectural finished by bolting the "no software" bug onto the hollow Salesforce cloud and put in on the back of a large, rented trailer for on-site delivery.
The one-day installation had to be performed off-hours during an early Saturday morning. Everything went like "clockwork." (Note: Installation and hardware was specified by Pat Buscovich, a well-known San Francisco structural engineer.)
Beforehand Toll Architectural had two workers from Nichols Concrete Cutting of Redwood City drill thirty-two 3/4-inch-diameter holes onto the building exteriors forty feet above the ground so that they'd come out in the interior mechanical mezzanine. Everything was thru-bolted. Meanwhile four-by-four-inch steel gusset plates were installed over each thread below the nuts inside the wall, providing an extremely strong installation.
Foreman Kevin Hurst and his installers lifted the clouds into place with the aid of their eighty-foot boom truck and Velcro® straps. "All the holes matched up perfectly. We also put twelve-inch spacers on the thru-bolts to allow the cloud to 'float' from the wall," explains Toll.
Toll credits architect Pollack and Associates and the other companies involved as being absolutely superb."I loved working on this project," he says. "There are times when you finish a job and you stand back and go, 'This is so cool!' This was one of those projects."
All photos courtesy of Toll Architectural Group.