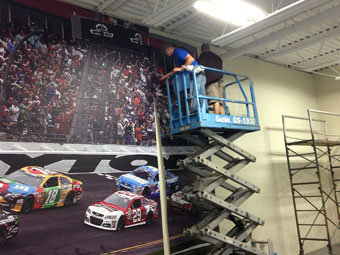 Mentor Signs & Graphics, Inc., holds the title as the longest running sign company in Mentor, Ohio. General Manager Dan Soulsby and his father started the business in 1993, with Dan buying it from his father later on. The full-service shop handles everything from channel letters and monument signs to vinyl graphics and wraps.
But what it specializes in is quality. "What makes us different from other sign shops is we only do high quality," says Soulsby. "I don't want [anything] coming back."
He believes businesses should budget for quality graphics and signs, and he quotes Steve Forbes on the significance of branding, "Your brand is the single most important investment you can make in your business."
Lately the shop has been doing a lot of vinyl graphics work—vehicle wraps, custom labels, window treatments, and walls. In fact, it's this last product that Soulsby recently pitched to the owner of a nearby machine company.
Lap 1: Design
This owner is a big NASCAR fan and showed Soulsby his "man cave" on a recent visit to the business.
Soulsby suggested putting up a wall wrap featuring a photo of a race to cover a large, blank wall in the room. The client loved the idea, so Soulsby got into the driver's seat.
Mentor Signs bought a high-res photo of a Daytona 500 race from a photographer. There was just one problem—the car in the lead wasn't the client's favorite driver, the late Dale Earnhardt.
"So I took [Dale Earnhardt's] car (No. 3) and PhotoShopped it in, and you can't even tell," says Soulsby.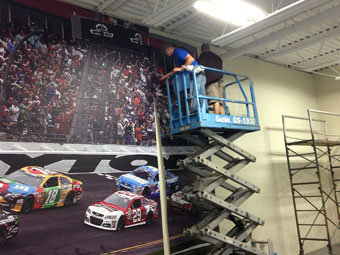 (Note: As part of this project, Mentor Signs also applied vinyl graphics of Dale Earnhardt to the garage doors.)
Lap 2: Fabrication
Mentor Signs printed the graphic out on twelve, sixteen-foot panels of IMAGin® RoughRAP™ vinyl using a Mimaki JV33 printer. The printing took about a day and a half.
Mentor Signs chose RoughRAP vinyl for its ability to adhere to rough surfaces, since the wall here is concrete. "We just heated it up, and it went right into all the grooves," says Soulsby.
Lap 3: Installation
Before installation began, the client applied a coat of paint to the wall. Mentor Signs waited a few weeks for it to cure before coming back to do the install.
Mentor Signs recommends always checking the wall before an installation. "First take your time and go look at the wall that you're going to be applying to," says Soulsby, "and then determine what media is going to work best."
Mentor Signs rented a scissor lift and had two installers on the job. The panels had a 1/2-inch overlap, so one installer lined the panels up at the top and the other lined up the bottom.
It took about eight hours to install the wall wrap.
Lap 4: The Winning Results
This 16-foot-wide-by-44-foot-long graphic was one of the tallest wall wraps the shop has ever done, so there were some nerves going into it.
But Soulsby counsels other shops to never be afraid to take on a job such as this. In fact, this turned out to be one of his favorite projects.
"We were a little hesitant going into it. Did we pack enough in for installation? What if there's a mistake?" says Soulsby. "If there's a mistake on a 16-foot wall it's kind of scary because we've got to print out a panel that's 16 feet-by-50 inches."
Luckily the project went off without a hitch, and the customer loved it.
"With the product that we used, we were happy because it laid well and printed well," says Soulsby. "The customer even gave us 11 out of 10 stars on it. He loves it. It's such a conversation piece for him."
By Ashley Bray
Photos: Mentor Signs & Graphics, Inc.