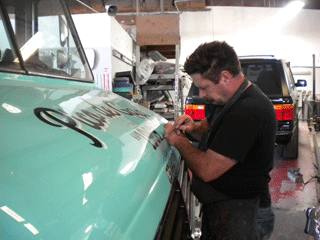 By Jan Fletcher
Handcrafted signage is staging a comeback, and Sean Starr, a sign painter in Big Bear City, California, couldn't be happier. Starr not only produces one-of-a-kind, hand-lettered signage, but he also pursues a sustainable lifestyle as a mom-and-pop owner of Starr Studios.
Sign painters who are passionate about producing handwrought work, "are already of a mindset that they see the value in sustainability," Starr says. "I'm not seeing people coming from that sustainable background wanting to be sign painters, but I think most [artisan] sign painters have that inkling already."
When Starr had the opportunity to rent a home-based workshop with wind and solar power generation capabilities, he saw it as a plus. "We sat down and talked about it early on and tried to determine what we could do to have as little impact in a negative way as we could with our company," he says. "Even though we're tiny, we still think it's important."
Starr finds meaning in the smallest actions that help to preserve the environment. "We do a lot of paint work," he says. "My wife saves all the cans when she makes meals, and we use those cans for cleaning brushes."
Although it's a modest contribution in terms of the environmental impact, Starr thinks it aptly illustrates his decision to pursue a sustainable life as an artisan.) "The way I view it, in large decisions and small, we take a look at things and say, 'Is there a better, more efficient way to do this?'" explains Starr. "There's some choices we make that we have to spend a little more for certain products or to set something up in a certain way, and there's other things we save money on."
The long-time sign painter is happy to see a resurgence of a time-honored craft that languished in recent times, due to popular demand for standardized signage production. "In the early 1990s, when computers kind of dominated the industry, a lot of us, we couldn't talk someone into painting a sign if our life depended on it. Everyone wanted computerized," he says. "This summer we did a lot of work for The Gap for one of their national ad campaigns, and we've done work for Ocean Spray for the 2010 Winter Olympics."
However companies such as The Gap and Ocean Spray are seeking him out because they want a product that's hand-painted. "Undoubtedly, they could go to a thousand different sign shops to print something, to cut it out in vinyl, or whatever, but they're seeking us out now, which we find very exciting," Starr says. "We've got a commitment to keep the traditional aspect to sign making alive, and it's starting to affect corporate America. They are seeing the value in it."
Meanwhile Starr has noticed the corporate America is starting to see the value of keeping the traditional aspect to sign making alive. Starr says that American towns have lost their individuality, which often had a lot to do with the sign painters who lived there. "Now everything is homogenized," he says. "But people are starting to go in the other direction, and they want something that's one-of-a-kind, unique—basically art—to represent their company, instead of a white plastic rectangle with a sticker on it."
In the early 1980s, Starr's father went into business as a sign painter. As Starr pitched in to help his dad hand-letter company names and designs on automobiles for a dealership in San Antonio, he recalls one day in which he watched an elderly Mexican man hand-letter a message on the dealership's front window. "He could tell I was really intrigued with what he was doing, so he took some time and showed me some things and some tools and how they all worked," Starr says. "That really created my appetite to go into the sign business." (Note: Starr eventually joined his father in business, until his father succumbed to cancer at the age of 53.)
Starr launched his hand-wrought signage business in Seattle back in 2005. "We do a little bit of digital stuff and a little bit of vinyl, but what we're known for, and what we really enjoy doing, is the hand-painted traditional work," he says.
Starr incorporates traditional materials such as milk paint into his signs, and he also makes his own coatings using materials like gilding powders and gold leaf. "The big thing for us is the fact that we handcraft every single sign," he says. "Obviously our signs take a little bit longer than the average shop would do from start to finish, but I think that's one of the reasons our work stands out to a lot of people."
And along with a group of traditional sign painters, Starr participated in the filming of The Sign Painter Movie, http://www.signpaintermovie.blogspot.com an independently produced documentary scheduled for release in 2012. The movie's producers, Faythe Levine and Sam Macon, interviewed sign painters that create hand-painted signage.
Starr calls the project "an effort to return to craftsmanship, the creative aspect of sign making, as opposed to being kind of like a technician, where you're just zipping out a product." He says the documentarians spent two days filming in his studio.