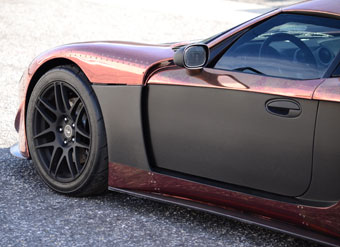 Designer Wraps® Custom Wraps & Graphics in Millville, New Jersey, is a full-service custom wraps and graphics shop comprised of an unmatched team of professionals that work on designing, producing, and installing a variety of graphics projects and vehicle and architectural wraps.
Led by business owner and certified graphics installer Sean Tomlin, the company has worked on its fair share of color change-out wraps for a number of exotic-style cars—multiple Nissan GT-Rs, a Fisker Karma hybrid, an Audi R8 Spyder, and a Verde Ithaca Lamborghini ("Revved Up for Chrome Wraps," October 2012).
But when the owner of a plain white Factory Five GTM Supercar came to the shop requesting a more exciting "look" for it, Tomlin had to put his wrapping skills to the test.
The client gave Tomlin carte blanche for the design. "He only requested that the wrap had to be chrome but asked if we could do it in copper," says Tomlin. "You really can't [do this], but I told him we could produce any custom color if that's what he was looking for."
The car owner really liked Brushed Black Metallic and asked Tomlin to incorporate that into whatever ideas he had. "But I still couldn't get copper out of my head," says Tomlin.
After searching the Internet for copper-related imagery, Tomlin came across the photo of a riveted copper wall. Bingo! He knew this would be the perfect color to base the wrap.
Tomlin contacted his friend Scott Kepple, owner of design firm Skepple Design in Jacksonville, Florida, because he had been experiencing success with the "rust" wrap trend that's sweeping the globe. In fact, MetroRestyling offers an exclusive line of rust designs by Skepple that people can buy pre-printed.
Once a staple of the "rat rod" community (the on-purpose rusting of a car's exterior), the rust look is now a big draw for street cred. "It seemed like, every day, a new rust-colored wrap was popping up on my Instagram," says Tomlin.
Tomlin and Kepple drew up a few back-and-forth rough drafts. "I explained to him that, though the design has a patina-look, I didn't want it looking like rust," says Tomlin.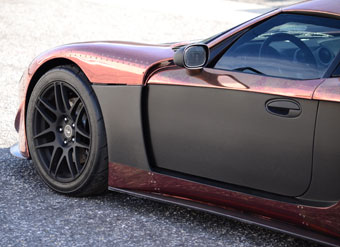 To achieve a realistic cooper appearance, Tomlin decided laminating the printed chrome in super-high gloss would work best.
Designer Wraps printed the design onto Avery Conform Chrome film using their Mutoh ValueJet 1614 and laminated it with Avery DOL 1460 high gloss overlaminate. Tomlin added Avery Brushed Black Metallic SW900 to break up the copper and make it look more aggressive.
Tomlin took many measurements of the car and compiled them to scale before taking it apart to apply the printed wrap panels to it.
The GTM Supercar features matte white paint, so there was a concern that the vinyl might not stick to the matte surface.
Designer Wraps washed the car and thoroughly prepped the surface with alcohol. "The vinyl stuck very well across the entire car with no problem," says Tomlin.
They installed the chrome vinyl one panel at a time in their climate-controlled facility with the love and patience that chrome requires. The end-result is a "true-looking" copper featuring a patina shade that also stands out.
The car also features actual rivets, appearing to joiin the copper-patina panels together.
Tomlin thought of this solution after coming across a car in Russia on the Internet that had small clear plastic tabs stuck to the wrap to make it look like rivets. However when Designer Wraps applied the clear tabs the exact same way, it looked too fake. "And 'fake' was the last thing we wanted," says Tomlin.
One of Tomlin's installers suggested using actual rivet heads instead. "We tested the process first and applied them to some sample pieces on the car," says Tomlin. "Once I saw the raw aluminum finish of the rivet head against the colored chrome, I knew we had to paint them."
Designer Wraps used a combination of AutoDip bronze and Rust-Olem gold coloring to achieve the tarnished look of the rivet itself.
The company installed the bronze-colored rivet heads one-by-one by hand, simply adhering them on with a small dollop of SuperGlue. They aligned the hundreds of rivets in straight lines and spaced them evenly throughout while, at the same time, making sure they didn't overdo it by adding too many.
Using rivets made the normal paneling of a car quite an installation challenge. "Figuring out seam placement and overlaps was difficult," says Tomlin. "It wasn't so much hiding them like we typically do but rather having to show them off for a more 'riveted' effect," says Tomlin.
Tomlin intentionally kept the look of the car "under wraps" from its owner, only telling him the idea he had but never showing it to him. "When he saw the car for the first time, he was speechless!" says Tomlin. "And that makes it all worth it."
Designer Wraps and Kepple were both thrilled to create something unique and amazing. In fact, Tomlin can't give enough credit to his talented crew for accomplishing this visionary project (John Manera for prepping the car and breakdown and Aaron Bender for installing the wrap and all the several hundred rivets).
Tomlin loves when his customers trusts him with projects like this. "It allows [my company] to show off our creativity and capabilities," he says. "It's also great knowing that, at the end of the day, everything we did is completely removable. That's the true beauty of vinyl wraps!
By Jeff Wooten
All photos: Designer Wraps Custom Wraps & Graphics