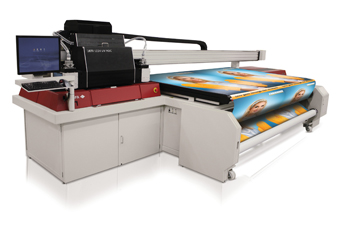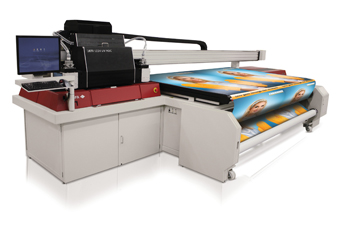 Ivey Performance Marketing
of Milwaukie, Oregon recently upgraded and improved its printing technologies. The company prides itself in designing, producing, installing, and maintaining branded retail marketing environments. Because Ivey's printing capabilities are key to its 'soup-to-nuts' marketing services, the company decided to invest in a faster, higher quality printing system.
Ivey chose Agfa's :Jeti 1224 HDC FTR UV printing system. "In addition to its quality and speed, the white ink is one of the primary reasons we bought the :Jeti. We can run the :Jeti at faster speeds than other white ink printers," said Dan Hansen, Ivey's general manager. "It's critical for us to offer the latest printing technology so we can deliver unparalleled results to our clients."
The :Jeti 1224 HDC FTR (flat to roll) is a high-productivity UV inkjet printer featuring High Definition Color capabilities. The 96-inch wide flatbed architecture of the :Jeti 1224 HDC allows for printing on virtually anything that is reasonably flat up to five cm thick. It is ideal for high-resolution tradeshow graphics, POS displays, real estate signs, backlit signs, and much more.
Since adding the :Jeti, Ivey's production capabilities have become more efficient and business has grown. "We did our due diligence and knew we wanted a system that offered high quality, high speed, and reliability. We've achieved all of those," said Hansen. "The :Jeti allows us to go after new clients with new applications. We are able to do new things we were never able to do before. It's a real bonus for our clients."