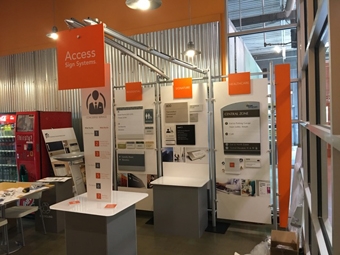 Access Sign Systems will debut at NeoCon 2016 at The Mart in Chicago, Illinois. The Philadelphia-based company will showcase four sign systems that have been designed to simplify the implementation challenges of interior signage.
"We believe that all interior spaces deserve to have simple, elegant signage that works. With Access Sign Systems we've developed a system that's easy to implement and cost effective," said Access Sign Systems President Neil Jacobson.
Access Sign Systems will be at NeoCon booth 7-1036 demonstrating the ease of design, maintenance, and usability of their ADA-compliant sign systems. Attendees will learn how Access's Concierge Service creates a streamlined, effective process for signing any facility.
Access Sign Systems will be featuring four Access Sign product lines at NeoCon 2016:
Access Signature—a modular interior sign system that has been manufactured for over ten years. Access Signature can accommodate the needs of any facility's environment with a menu of signs that can be easily specified, ordered and maintained. Access Signature is a simple solution for office buildings, conference centers, schools, and other institutions, including wayfinding, informational, and workstation ID signage.
Access Residential—an attractive sign system designed with the understanding of community living. Access Residential makes sure tenants and visitors can easily navigate apartments, condominiums, and campus housing.
Access Health—a modular sign system designed to seamlessly navigate patients and staff through a healthcare facility with clear messaging and wayfinding. Access Healthcare offers fifteen standard colors, accent bars, and multiple fonts.
Access Alert—a patient precaution system used by healthcare professionals to communicate the need for infection and injury control precautions at the patient's door. Access Alert combines a sleek design with simple functionality and can be customized to fit into existing sign systems.
For more information, call 866/388-2542 or visit http://signsbyaccess.com.