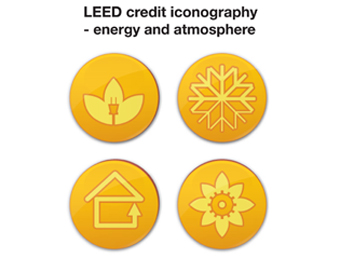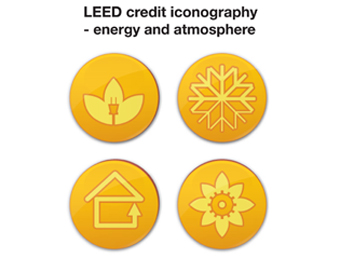 Iconography with graphics for over 300 individual icons developed for the U.S. Green Building Council's LEED credit library by Acorn Sign Graphics, a leading architectural signage designer and fabricator, is now available free to architects, interior designers, graphic designers, and building owners for use on signage and materials pertaining to LEED credits. In the world of sustainability, achieving LEED certification has become an internationally recognized success indicator demonstrating that a building or community is designed and built using green strategies throughout the project lifecycle.
Anyone choosing to display informational signage highlighting green features of their LEED-certified projects may easily incorporate the icons as a graphic element, adding visual interest, quick recognition and reinforcement of the many ways environmental stewardship is achieved. Acorn Sign Graphics was engaged by the U.S. Green Building Council to create the individual icons that correspond to every criteria in each credit category of all LEED rating systems. Visual icons are available for water efficiency, green infrastructure and buildings, environment quality, energy and atmosphere, sustainable sites, plus additional categories. Iconography in PDF format may be downloaded at https://new.usgbc.org/resources/images.
The addition of LEED credit iconography provides a standardized visual taxonomy for the science of building green, and enhances the accessibility and appreciation of LEED credit criteria that previously existed in text only presentation. Much like the icons for applications on cell phones, these LEED icon images create their own language and invite further exploration of their meaning.
"Environmental graphic design is all about storytelling, and Acorn Sign Graphics is deeply involved in supporting green building and helping to tell the LEED story by expanding LEED's visual vocabulary with iconography," said Beth Gillispie, president of Acorn Graphics. "We are very excited about the launch of this iconography and invite anyone interested in exploring ways to use these LEED icons in signage and graphics to contact us," added Gillispie.
For more information on Acorn Sign Graphics and sustainable sign solutions, call 800/770-4744 or visit www.acornsign.com.
About Acorn Sign Graphics
Acorn Sign Graphics provides premier-quality signs that customers can depend on to be found, be seen, and be remembered. From award-winning design to eco-friendly sign manufacturing, custom fabrication to long-lasting installations, Acorn Sign Graphics delivers comprehensive sign services to meet the needs of clients worldwide. Acorn Sign Graphics is known for its pioneering work in sustainable design and custom architectural signage.
Over the past several years, Acorn Sign Graphics has incorporated LEED iconography in signage for schools, corporate and government settings from Virginia to Massachusetts. Acorn Sign Graphics has also developed standardized sign designs using green friendly materials and processes for producing educational signage supporting Innovation in Design credit and has experience assisting project teams in selecting icons and accompanying text describing the green features of their projects.