Terraboost Media, a "Purpose-Driven" Out-of-Home (OOH) media company and manufacturer of wellness products such as sanitizer, disinfectants and wipes announced the hiring of four senior executives to its rapidly expanding business. They are Tim Halfmann, President; Tom Dittrich, VP – Strategy and Product Marketing; Dominic Hansa, VP – Network; and Rob Houghtlin, VP – National Sales.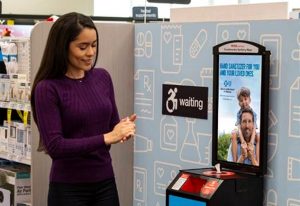 These additions come at a time of tremendous growth for Terraboost Media, which had built a vast network of hand-sanitizing advertising kiosks nationwide 15 years prior to the coronavirus hitting the U.S. Since the pandemic hit, Terraboost had to quickly expand its production capabilities and its staff and created a new division "Terraboost Industries" focused on wellness product manufacturing and solutions, which will be managed separate from the media business.
Tim Halfmann assumes the role of President at the media division of Terraboost. He was most recently Chief Sales & Marketing Officer at Insignia Systems (ISIG) and a former SVP at Valassis with more than 35 years leading CPG sales teams. His client experience includes P&G, Nestle, General Mills, Kellogg's, and other leading brands.
"Although experienced in leading national sales and marketing teams for multi-billion-dollar media companies, Tim Halfmann is an innovator at heart," said Brian Morrison, CEO of Terraboost Media. "He has the ability to ideate, strategize, and create and is dedicated to bringing new ideas and technology to solve today's marketing challenges. Tim is a great fit to lead our media business."
Tom Dittrich, who takes over as VP – Strategy and Product Marketing, brings more than three decades of experience in trade marketing and merchandising to Terraboost Media. He has held senior positions at News America Marketing, the premier marketing partner of some of the world's best-known brands, with a broad network of shopper media, incentive platforms, and custom merchandising services.
"Tom Dittrich is an accomplished sales executive with an operational foundation that drives consistent, profitable revenue growth," said Morrison. "He has extensive experience in CPG at the senior level and excels at accessing market needs, devising inventive strategies, and transforming resources into actionable solutions. Tom is a key addition to our company."
Dominic Hansa, Terraboost Media's new VP – Network, has more than a quarter century of experience in consumer marketing. For more than two decades, he worked at News America Marketing, where he led the retail network build and CPG sales teams.
"Dominic Hansa is an experienced senior executive with 25+ years of a diverse background in driving revenue growth, building networks and leading high-performing teams," said Morrison. "He has a proven track record of success in identifying, cultivating, and developing strategic partnerships to drive growth. We are thrilled to have him aboard."
Rob Houghtlin, VP – National Sales, was most recently SVP & head of CPG sales at Valassis. He has multi-industry experience that includes marketing, adtech, martech, data decisioning, consumer package goods, automotive, retail, and general advertising markets. Houghtlin is highly skilled at data driven solutions, client solution management, digital strategy, omni-channel integration, sales, consumer activation, marketing strategy, and ultimately, winning business.
"Rob Houghtlin is a consultative and inclusive leader who has produced measurable and exceptional growth for industry leaders that expect results," said Morrison. "He has a perfect combination of experience for our company: eight years of CPG experience, and 12 years in leading media teams. We are glad to have him join us."