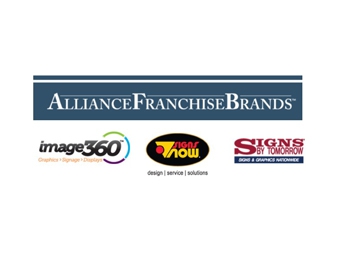 The Sign & Graphics Division of Alliance Franchise Brands recently held the division's first-ever Reach the Peak Sales Summit in Ellicott City, Maryland. The sold-out conference gave sales professionals from Image360, Signs Now and Signs By Tomorrow a chance to not only meet with key vendors but take an in-depth, hands-on course in sign and graphics sales. It was attended by outside sales professionals with as little as three weeks' experience to those with over twenty years' experience.
"We provided our network of franchise members and their sales professionals an opportunity to join other like-minded and like-focused people for the express purpose of sharing experiences, expanding knowledge, learning how to overcome challenges and developing support partnerships," explained Vice President of Sales Rick Vohrer. "This sold-out event was a huge success with our franchise members and we look forward to continuing the event in the future."
With strong network support among the top goals for the Sign & Graphics Division, the home office is always looking to provide new and unique ways to help franchise members succeed. The sales summit is one of the newest examples of this hands-on learning approach.
"In addition to our educational programs, we have systems in place to track sales, customer counts, customer satisfaction, repeat purchase rates and other measures. We watch those measures very closely," explained Vohrer. "Customer satisfaction ratings are very important to our brand and business. Repeat business and client referrals are key performance indicators we use to understand if we are meeting and exceeding the market needs/demands. This is part of the beauty of being a part of an international network like Alliance Franchise Brands."
Alliance Franchise Brands LLC is a world leader in marketing and visual communications, linking more than 600 locations in the U.S., Canada and United Kingdom. The company's Sign & Graphics Division, headquartered in Columbia, Maryland, comprises the Image360, Signs By Tomorrow and Signs Now brands of sign and graphics communications providers. Its Marketing & Print Division, headquartered in Plymouth, Michigan, comprises the Allegra, American Speedy Printing, Insty-Prints, Speedy Printing and Zippy Print brands of marketing, printing, mailing and Web services providers.
For more information about Alliance Franchise Brands, please call (877) 728-7446 or visit www.alliancefranchisebrands.com.