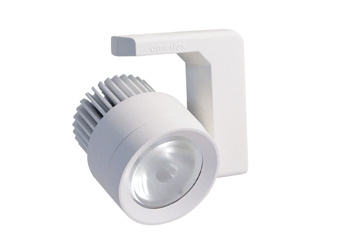 Amerlux, a leader of task-specific, energy-efficient lighting solutions, is raising the bar again as an innovator of low-wattage LED solutions for retail, supermarket, commercial, and hospitality markets. Engineered to replace Halogen MR16 track heads with high performance levels, Amerlux launches the Hornet LED family of low voltage high performance track luminaires. The new 15-watt LED Hornet is a true replacement for a 50-watt MR16 halogen fixture in lumen output and center beam candlepower (CBCT), with the capability to replace track heads currently being used on existing low voltage track systems.
Designed with an inconspicuous, miniature size that fits into the palm of your hand, the Hornet LED luminaires are precision engineered for optimal thermal and optical performance. A state-of-the-art 15-watt LED (developed after one year of research by Philips Lumileds) provides light output equivalent to 50-watt halogen lamp while using one-third the power. Life at 70 percent of initial lumen output is rated at 50,000 hours, which is more than 10 to 15 times longer than halogen providing for lower operating and maintenance costs with a great energy savings.
"Hornet represents a significant step forward in energy efficient lighting solutions for the industry," explained Frank P. Diassi, Chairman and Founder of Amerlux. "Our latest LED offerings represent groundbreaking developments in engineering, design and technology that provide significant energy savings and a multitude of benefits."
With full-range dimmability and specialized optics, Hornet was designed in a variety of beam-spread distributions that provide controlled accent lighting with excellent visual comfort. Designed with field replaceable, tool-free optics, the Hornet can be adapted to a 15-degree Spot, that delivers 800 lumens a 28-degree Flood with 785 lumens, or a 45-degree Wide Flood that delivers 775 lumens.
Amerlux uses microbinned LEDs to maintain color quality and consistency from fixture to fixture. Hornet deploys a crisp white light at a 3000K constant color temperature and a CRI of 82 that delivers clean consistent beams free of projected heat and UV/IR radiation, making it optimal for lighting color or heat sensitive merchandise.
"The LED low voltage track luminaire is the first in our new Hornet series." says Chuck Campagna, CEO and President of Amerlux. "Long-lasting, robust, energy-efficient lighting is transformed into a miniature luminaire that will enhance a broad range of commercial applications."
Construction for the Hornet LED track luminaire includes die-cast lens bezel, lamp, and ballast housing along with a die-cast aluminum heat sink. The heat sink and lamp housing design by Amerlux combines conduction, convection and radiation elements to ensure that heat is efficiently transferred away from the LED allowing for better thermal management and maximizing life. The custom designed driver is attached to the base of the track and the magnetic transformer fits into the ceiling. Also featured is lockable vertical tilt (0 to 90 degrees) and 360-degree rotation to allow for precise aiming.
The Hornet luminaire can be mounted on low voltage track systems or canopies.
Accessories include a Double Bezel, which accommodates up to two forms of media, and a one-inch Frontal Snoot with Cross Blade that receives up to two additional forms of media. Media cartridges include the Hexcel Louver, Spread Glass Lenses, Color Filters, and Cross Blade for better glare control and cut-off for special effects.
White Texture, Black Texture, and Silver Texture finishes are standard, but custom-color options include over 200 durable powder coat painted finishes from the extensive Amerlux palette, to complement nearly any design scheme.
To complement Hornet low voltage track luminaires, Amerlux also offers Hornet line voltage track heads, Hornet Multiple recessed fixtures, Cylindrix G2 17- and 34-watt, and Contour series.
Hornet is backed by an unprecedented ten-year warranty. Hornet is CSA-Listed. LM79 and LM80 reports are available, as well as IES reports.