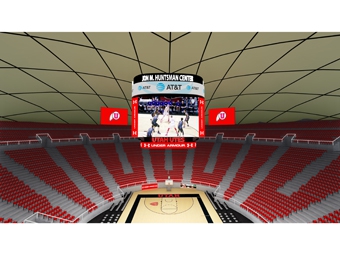 "We are thrilled to once again partner with the University of Utah and bring ANC, a leader in technology solutions, on board for this project," Glenn C. Weight, President, North Ridge Construction. "ANC's expertise will change the atmosphere of the Jon M. Huntsman Center and provide a great viewing experience from every seat in the house."
The project includes a new center-hung display, as well as additional technologies throughout the arena's bowl.
A center-hung display comprised of the following displays:
• Four 6mm displays measuring 16.38 feet high-by-25.20 feet wide;
• One 10mm upper ring display measuring 5.25 feet high-by-121.78 feet wide;
• One 10mm lower ring display measuring 2.10 feet high-by-88.19 feet wide;
• Two 6mm interior displays measuring 5.67 feet high-by-15.75 feet wide;
• Four 6mm corner displays measuring 16.38 feet high-by-4.41 feet wide;
• Four 16mm corner board displays measuring 12.60 feet high-by-25.20 feet wide; and
• Four 10mm corner court level displays measuring 4.2 feet high-by-14.7 feet wide.
A long-time partner of the University, North Ridge Construction has completed multiple projects on the University's campus, while ANC is the premier technology solutions provider in collegiate sports, completing recent projects at the University of Notre Dame, University of Texas, Arizona State University, among many others. TSA Architects has completed more than 150 projects on the University of Utah's campus as well.
"With the addition of ANC's technology, the University is following through on our goal to offer the most innovative arena in collegiate sports," said Dr. Chris Hill, Athletics Director, University of Utah. "Increasing the amount of video displays will offer fans further opportunities to experience the game, receive updates, and engage with each other."
ANC selected Mitsubishi Electric Power Products, Inc.'s Diamond Vision System Division's XL Series for each of the displays at the Jon. M. Huntsman Arena. ANC's technical and engineering divisions work directly with Mitsubishi, providing manufacturing supervision, custom display designs, and product quality assurance prior to shipping the displays to ensure an efficient installation based on the University's event schedule.
"Combining the strengths of North Ridge Construction, TSA Architects and ANC will provide the University with a game-changing display system," said Jerry Cifarelli, President and Chief Executive Officer, ANC. "We look forward to creating an energetic atmosphere through our cutting-edge technologies at the Jon M. Huntsman Arena."
For more information, visit www.anc.com.