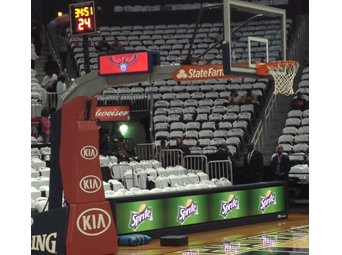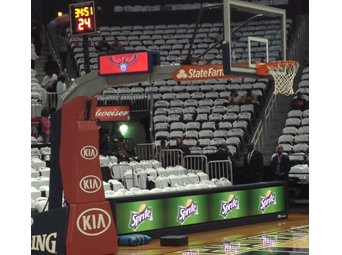 ANC Sports Enterprises began the 2012-2013 season with partnerships with 26 of the 30 National Basketball Association teams, including the deployment of the company's new original LED Stanchion or LED Courtside Signage Systems at ten venues.
Throughout the 2012-13 NBA season, 19 teams will feature ANC's courtside applications including nine LED deployments, eight DLP® Digital Courtside installations, and two rotational signage partners. Six of ANC's partners upgraded to LED courtside for the season, while ten teams began using ANC's LED Stanchion application.
"We are excited to introduce ANC's original LED in-game signage systems to the NBA to help maximize team revenue and sponsor branding opportunities," said Jerry Cifarelli, president and chief executive officer of ANC Sports. "Combining our newest LED products with ANC's advanced operating system creates flexibility for our partners to market each inventory uniquely, integrate statistics with corporate sponsors, and offer unlimited creativity on televised advertising mediums."
ANC's newest in-game signage systems use the company's original 6mm LED products featuring the highest quality LED chips in the industry. In addition to spearheading the development of the LED technology for these products, ANC led the assembly and fabrication of the courtside tables, as well as the development of the LED stanchion attachment mechanism.
Driven by ANC's VisionSOFT™, all of ANC's digital deployments feature uncompressed content that ensures the clearest sponsor and team content will be featured both in the arena and on television. The 64-bit operating system is capable of controlling and synchronizing ANC's LED courtside and stanchion systems, enabling teams interested to control both applications from a central location.
Complementing the company's signage installations, ANC placed corporate partners with 25 NBA teams. These sponsorships are highlighted by integrated televised signage inventory and promotional assets. ANC's programs create branding opportunities for sponsors through a high volume of media impressions while engaging consumers with on site, social media, and point-of-sale activation.
Supporting the company's signage equipment and marketing programs, ANC provides its partners with comprehensive services. During the 2012-13 season, ANC is maintaining and operating signage systems at 17 NBA venues, while producing sponsor animations, team content, and crowd prompts for LED and DLP® digital displays for 16 teams.