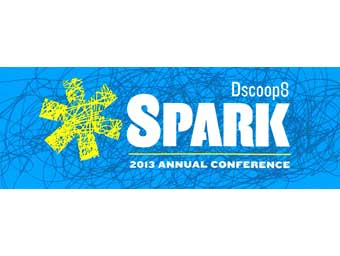 Dscoop (the Digital Solutions Cooperative) announced two major business development initiatives today at the opening of Dscoop8, the organization"s eighth annual North American conference.
To open the sold-out three-day conference, Eric Hawkinson, Dscoop"s executive director, spoke before an enthusiastic crowd of more than 2,000 print professionals. Attendees to this annual event include business owners, executives and technology experts from the print industry"s most successful companies, all users of HP Indigo and HP Scitex technology. Designed as high-value resources to help Dscoop members succeed in today"s changing print market, Hawkinson unveiled Dscoop University and the Dscoop Print Directory.
Dscoop University
Dscoop University, powered by HP, is a community-driven training program for print service providers. The program has a single objective: build printers" knowledge to drive business growth. The curriculum will span multiple market segments and functional tracks that include marketing, sales, operations and technology-specific topics.
The course curriculum will largely be derived from the real-world knowledge and experiences of Dscoop members, supplemented by HP resources and best-in-class industry information providers.
"A unique attribute of the Dscoop community is its "members helping members" platform of knowledge sharing," says Hawkinson. "That same element of member-driven content will significantly factor in Dscoop University"s value for its attendees. It will also be a real differentiator against other business development and training programs offered elsewhere in the print industry."
The curriculum will be continuously updated to maintain its relevance and value amid shifts in market behavior and technology advancements.
Dscoop University will offer dual-platform learning through both online and in-person venues. Through a secure web portal, attendees will have 24/7 access to course content. Additionally, interactive instructor- led classroom sessions, based on member needs, will be offered on a range of topic tracks in various locations.
"Our members are busy running their businesses and busy people want the ability to learn at their own pace from wherever they are," says Hawkinson. "Our site offers immediate, continuous and asynchronous access to rich educational content."
Dscoop is partnering with the HP Graphics Solutions Business to develop and deliver this program.
"Print service providers pride themselves on delivering innovative, digitally printed products and are always looking to diversify their services," said Stephen Nigro, senior vice president, Inkjet & Graphics Solutions, HP. "By collaborating with Dscoop to empower our customers with a wealth of knowledge, we plan to deliver the industry"s leading, community-driven educational resource."
Dscoop Print Directory
To further spur incremental business activity and growth, the Dscoop Print Directory will be launched as a web-based tool for brand owners and designers. This tool is designed to provide users with a quick way to research and connect with digital print service providers. The Directory will provide more than just contact information; it will also offer qualitative information about each participating print service provider's capabilities. Any brand owner or designer can now efficiently source services according to their specific requirements.
The Dscoop Print Directory will be publicly viewable by any site visitor. Visitors will be able to search or browse according to print service provider name, location, print technology or capability, and other selection criteria.
"The Dscoop Print Directory is going to bridge the gap between digital print professionals worldwide," said Gary Peeling, managing director, Precision Printing Co Ltd. "It"s a great way for brand managers to utilize the wide-range of print marketing resources available and it will allow Dscoop members to showcase their unique and ever-evolving capabilities of digital printing to connect and share their services. The Dscoop Print Directory will launch in the spring and will be translated into nine different languages. Dscoop members are now able to access the directory and populate their information prior to launch.
About Dscoop
Founded in 2005, the Digital Solutions Cooperative (Dscoop ) is an independent global community of graphic arts business owners and technical professionals who use HP equipment and related solutions, including HP Indigo and HP Scitex printers and presses. Dscoop is focused on educating and connecting its members with each other and with HP to improve members" business growth, efficiency and profitability.
To learn more about Dscoop, visit www.dscoop.org.