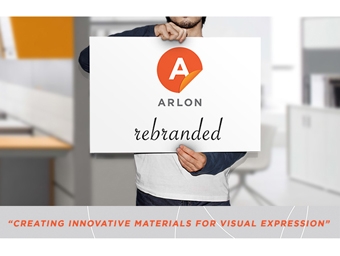 Arlon Graphics announces the launch of its new corporate logo worldwide. The new logo and brand image are part of a strategic goal to form a stronger brand connection with Arlon customers and to differentiate the brand from its competitors. Arlon's new brand expression reflects the core focus of the company, "Creating Innovative Materials for Visual Expression."
The company's new logo tells the story of Arlon's products and communicates its roots in manufacturing adhesive backed vinyl for the Sign and Graphics Industry. The orange and gray colors in the logo combined with its modern symbol is a clear departure from the industrial red color and bulky typeset formerly used by Arlon and still used by many other industrial companies.
"The launch of our new branding coincides perfectly with all of the great initiatives we have going on within the company. The new branding and message will really set us apart from others in the industry and symbolizes a new beginning for Arlon," states, Holly Curtis, Director Marketing Communications, Arlon Graphics, LLC. "We are very excited to roll this out to the industry along with the upcoming new Arlon Production Center and our recent technology system upgrades.
For more information, visit www.arlon.com and www.wrapitright.com.