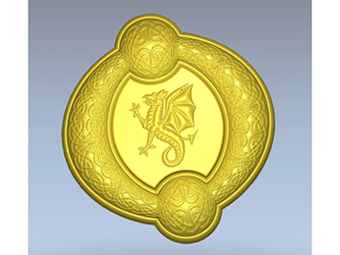 Internationally recognized CAD/CAM software developer, Delcam Plc, has now launched ArtCAM Insignia 2011 R2, its new introductory 3D modeling package. ArtCAM Insignia 2011 R2 not only allows sign-makers to design and machine 2D signage such as; cut out, inlaid or v-bit carved signs, but also allows the user to make stunning 3D signage thanks to incorporating 3D modeling functionality from its big brother software, ArtCAM Pro.
With an array of vector drawing tools, sign-makers can create their own unique fonts and vector artwork or if they prefer import other vector designs into the software. These 2D designs can then be transformed into 3D shapes or machined as they are with its advanced 2D machining strategies.
If the designer chooses to start with imported DXF or PDF files, ArtCAM Insignia's "Toolpath Templates" enables them to apply previously defined machining strategies, cutting tools and machining parameters to named layers within the imported file, and calculate them with just a single click. Before machining they can also nest the vectors according to their true shape to prevent any material wastage, while choosing to save the dimensions of any leftover material for future use.
For 3D signage, the sign maker can either import a pre-created 3D model into the software or instantly transform their vector artwork into 3D shapes with some of ArtCAM Insignia's shape creation tools. By simply double clicking on a specific color of a bitmap image or a selected vector, the intuitive "Shape Editor" tool allows the user to not only instantly create a 3D shape with their preferred shape profile, angle and height but also how the shape is combined with any 3D relief that has already been created.
Alternatively sign makers can use the "Two Rail Sweep" tool. This allows the creation of 3D sweep shapes by selecting a number of open vectors to represent the edges and cross sections of their 3D relief.
To add further embellishment to a design, the sign maker can add textures with the "Texture Relief" feature or add face profiles with the "Face Wizard" tool, useful when creating memorial plaques for example. With the "Texture Relief" tool, a range of shapes or an imported texture can be added or subtracted to any color, vector or the entire 3D model.
Any blemishes in an imported model can then be removed or adjoining areas between 3D shapes softened with the "Smooth" tool or the "Smooth sculpting" tool. The "Smooth" tool smoothes the entire model or areas within a selected color or vector evenly, whereas the "Smooth Sculpting" tool allows the designer to vary how much material they sculpt by altering the diameter and shape of the tool used as well as how much pressure is applied.
In contrast, the "Erase" sculpting tool allows designers to not only sculpt areas down flat but more powerfully, if a mistake is made, the "Erase" tool allows them to sculpt back to a previous point in time. This means for example, that a sign-maker could smooth an area and erase a small portion back to its original state. By varying the pressure you apply to the design, they can also determine how much of the smoothing they remove.
Once the 2D or 3D design is complete, all toolpaths can be simulated prior to being sent to the CNC or laser machine to make sure the sign-maker is happy with their design.
For more information on ArtCAM Insignia 2011 R2, to download the trial version, or to purchase it online, visit www.artcaminsignia.com.