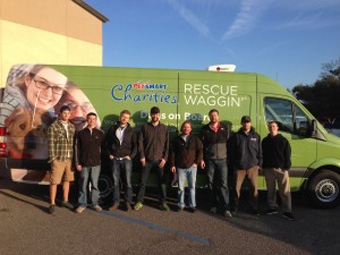 Avery Dennison has announced the names of the first ten winners of its "Film It – Imagine what you can do" campaign. Each winner receives $1,005 worth of Avery Dennison® MPI 1005 Supercast digital film.
"Avery Dennison's 'Film It – Imagine what you can do' campaign showcases the wide variety of graphics that can be created with Avery Dennison MPI 1005 Supercast digital films," said Meghan Lagoni, channel marketing manager, Avery Dennison Graphics Solutions. "Avery Dennison MPI 1005 Supercast films provide top-of-the-range performance, excellent color gamut and superior conformability. We encourage sign shops and graphics professionals to visit www.filmwithaverydennsion.com to learn, save, and win."
The ten randomly selected winners registered online, with no purchase necessary to win. They are:
October Winners:
+ John Arnold, OTE Graphics, East Rockaway, New York;
+ Shawn Laeber, Highside Graphics and Apparel, Marysville, California;
+ Ezaac Lopez, EZ-Customs, Gretna, Louisiana;
+ John Ritenour, Pleasant Details, Charleston, South Carolina; and
+ Tim Wilson, Starocket Media, Muncie, Indiana
November Winners:
+ Kevin Williamson, Auto Expressions, McDonough, Georgia;
Lauran Wang, Mustang Signs & Graphics, Kennewick, Washington;
+ Allen Palmer, Unique Auto Finishing, Munhall, Pennsylvania;
+ Bobby Conley, Tyler Wrap Company, Flint, Texas; and
+ Tim Rogers, Mr. Rogers Signs, Calgary, Alberta, Canada
Five additional winners will be named in January 2014.
"We enjoy using Avery Dennison MPI 1005 with DOL1360 for vehicle wraps. The overall consistency of the film has been fantastic for printing and installation," said Ritenour (pictured, above), owner of Pleasant Details and an October "Film It" winner. "Our installers prefer Avery Dennison materials over other brands due to their conformability over complex areas of a vehicle without the film overstretching. Pleasant Details is glad to offer Avery Dennison MPI 1005 to our clients for national fleet wraps or the small business owner down the street who trusts us to use the best products for their vehicle graphics."
MPI 1005 Supercast films are Avery Dennison's top-of-the-range films for any digital graphic need. Avery Dennison Easy Apply™ and Easy Apply RS™ technologies, ICC color accuracy, and time-tested durability keep digital graphics looking smooth. Various features of the Avery Dennison MPI 1005 Supercast Series are highlighted in the "Film It" YouTube video.
"I've been installing vinyl for over twenty years, and I can honestly say that the Avery Dennison MPI 1005 Supercast Series is the easiest to work with because it conforms perfectly and repositions and slides with ease," said Conley, owner of Tyler Wrap Company and a November "Film It" winner. "The adhesive package paired with the film face is the best on the market. The colors printed on the film always come out bright and vibrant."
Five lucky customers can enter to win until December 31, 2013. Customers can save up to $250 per roll by redeeming a rebate of $1 off per yard of individual MPI 1005 Supercast digital media and DOL 1000 Series digital overlaminate film rolls now through December 15 via www.filmwithaverydennsion.com.
For more information on Avery Dennison products, designers and printers can call 800/282-8379 or visit www.graphics.averydennison.com.