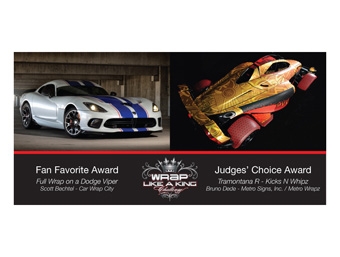 Avery Dennison has announced that "Tramontana R – Kicks N Whipz" by Bruno Dede from Metro Signs, Inc./Metro Wrapz, won the Judges' Choice Award grand prize and "Full Wrap on a Dodge Viper" by Scott Bechtel from Car Wrap City won the Fan Favorite Award grand prize in the "Wrap Like a King" Challenge featuring Avery Dennison® Supreme Wrapping Films.
"We're thrilled to have won the Judge's Choice Award! We were looking to create a unique design using a combination of Avery Dennison® Supreme Wrapping Films, Digital Supercast Films and overlaminates and that's what we did," said Dede. "For Tramontana R, we were inspired by Dwyane Wade's latest sneaker design. With all the contours of this vehicle, we really wanted the wrap to echo those elements of the sneaker. We accomplished that by focusing on the car's details, like the rim of the cabin door matching the laces of the shoes."
A 2013 Tramontana R sports car was custom wrapped in Avery Dennison Gold Mirror Specialty film and Avery Dennison MPI 1005 Supercast film. The entire car was sealed with DOL 1380 Matte Overlaminate, giving it a shimmery gold finish.
The Fan Favorite Award winner, "Full Wrap on a Dodge Viper," designed and installed by Car Wrap City, featured a full wrap with Avery Dennison Supreme Wrapping Film White Pearlescent with Carmine Red and Dark Blue accents.
"The owner of the Viper came to us to create a custom look that would also protect the original paint on his new vehicle," said Bechtel. "He was blown away with the design and how the vinyl films really looked like paint. We're very excited to win the Fan Favorite award with this wrap and go to the 2014 SEMA Show!"
The Fan Favorite Award three runners up in the final round of voting were: "Black Chrome Aventador" by Restyle It in second place, "Project Black Hive GTR" by Sully's Detailing LLC in third place and "Project Mustang Shelby GT500" by Diamond Black Exteriors (DBX) in fourth place.
Six professional judges narrowed the 2014 entries down to thirty-two finalists. The professional panel ranked the eligible entries in four different categories and the weighted scores were calculated. The general public then voted on the thirty-two vehicles for the Fan Favorite Award through four rounds of public voting. The Judges' Choice and Fan Favorite Award winners will both receive a paid trip to the 2014 SEMA Show, in Las Vegas on November 4-7. Each winner will be presented with a trophy in an award ceremony in the West Coast Customs booth at SEMA Ignited on November 7, 2014.
"This year's entries really surpassed our expectations. The talent, creative use of Avery Dennison products, uniqueness of the designs, difficulty and skill level of the installations and the overall look of the entries were more than we imagined," said Abby Gibbs, North America Marketing Specialist at Avery Dennison Graphics Solutions. "Avery Dennison is incredibly proud of all the installers. We can't wait to show the Judges' Choice and Fan Favorite winners off at SEMA and SEMA Ignite."
A total of over $15,000 in prizes was given away to participants and voters. All of the Top thirty-two entries won Visa gift cards and multiple voters in each round were randomly awarded Croftgate gift cards. One grand prize-voting winner, selected from all the voters, was awarded a $175 Croftgate gift card.
Avery Dennison Graphics Solutions hosted the competition with supporting sponsors, West Coast Customs and Croftgate USA. For official contest rules and regulations (and more information about the contest, judges, and prizes), please visit www.wraplikeaking.com.
Vinyl wraps and graphics can be installed on most vehicles and boats, ATVs, motorcycles and RVs. Car wraps easily change the look of a vehicle and can be installed quicker than a custom paint job.
For more information on Avery Dennison vinyl car graphics and where to buy Supreme Wrapping Films, designers and printers can visit graphics.averydennison.com. Learn more about West Coast Customs at www.westcoastcustoms.com.